'Addams Family' cast prepares for Drama teacher's final year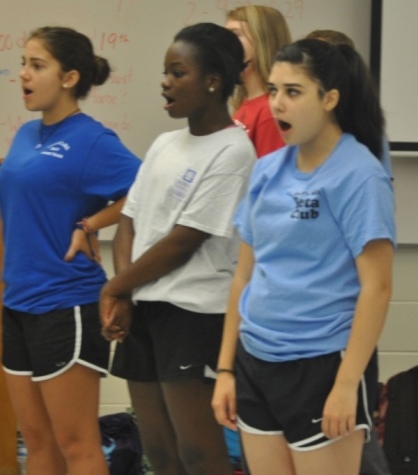 After three decades of drama,  teacher and director David Spearman is ready to retire at the end of the school year, but not before he directs and produces the Drama Department's fall production of  "The Addams Family."
"I've been told that the best time to leave the stage is when the audience is asking for more," Spearman said. "This is my 30th year directing, and I've done pretty much everything there is to do. I'm happy with my work in the Drama Department."
During his teaching career, Spearman has received several awards for his work, including a Shuler-Hensley Award for Best Director for "Zombie Prom" in 2011 and the SMHS Teacher of the Year for the 2013-2014. Other awards include Teacher of the Year and Drama Director of the Year at Dorman High School in South Carolina, and Director of the Year by the North Carolina Theatre Conference.
Although this year will be his last at SMHS, Spearman said he is thrilled about the upcoming performance. "The leads we have are really strong," he said. The show will star seniors Jackson Mattox and Camille Edwards as Gomez and Morticia Addams. Junior Alexa Echevarria will play Wednesday Addams, and 7th grader Turner Hasty will make his high school stage debut as Pugsley Addams.
The play also features a cast of 23 other members, a crew of 25, and the Pantherettes, who will make an appearance in certain dance numbers. Edwards, who starred in previous productions of "Urinetown" and "Shrek," described the show's music as "diverse" and something the audience should look forward to.
Spearman said he chose this production because he thinks it will be an entertaining family show.
The show's first performance will be in late October instead of mid-November like last year's "Shrek" because "The Addams Family" is primarily Halloween-themed. For example, the ensemble will consist of the Addams Family ancestors, who, simply put, are singing, dancing dead people.
With a little prep time than in previous years, the cast has been having daily rehearsals since the beginning of August. They range from 60-90 minutes after school and cover music and dialogue. On weekends, rehearsals cover choreography, and, according to junior and ensemble member Alyssa Olvera, "last up to four hours."  Rehearsals begin with physical and vocal warm-ups.
The cast has been making the most of its rehearsal time during the last few weeks before opening night. "It's definitely worth it," junior Hugh Walsh, who will star as Lurch, said. "It's very exciting. I love getting to know and work with new people."
Spearman advised everyone who plans to attend "The Addams Family" to buy their tickets early because of high anticipation and risk of sold-out shows, which had been an issue for previous productions. Performances will be at 7 p.m. Oct. 30 and Nov. 1, and at 2:30 p.m. on Nov. 2. Tickets, which are $12 for adults and $8 for students, will be on sale in the school office.
The cast will be on a different kind of stage Friday, Oct. 31,  for Halloween.  They will be at Panther Stadium for the home football game against Northgate, dressed in costume, handing out candy and pumping up interest in the show.
"The Addams Family" will not be Spearman's final curtain. He will direct one more production in the spring, performed by his Advanced Drama II class. The production and performance dates have yet to be announced.