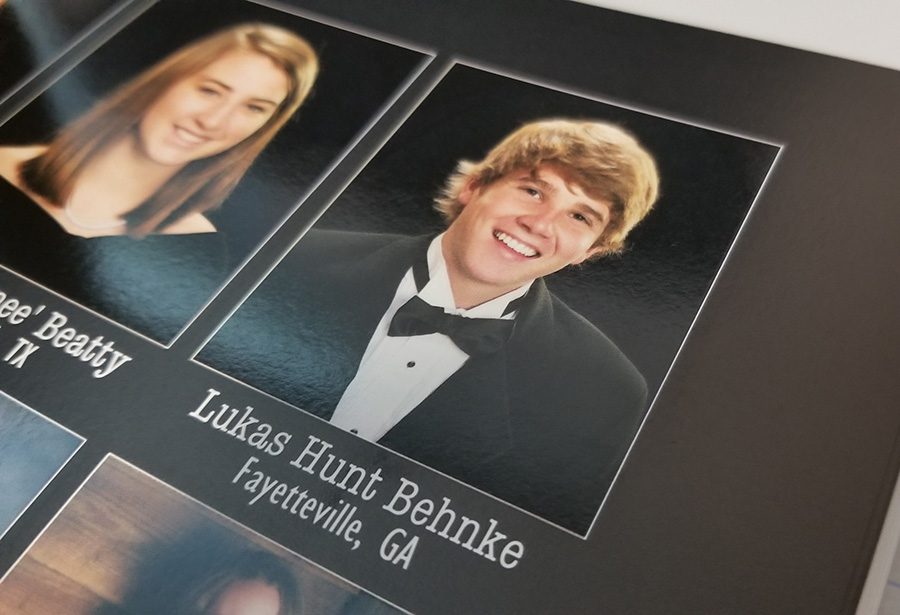 Starr's Mill High School Pride yearbook
Growing up, Panther alumnus Luke Behnke knew he would end up with a career in racing. Having his father working in the sports industry, Behnke was immersed in sports from a young age and started his own racing career as a driver around 2004.
"I knew I wanted to be involved in the business side of racing, not exactly what position maybe, but I knew I wanted to be living in Charlotte and working in the industry," Behnke said.
For almost seven years, Behnke raced cars at local tracks including competing in Thursday Night Thunder at Atlanta Motor Speedway. Behnke's last full season of racing came in 2011 when he finished the season with the Semi-Pro Legends car division title and three wins.
During his time at the Mill, Behnke took on the not-so-easy task of balancing driving with schoolwork. Although Behnke loved racing, he knew his driving career would one day come to an end. With this in mind, Behnke made sure not to fall behind in his studies at school, while still taking advantage of his opportunity on the track.
"[Racing while in high school] was tough, but I was just passionate about my racing," Behnke said. "I knew I had to take the time to get the school stuff done because racing wasn't going to last forever, so I had to find a good balance. It was definitely tough. You'd be wanting to study for a test, but also get yourself mentally prepared for a race. It was not the easiest thing, but it also ended up working out just fine."
Wanting to stay involved in racing outside of driving, Behnke started doing public relations work for local drivers while still in high school, picking up experience and making further connections in the sport.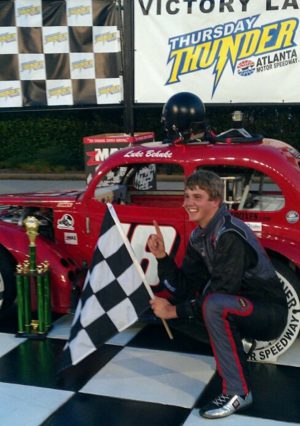 "I think the business side [of racing] just intrigued me more," Behnke said. "I kinda grew up around it. It's what my dad did and his involvement in work. I always knew I wanted to work in the sport and just saw it was more reasonable to be successful in the business side."
After graduating from Starr's Mill in 2011, Behnke attended Kennesaw State University where he majored in public relations changing his focus to the business and communications side of racing. Throughout college, Behnke spent his summers interning with Fox Sports, Turner Sports, and Joe Gibbs Racing, traveling from track to track to get his name out in NASCAR and gain as much insight as possible while still in school.
"You understand the real world a little more once you get into college and set more realistic expectations," Behnke said.
Just three years after graduating from Kennesaw State, Behnke landed a job working in digital media for NASCAR. Behnke has been working full-time for NASCAR for a year now after spending a couple years working freelance in the sport.
"I definitely knew I was going to end up here," Behnke said. "I just had high goals for myself and worked hard. And I grinded it out in college doing internships and traveling. I knew I'd be here eventually, but not this fast."
Behnke attributes his success in obtaining a position with NASCAR so quickly to his ability to create connections in the sport, not only through having raced but also through interning in college. Behnke emphasized how important getting favorable internships in college is and simply just talking with people in the industry.
"Networking and knowing people is huge," Behnke said. "Just through networking and meeting people the opportunities kind of present themselves."
Behnke advises high school students looking to go into sports business and communications to get a head start now. This advice, as well as his encouragement of networking, is really applicable to any field Starr's Mill students strive to be a part of, but especially helpful to those wanting to pursue a career in sports.
"Do as much early on as you can," Behnke said. "If you want to work in racing go to local tracks and ask how you can get involved. There's nothing too small you can start doing now. Even in high school, I was doing PR stuff for some local drivers. Meeting people and growing your network and base of who you know is going to be huge, cause it's a lot of time in sports who you know more so than what you know."
Behnke adds to the list of accomplished Panther grads able to attain high profile careers right out of school through their hard work at both the Mill and in college. His success is yet another inspiration for current students aspiring toward a career in the sports industry.