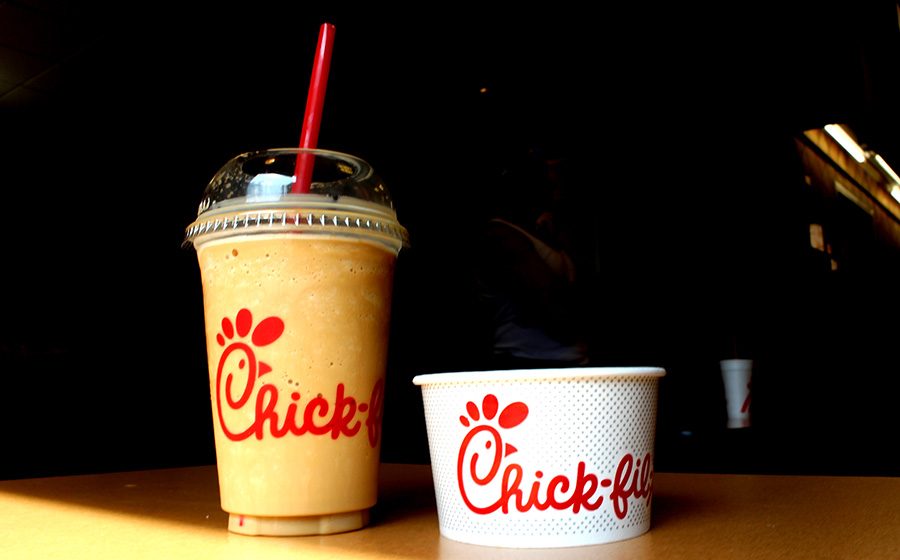 Bre Kozusko
Starr's Mill Chick-fil-A may be getting even busier thanks to new menu item releases. Students of the Mill already make the restaurant home before and after school and now have even more reason to stop by. As of Monday, Chick-fil-As nationwide including the Peachtree City locations are offering Mac & Cheese and Frosted Salted Caramel Coffee. 
With the hype already building around the new menu items, I decided to give them a try for myself. I walked into to Starr's Mill Chick-fil-A first thing after school Monday and was not surprised joined by quite a few of my classmates also trying out the new foods. I ordered a small Mac & Cheese priced at $2.35 with the medium costing $2.99, and a small Frosted Salted Caramel Coffee priced at $3.25 with a large costing $3.75 — a $0.30 upcharge from the original Frosted Coffee.
When the Mac & Cheese arrived I was excited to see it was the same recipe as the Mac & Cheese sold at specialty Chick-fil-A restaurants such as the Dwarf House in Fayetteville. It has a creamy homemade consistency with just enough cheese and melt-in-your-mouth elbow noodles. The side was worth the low price and the perfect after school snack. 
I would highly recommend the Mac & Cheese and see myself ordering it a lot in the future.
Tasting the Frosted Salted Caramel Coffee was underwhelming compared to the Mac & Cheese. Upon trying it I couldn't differentiate the beverage from an original Frosted Coffee. After a few sips, the caramel began to kick in but it remained an aftertaste. I was disappointed in the lack of flavor, compared to the caramel frappes offered at Starbucks and McDonald's. 
For those wanting to try the Frosted Salted Caramel Coffee, I'd recommend ordering it with extra salted caramel syrup. I think this would improve the potency of the taste. I'm likely to try this slight change next time I go. 
Students looking to try the new treats will be glad to know the Mac & Cheese is set to be permanently offered at Chick-fil-A from now on. The last time Chick-fil-A added a new permanent menu item was back in 2016 when the franchise added the Superfood Side. The Frosted Salted Caramel Coffee is currently planned to be offered seasonally for a limited time.
Chick-fil-A is now offering dine-in mobile orders allowing guests to order from the Chick-fil-A app and then have their food delivered to a table of their choosing.
The additions provide a switch-up to Starr's Mill students typical Chick-fil-A orders. I love the introduction of the Mac & Cheese as a menu item both unique to fast-food restaurants and to what is traditionally expected at Chick-fil-A. While the Frosted Salted Caramel Coffee may not be as much of a hit, it is still an interesting take on a Chick-fil-A classic.