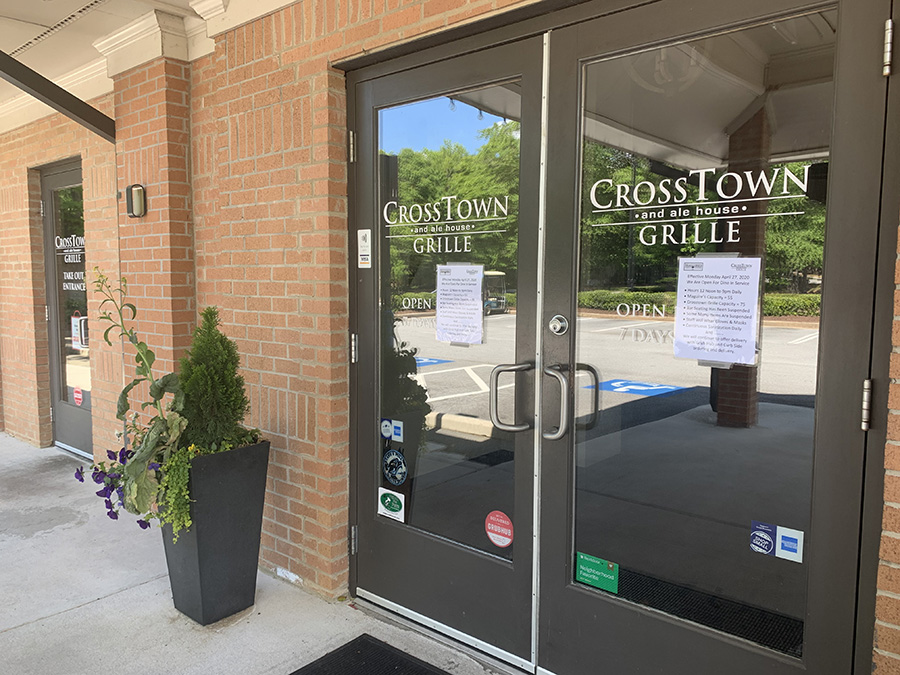 Daniel Stackhouse
Local small businesses have experienced great hardships throughout the coronavirus pandemic. They have had to take on the challenges thrown at them and adapt, or die. 
One of these fighting businessmen has been Frank Maguire, owner of Maguire's Irish Pub in Senoia and Crosstown Grille in Peachtree City.
"No matter if we're on the downhill side of this or not, the virus isn't going away," Maguire said. "If it's not going anywhere then we might as well open up some of the economy, and keep the hospital pressure in check and make sure we don't overrun them with new cases."
Back on March 13, the federal government officially declared a state of emergency. Georgia Governor Brian Kemp followed suit days later on March 16 and he and Georgia's Coronavirus Task Force laid out social distancing regulations soon after. Then on April 2, Governor Kemp issued a new shelter in place plan until April 30.
Last week, Governor Kemp made the decision to reopen certain small businesses. This decision includes restaurants and dine-in operations, requiring that they follow social distancing regulations.
In the middle of March, Maguire and his restaurants were just gearing up for St. Patrick's Day, one of their busiest days of the year. According to Maguire, while the pub saw a good amount of business, they only earned 50% of what they normally would earn on St. Patrick's Day with the same amount of staff. 
The third week of March was when revenues substantially dropped all the way down to 10% of normal revenue.
Due to the lack of business, Maguire was forced to consolidate all operations of both restaurants into Crosstown Grille.
"We can consistently tell you what we're not going to do in business," Maguire said. "We're doing about $7,000-7,500 a week, but we've combined both restaurants."
Kitchen operations have been limited to only Maguire and two other kitchen employees. Because he knows how to cook everything on the menu, he has had to stay in the kitchen. This change has taken a physical toll on his body. 
Continuing to earn revenue has been on the back of curbside orders as well as delivery via GrubHub.
"I've been playing the financial chess game and a shell game mixed together," Maguire said. "It's been a financial chess match trying to make sure that we keep everything on, lights are on, gas is paid for, insurance is paid for, all those types of things."
Crosstown was chosen to merge all operations due to many convenience factors. For one, Crosstown offered more space to store food from both restaurants. On top of that, Crosstown is also located in a more central position with their customer base.
"Somebody [weeks ago] asked me, 'Are there too many restaurants in [Peachtree City or Senoia]?' My initial response is, 'You know what? It doesn't matter. At some point something will happen to rightsize the industry'," Maguire said. "Whatever it is something jacked up is going to happen where the people who are prepared for it will survive and redirect, and the people who aren't will fall off the vine and die."
This has not been the first dire situation that Maguire has been a part of. During an LTL trucking strike in the 1990s, which caused woes to transporting goods cross country, he had to deal with being one of the only union trucking companies still working for about two weeks during that time. He was also a regional vice president for the northeast division of a major air freight company during 9/11.
"I've got a pretty good reference point of, 'Well how bad could this possibly be?' This is just as bad as 9/11. This is just as bad as that trucking strike. [But] it isn't gonna last," Maguire said, "Everything has a beginning and an end. You start where you're at, have a plan, execute that plan, come out on the other end a little different than you were before, but you're still the same."
According to Maguire, the impact on the employees has been split. He has held conference calls to communicate with his staff regarding unemployment claims including applying, rules, and extra assistance. 
"It's been a good learning lesson for our staff because a lot of them didn't heed the warnings of having a budget, and emergency money, and things like that," Maguire said. "So the people that had a budget and had emergency money are pretty well prepared. The people who don't, they're hurt."
Maguire's main focus, despite all the buzz, is to be able to drive in as much revenue as he possibly can. At the same time, he believes that he and other businesses need to be socially responsible with how they go about their operations. Maguire also noted that businesses that act socially irresponsible could ruin this opportunity.
"Restaurants kind of have a personality," Maguire said. "[Reopening] is an opportunity to bring the restaurants back to life and then let us build from there."
He has admitted that this has been a refreshing way to hit the reset button on his business. Maguire stated that he has had the opportunity to look at things and ask how he can improve, refine, and fix certain aspects of his restaurants.
"As a small business, you can react pretty quickly to things like this — shrink down, grow, change, redirect. We're pretty nimble as far as industries are concerned," Maguire said. "It also allows us to see who on our staff we want to keep, because you see how they react to stressful situations."
Methods of maintaining social distance have already been thought out in both of Maguire's restaurants. Thanks to the pub being 5,400 square feet and Crosstown being 7,400 square feet, the dining rooms are being reconfigured to utilize booths and use them as natural barriers. There will be no seating at their dining room tables.
Starting today, Crosstown Grille and Maguire's Irish Pub have reopened for dine-in operations.
The staff will be required to wear masks and gloves on the job. The menus will also be laminated for easy sanitation. All bar operations will be shut down including any seating to stop anybody from congregating there, but alcohol will still be served at the booths. 
Curbside and GrubHub are still being offered. 
"I'm still an entrepreneur. I still own two businesses. I still employ 70-80 people, [and] I'm still going to do that," Maguire said. "Is [this experience] going to leave a lasting impact on me? No. It just confirms everything that I've learned from those other experiences."