All 3 PBIS traits on display in November
PBIS has announced Student of the Month and Staff Member of the Month recipients for the month of November.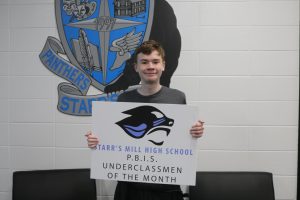 English teacher Justin Spencer recognized sophomore Benjamin Harris because he is accountable in his class. Spencer stated that Harris takes an active role in his education from bell to bell every day. He is not afraid to ask questions, and he accepts challenges. 
"He sets a great example for his peers," Spencer said.
Spanish teacher Madeline Rodriguez recognized sophomore Ava Mossman for being accountable because she helped out a student who had suffered from a concussion.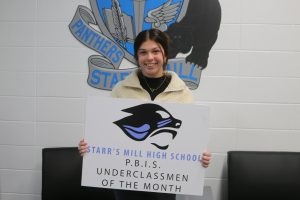 "[Ava] was ready and willing to help out when a peer was injured and went to her house to bring her class worksheets and let me know of her progress," Rodriguez said. "Her help was really appreciated by me and the family of the student and her friend as well." 
Other underclassmen receiving nominations included freshmen Joseph Nesler and Christian Gray-Frasca, and sophomores Avrey Bradley, Blake Necessary, and Mateya Petrova. 
Yearbook teacher Patt Coleman recognized junior Ivey Breinig because Ivey makes sure there is always somebody who can do the Pledge of Allegiance each morning. She is pleasant and makes sure that each day she says, "Good morning."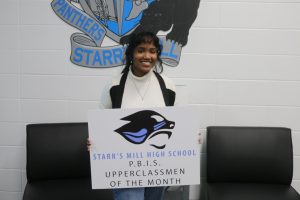 "She has taken it on herself to participate in [the Pledge] daily and draft a partner to do it with her," Coleman said." She always gets her work done and does extra."
Spanish teacher Madeline Rodriguez recognized senior Abigail Kewley because she always makes sure she understands everything to do in class to be successful.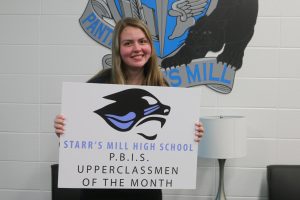 "Abigail always goes above and beyond in our AP class. She shows the value of responsibility by always making sure that she understands what is required to be successful in the class," Rodriguez said. "She stays after class to ask questions and her work ethic shows in everything she does. She is a class leader and is respected by all her peers." 
Other upperclassmen receiving nominations included juniors Alexis Wiest and Matthew Bouchard, and senior Shawn Ryberg.  
Staff member Adriah Williams recognized Stacy Nichols for being responsible because she is always willing to help. Nichols volunteers and loves to help out whenever people need help no matter how hard it is or how long it takes.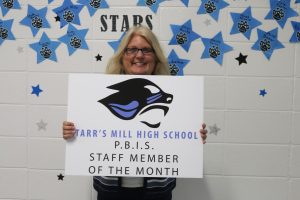 "I see Stacy volunteering at the football games, collecting money, setting up events, placing orders, sending out emails. What doesn't she do?" Williams said. "She is an invaluable member of our staff, and I truly appreciate her." 
History teacher Rebecca Rickeard, Spanish teacher Shayne Thompson, math teacher Nick Castagna, English teachers Tara Burnette and Kelly Corallo, and student information systems operator Kirsten Brooks were also nominated.
Once a month Andrea Freeman, the assistant principal in charge of PBIS, sends out a link for staff members to nominate students and teachers on their good behavior. The PBIS committee, composed of Freeman, PBIS coach Adriah Williamson, and other faculty and staff, vote on the PBIS staff and students of the month. 
"[PBIS] is a system and a framework that rewards students for positive behavior," Freeman said. "Research tells us that when we work in an environment that rewards positive behavior, rather than focusing on the consequences from negative behavior, then students and staff will internalize those behaviors better and more effectively." 
Leave a Comment