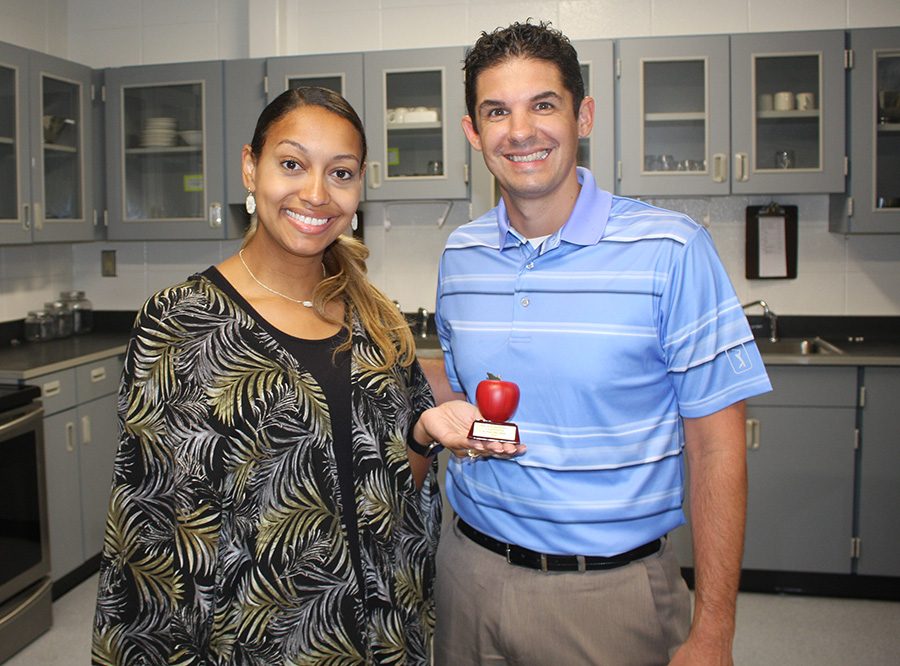 Annika Pepper
Adriah Williams is the winner of this month's Golden Apple award sponsored by Farmers Insurance. She has been teaching for ten years, her first year having been a full-time substitute teacher, and following nine years as a teacher. Williams teaches early childhood education, food nutrition and wellness, food for life, and food science. Previous winner Laura Harbin selected Williams as the recipient.
"Food just has a tendency to bring people together," Williams said. "Whenever you have food you have fun, and whenever you have fun and good times with other people it kind of turns into a big family atmosphere."
Williams' teaching style is hands-on, auditory, and visual, making it as easy as possible for students of any learning type to understand. In addition to her flexible teaching style, Williams also paces herself according to her students. If they learn at a faster rate and are ready to go forward, they are able to or if they learn at a slower rate and need more time, or have special needs, Williams works with them until they have gained the knowledge they are after.
With a cheerful and selfless attitude, Williams always makes sure her students come first. 'Take what you need,' is quoted a sign on the back of her classroom door, and it's something that is lived by each and every day.

"Take what you need. If it's time, if it's love, if it's food. Just take what you need," Williams said, and for her, she takes teaching. Teaching for her is an escape from the rest of life's problems and demands, and she wants to make her class feel the same way for all of her students, too.
As the Golden Apple winner for this month, Tim Monihan and Farmers Insurance in Peachtree City awarded Williams with a $100 to spend on classroom supplies. Williams will put the money to use for kitchen supplies, making her classroom kitchens even safer and more convenient. Always putting students and the way their individual minds work first has been a key contributor to this achievement.
"We're all pushing the ship towards the same goal which is learning, creating great meals, and enjoying our school year," Williams said.
We. Together. Family. Food. These four things embody the heart of Williams' teaching and are the ingredients that led to her receiving this award.