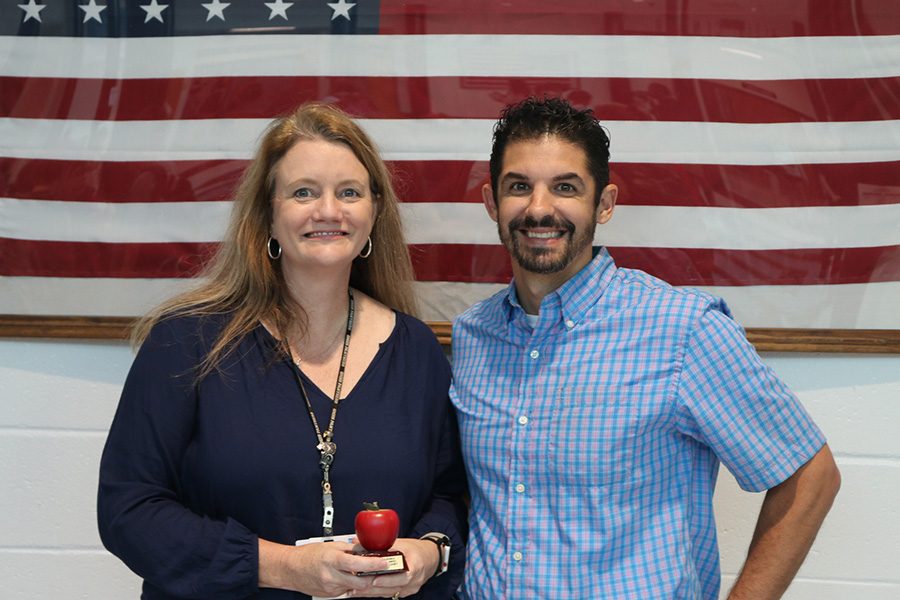 Annika Pepper
Math teacher Wendy Willoughby has been selected as this month's Golden Apple winner. She was chosen by last month's winner, Dan Gant. 
Willoughby teaches Accelerated Precalculus and Algebra II and has been teaching since 1996. Willoughby has been a part of the Starr's Mill community, however, since 2001. 
"I feel like she is a fair person and a fair grader," Gant said. "She's very good for the kids. She's also very active for the school because she's been like a class sponsor. She goes above and beyond just the classroom. She does a lot of stuff outside, and so that's always a good thing."
Willoughby used to work at Nations Bank but quickly discovered that working with adults was far less enjoyable than with students. After earning her teaching degree, Willoughby worked at Woodward Academy before moving to Starr's Mill because it was more conveniently located and still let her work with students. 
"I love the students, even though they may not see that everyday," Willoughby said. "And I really enjoy math. It's fun for me. It's like a puzzle, and it's a puzzle that has answers, and they're very clear. It has structure, and it has organization, and it has logic, and those are all things I enjoy."
Willoughby has always been inspired by friends and parents to be a teacher, but while she was little, Willoughby originally wanted to be an aerospace engineer. She has always been mathematically wired and hopes to share her love of math with others. 
"I would love for every student to love math, but they're not going to," Willoughby said. "I like for every student to at least feel at ease, and not ever feel threatened, and to enjoy class even if they don't love math." 

Just as Willoughby loves math, she also loves her students, caring for them greatly. The colleagues she has found at Starr's Mill has also grown very close to her. Willoughby believes that every teacher here is capable of achieving the Golden Apple. 
"[My colleagues are] some of the hardest working people with the best attitudes you could ever find," Willoughby said. 
Outside of school, Willoughby is busy with her two kids who are very involved themselves, and are currently in the midst of baseball. Her family loves their church and camping. 
Trying to live by God's word everyday, Willoughby is recognized as this month's Golden Apple recipient.