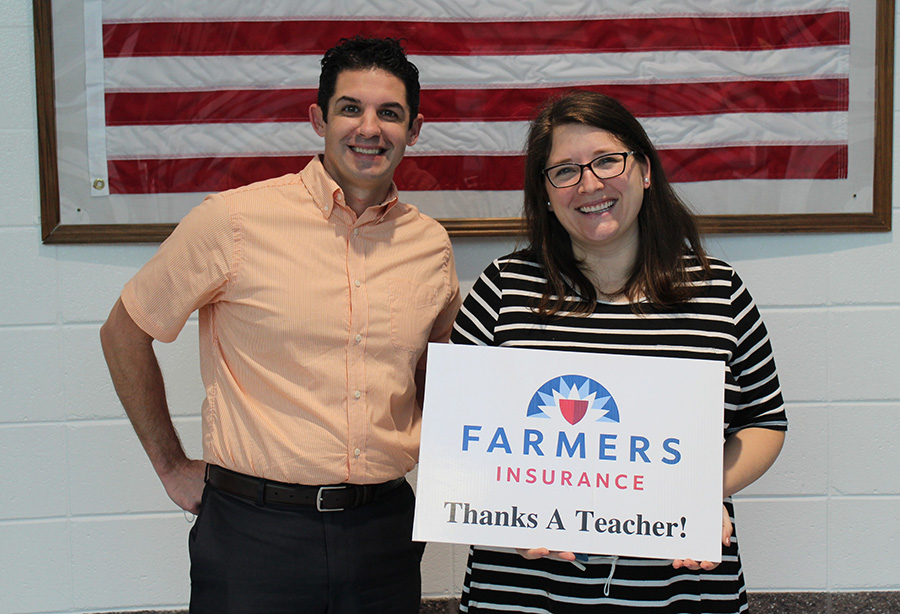 Jacob Flesher
This month's Golden Apple recipient is math teacher and varsity girls basketball coach Emily Sweeney. Fellow math teacher Julie Spencer chose Sweeney for her focused interactions with students which allows her to provide as much help to them as they need. 
"She spends a lot of time working with kids individually–given up her planning period, her PLC time, just working with kids one on one–and that's kind of the epitome to me of above and beyond," Spencer said. 
Spencer particularly noted Sweeney's relationship with students as she tries to get to really know her kids, not just as her students, but as people with lives outside of school, too. 
"I hope that at the end of every day I have either taught a student something or I have made their day better," Sweeney said. "It is not always about learning the concepts in the classroom.  Sometimes it is just about being there for a student when they need it."
Sweeney, a Starr's Mill alumnae herself, is in her 10th year of teaching. She first decided to become a teacher after talking with her college roommate, who was an education major. This year Sweeney teaches Geometry Support and Algebra II.
"Math is very straight forward," Sweeney said. "There is always a correct answer. I enjoy puzzles, and math is just a different form of puzzle. I also like that there is always an answer."

One aspect to Sweeney's teaching that makes her such a standout faculty member is how considerate she is to students' schedules, always trying to be available to them however is most convenient for them and their surrounding situations. 
"I enjoy working with the students," Sweeney said. "Nothing is better than sitting with a student and the lightbulb goes off. It is quite inspiring to watch someone struggle and keep with it and finally understand something."
As the winner of the monthly Golden Apple award, Sweeney also receives $100 to be put toward school supplies for her classroom. She would like to find something to help with a visual conception of mathematical concepts, but what that will be yet, she's not sure. 
"Never give up," Sweeney said. "Just because something is hard doesn't mean you can't achieve. It might actually make being successful more fulfilling if you had to struggle along the way."
In addition to the $100, Sweeney also earns a free haircut to Mane Hair in Peachtree City, a free large Pizza from Buck's Pizza, and gift certificate to Lisa's Creperie.