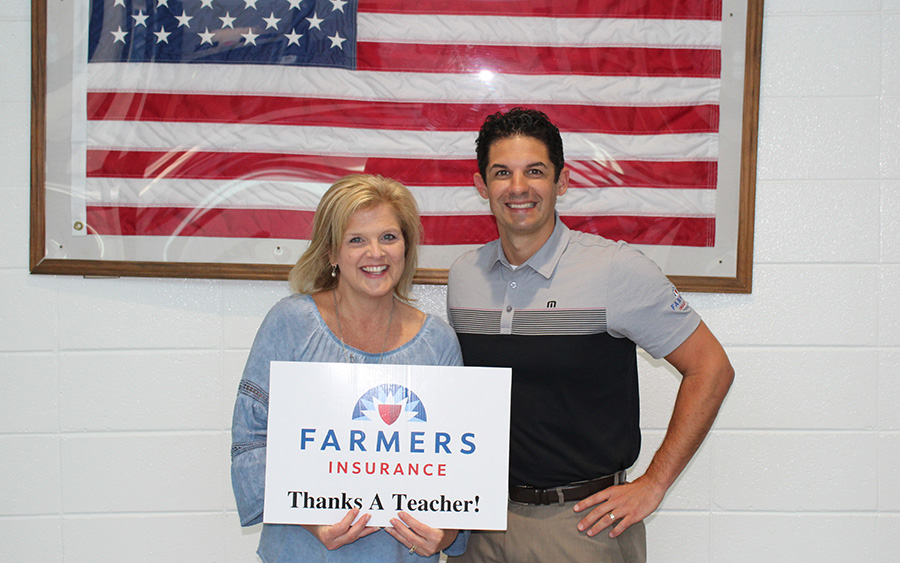 Staff Photo
This month's Golden Apple recipient is guidance counselor Paula O'Shields. Last month's recipient, J.B. Campbell, selected her for this award because she has been a mentor and a great coworker to him for the past 22 years. He admires her attitude and her care for teachers and students.
"You never see her have a bad day. I know she does, everyone does. She's just positive, cheerful, [able to] find a bright spot in the worst situation," Campbell said. "[Golden Apple is] just a way to honor her knowing that she isn't going to be with us next year."

Campbell shared one of his fondest memories of his time working with O'Shields.
"If you know Paula, you know how excited she is all the time. She can't sit still," Campbell said. "She comes bebopping down the hallway and she says, 'I'm feeling tired. I'm going to go get some Mountain Dew. I need some caffeine.' Her energy was 10 times what mine was, and here she is saying she needed some caffeine. I didn't know if I could handle that."
O'Shields spent 31 years in education prior to retiring on May 28, 2021. She taught math at Fayette County High School for seven years before moving to Starr's Mill in the fall of 1997. 
"I stayed in the classroom for 17 years, but when the new math — Math I, Math II, Math III — was hitting the high schools, I thought, 'I can recreate myself in all of my classes or I can recreate myself in a new role'," O'Shields said.
Both of O'Shields' children graduated from Starr's Mill. Her oldest son Kyle (class of 2015) is currently serving in the Marines, while daughter Kaitlyn (class of 2019) looks to earn a degree in nursing from Georgia College and State University.
During her time at Starr's Mill, O'Shields has also served on the graduation committee alongside assistant principal Brandi Meeks, fellow math teacher Julie Spencer, and English teacher Jillian Bowen.
"No two days are the same, no two students are the same," O'Shields said. "You have to keep reminding yourself why you went into this profession — to serve with your heart, to lead with your heart, and to love with your heart." 
Each month Farmers Insurance gives the Golden Apple recipient $100 to spend on classroom or teaching necessities. O'Shields received a gift card to Target.
O'Shields also gets one large pizza from Buck's and a gift certificate for Lisa's Crêperie in Senoia.  In addition, KenCan Wildlife Exclusion Service provided a gift certificate to Outback Steakhouse in Peachtree City, and Annie Derose-Broeckert from Keller Williams Realty donated a Carrabba's gift certificate.