Starr's Mill breaks world record for longest chain of pipe cleaners
"It really was an outstanding way to take their curriculum goals and apply them into a real world type scenario," principal Allen Leonard said. "I thought it was an outstanding use of their time and resources."
Using 82,697 stems of pipe cleaners, the technology classes and club created a chain that totaled 10,621.7 meters or 34,848 feet, a length that nearly tripled the previous world record of 3,188 meters set by the Oklahoma Children's Cancer Association without even using all of the pipe cleaners that parents and students donated.
"
I thought it was an outstanding use of their time and resources."
— Principal Allen Leonard
"Teamwork was an important part of unrolling of the chain," said junior Reid Bowman, a technology student and worker at the unrolling of the world record.
Overall there were about 50 participants who helped unwrap the pipe cleaners onto the Panther Stadium track on Oct. 24. The workers were student volunteers from the technology classes and club as well as a few parents.
The pipe cleaner chain has been in the making since August with the help of all of the engineering students and students in tech club. The record relates back to the technology curriculum through the students' collaboration of bringing in many donations, planning and creating a finished product.
This project put the class's knowledge in context, making it come to life through hands-on application in a real world setting. It also taught the students problem-solving skills and how to overcome obstacles that arise during the process of a project, showing them that creative thinking works its way into technology and provides an alternate solution to starting over when a problem lies in the way.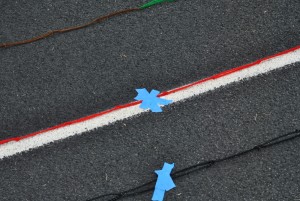 The unrolling took four hours, one hour more than what was expected, and the wrapping up into a pile took around 40 minutes. This delay was due to a few problems in the unwrapping of the pipe cleaners. "The obstacle in the unraveling of the chain was that it kept breaking," freshman Ethan Nuqui said.
The other challenge was getting the chain around the turns of the track because the pipe cleaners had to be taped every couple of feet so it would stay in their separate lanes.
Winkjer and his technology classes are considering on what to do next. They may even create another structure out of the excess pipe cleaners within the duration of the year. "We might try to make something else out of it," Winkjer said.