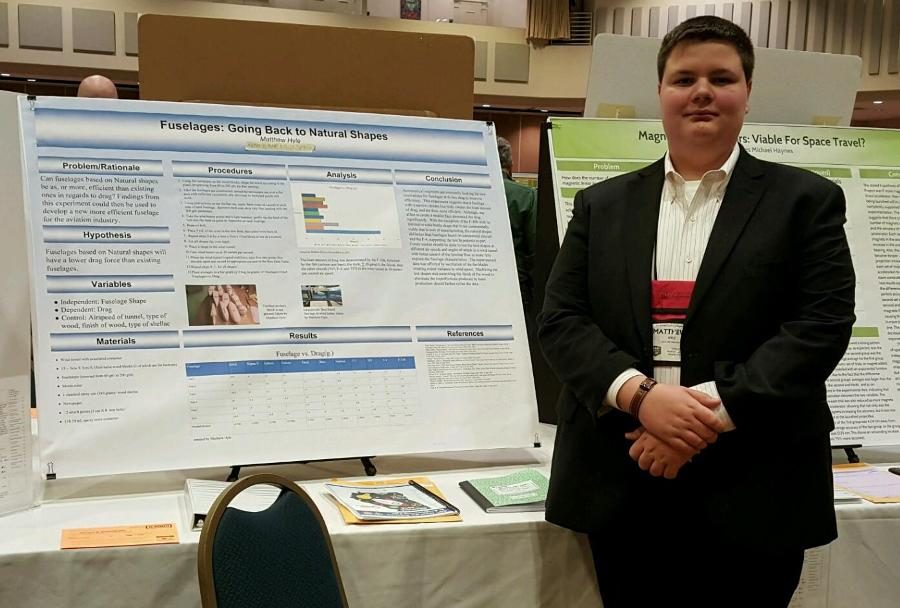 Susan Northrup
"This is the best our kids have done," chemistry teacher Dan Gant said. "There were third and fourth place honors along with two special awards."
Six Starr's Mill representatives, freshmen Matt Hyle, Ally Marshall and Naomi Valeigh and sophomores Cara Clements, Jo Dearman and Michael Haynes, competed in the annual Georgia Science and Engineering Fair from March 31 through April 2.
These competitors already received recognition at the school, county and regional science fair levels, but this was a tougher competition. "Fayette County schools typically compete with a disadvantage," Gant said. "They usually don't have access to research facilities because none are close by, so having three out of four of the Mill's groups place [at state] is fantastic."
Hyle received a third-place award for focusing his project on how shapes found in nature provide useful templates for designing aircraft bodies. "Next year, I plan on exploring the effect of speed of the drag forces of the shapes," he said, "and I hope I can do more of the work."
Hyle also won the Naval Sciences Award, which recognizes creative projects pertaining to physics.
Haynes also received a third-place award for his science project. He investigated the possibility of using electromagnetic forces to propel a rocket into space using a smaller test-scale.
"The hard part actually wasn't thinking of the idea but figuring out how I was going to test it," Haynes said. "I used computer modeling to calculate the data because the math involved was over my head."
Haynes will not be required to participate in science fair next year as a junior, but he doesn't plan on wrapping up his project just yet. "Although I'm done with science fair affiliated with the school, I will be continuing my research," he said.
Science fair partners Dearman and Clements also found success at GSEF, placing fourth for their research project. The two successfully developed a video game for blind people by using auditory cues.
They received the UGA Lamar Dodd School of Art Excellence in Problem Solving & Innovative Thinking Award along with monetary awards of $400 each in recognition of their project's creativity and applicability.
"We were both surprised and excited to be recognized with the honors," Dearman said. "All the hard work paid off because we met so many cool people and did something out of the ordinary."
Marshall and Valeich submitted a project that researched the effects of nanoparticles had on the memory of mice.
"The idea behind [our project] was controversy over whether or not nanoparticles can seep into the skin and cause damage to the user," Marshall said. The two studied the effects of applying sunscreen with nanoparticles, sunscreen without nanoparticles and no sunscreen to three test groups of mice.
"Although we didn't win any awards or move on to the International Science Fair, my partner and I were very proud to make it state because there were about 600 very impressive projects there," Marshall said.
Although none of the Mill's teams will advance to the International Science Fair Competition, their overall success and accomplishments wowed the school's science department with their innovation.
"The key to success is to create a project with creativity," Gant said. "Our groups of students did just that."