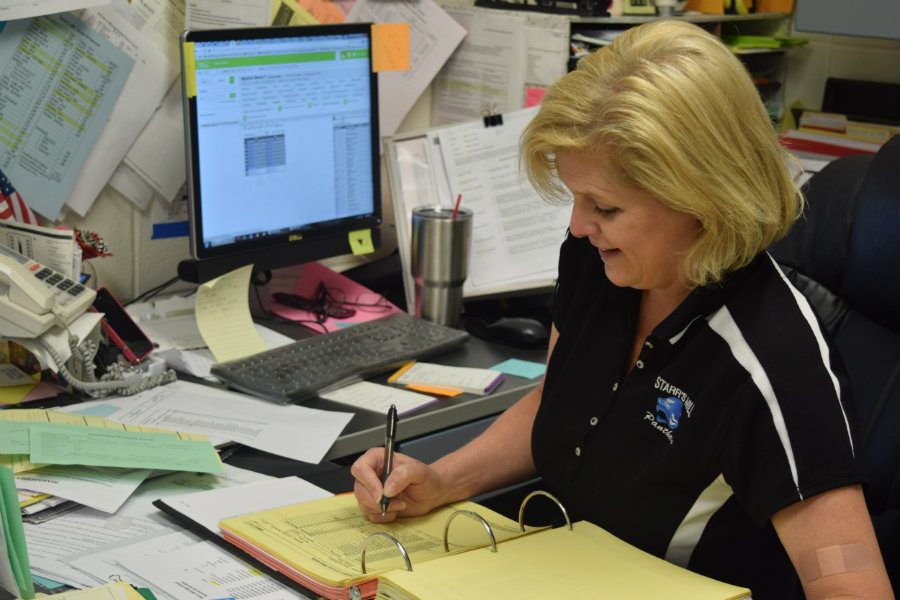 Reagan Wilkins
"We wouldn't be counselors if we didn't care about all of you," counselor Sue Hutton said.
Counselors provide guidance, assist students in need and help them through difficult situations but with the volume of students that each counselor must see, students find it hard to visit their counselors in a timely manner. There have been many reports of students waiting weeks to see their counselors and some who have waited months.
There are four counselors at the Mill, and the students are divided among them alphabetically by last name: Paula O'Shields takes care of A-D, Hutton takes care of E-K, Colleen Petty takes care of L-Ra, and Connie Patterson takes care of Re-Z.
Some students feel it is easy to see their counselor, but many others disagree. A lot students find it extremely difficult to see their counselor because other students are already meeting with them, creating an assistance backup. This delay can be particularly frustrating for urgent problems.
This backup could be due to beginning of the year class registration and alterations, exam season, and end-of-the-year scheduling for the next year.    
"Each year we try to think of ways to get to the students faster," O'Shields said. Right now there is a "Request To See Counselor" slip that students can fill out and counselors will sort through them and find the best time to contact the requesting student.
The problem with this slip is that the counselors do not provide a very urgent response. The counselors do try their best to prioritize the needs of students.
"We prioritize requests depending on the nature of the request," Patterson said. Personal situations are the most important and those are taken care of first. If the situation is academic, then the students are called during a time that will have the least amount of academic disruption.
If the situation requires immediate attention and the student's counselor cannot see them, then the student will be seen by the secretary Marcie Comeau or a guidance intern to make sure the problem is resolved.
Even with the additional help resources, many students only feel comfortable with the counselors solving their situation.
In an effort to satisfy these private requests for "counselor-only" problems, email can be used and often provides the quickest response to a situation. This quick routed method provides counselors the opportunity to answer quick questions that don't require an appointment.
"The bottom line is: We do our best to see students in a timely manner.  We are each very dedicated and care deeply about our students and want to help and support them any way that we can," Patterson said.