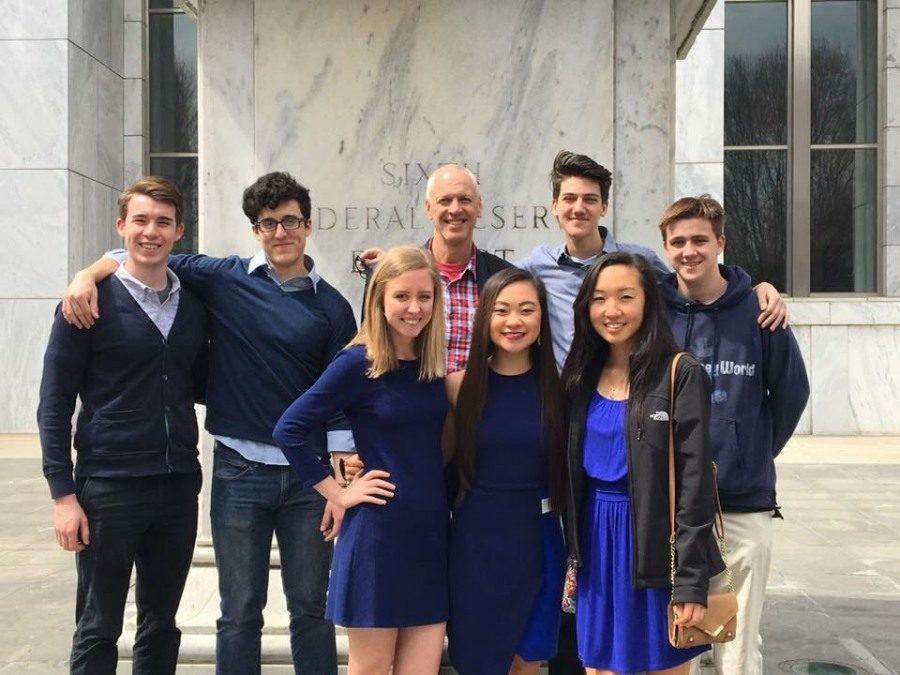 Submitted by Yuri-Grace Ohashi
"It was a great learning experience for everyone," senior Matt Corrigan said.
Last week, the two Starr's Mill economics teams competed at a state competition in which they placed seventh out of 15 teams for the AP/IB Economics Adam Smith Division, and fourth out of nine teams for the College Prep David Ricardo Economics division. Starr's Mill faced off against some of the best teams in the state, which include several magnet and private schools.  Competitors in the Starr's Mill Adam Smith division included seniors Yuri-Grace Ohashi, Jocelyn Gao, Ethan Roland and Chris Hollingsworth. The David Ricardo division included seniors Kelly Patterson, Brian Dickson and Matt Corrigan. The economics teams are both sponsored by the AP Macroeconomics teacher at the Mill, Mark DeCourcy.
"I think the team performed better than average, but unfortunately not quite good enough to move to the next level," Roland said.
The competition was held at the Federal Reserve Bank in Atlanta. The challenge is won by whichever team has the most points by the end of questioning. Each member from the competing teams participates in two individual testing rounds: microeconomics and macroeconomics. Correct answers earn ten points, wrong answers lose five points, and answers left blank neither gain nor lose points. The top three test scores from each team are added together, and the total calculated serves as the team's score for that round. The third round, which is on International Business and Politics, is a collective team test that is multiplied by three and added to create the final team score. The top two teams from each division moved on and competed in the final round called Quiz Bowl, in which a moderator read questions and teams buzz in to answer.
"I thought we were going to do better, and I know the kids learned a lot," DeCourcy said.
The Econ team has competed in this competition for many years now. Both teams are entirely made up of seniors so next year DeCourcy will have to choose a whole new group of people for his teams. He determines members by administering a 20-question test that is formatted like the actual challenge.