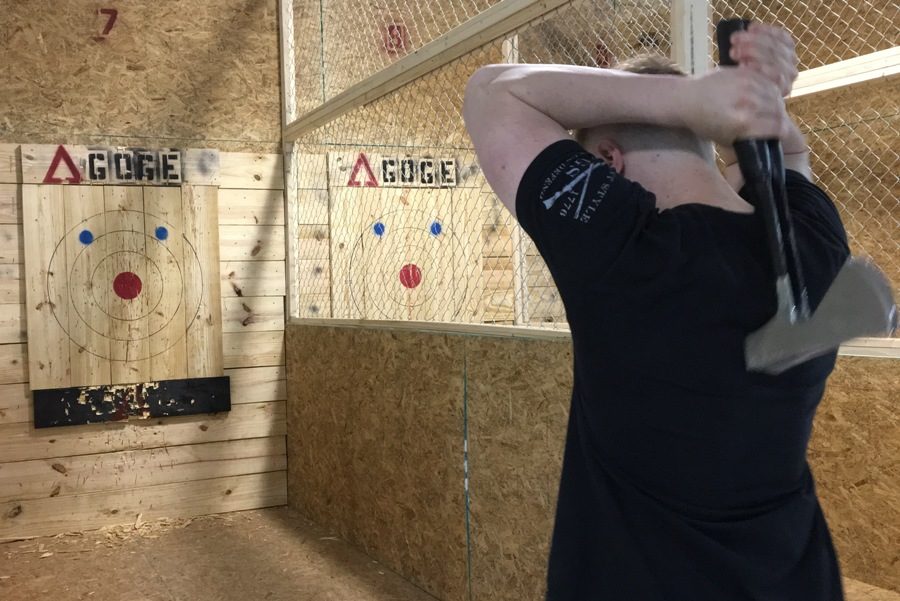 Abri Hausman
Once again Peachtree City is taking part in another trend-setting activity. This time around, it is axe throwing.
Agoge held its grand opening on May 5. This new business allows customers to throw weapons such as axes, knives, and anything else a customer wants to bring in. Owner Zack Fair also plans to set up a spear throwing and archery section in the future.
"It's a lot of fun and people can bring their own weapons and what not. I'm going to put in a couple pool tables and a jukebox," Fair said.
The 2017-2018 National Axe Throwing Competition was held earlier this year on Feb. 18 in Toronto, Canada. The winner, Straun Riley, won $7,500 and the coveted Wilson Cup. This sport is quickly becoming popular in the United States with over 4,000 league members.
Fair brought this sport to Peachtree City as a place that is both fun and an exercise alternative for those who want to try something other than the traditional gym setting.
"Melody there, we just hired her the other day, and she's lost 5 pounds," Fair said. "She's been throwing like crazy and I've been going through a lot of wood because of her."
While it does seem like this style of business would cause many accidents, it is completely safe for someone who exercises common sense and care.  
"Expect to have a good time. Expect to sweat and lose weight at the same time, but you know you're going to be developing a skill that lets out aggression," Fair said.
Agoge is located in the Braelinn Village Shopping Center at 280 Crosstown Drive in Peachtree City. It is open Monday through Thursday from 5-9 p.m., Friday and Saturday 12-9 p.m., and Sunday 12-8 p.m.