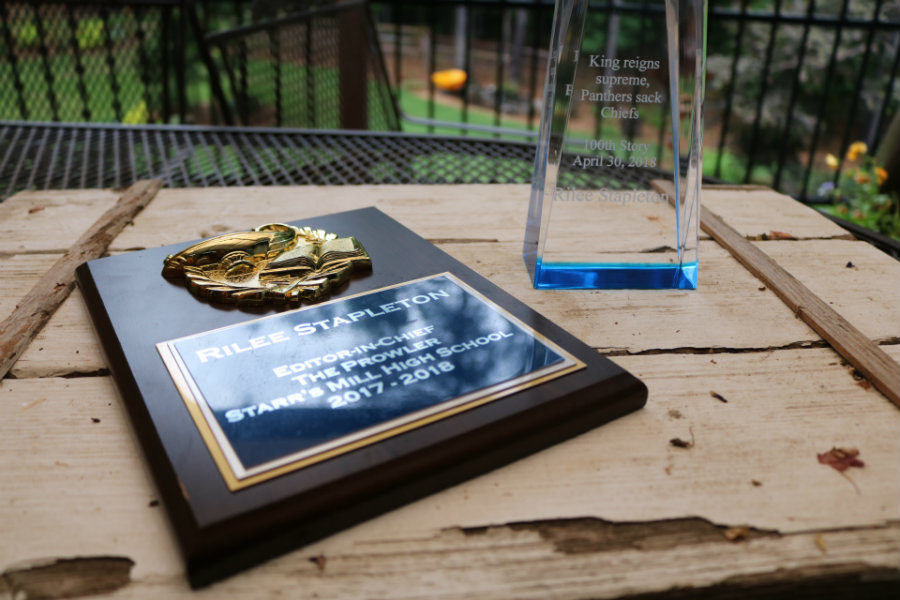 Shelby Foster
On May 7, the annual Honors Night ceremony took place with hundreds of awards given out. These awards were presented to exceptional students who display excellence in their respected fields.
Principal Allen Leonard began the ceremony with a welcome speech before presenters from Starr's Mill and guests from around the state of Georgia and the Southeast gave out awards.
After Leonard's welcome speech, local scholarships were given out by businesses and organizations in the area. Senior Abby Adams was presented with the Clothes Less Traveled Scholarship, Coweta-Fayette EMC Melissa Segars Memorial Scholarship, Kiwanis Key Club Scholarship, and the Math Werner-Hunt Scholarship due to her involvement in the community.
"It was so heartwarming to have even received a scholarship for the service I've done for others," senior Cara Clements said. "I definitely don't do any of it for the recognition, but it was an enthralling experience that I am extremely grateful for."
Senior Cara Clements took center stage as she was awarded multiple scholarships from the Peachtree City Running Club, the Starr's Mill Production Scholarship, the National Beta Club Scholarship, and she even took 1st place out of three PTSO scholarships. These awards were given to her due to her service in the community. Throughout high school, Clement accumulated over 1,200 service hours in the community.
Some of the most notable awards of the night were the military recognitions given out by representatives from the U.S. Navy, Marine Corp, Army, and Air Force. These awards were given to students who may see a possible future in the military and display traits that are desirable in soldiers and those who serve military roles.
"Honors Night was a great experience where I got to see the best students at Starr's Mill be honored for their hard work," junior Erin Pham said.
After the military recognitions, the 23 Junior Marshals were given their awards for being members of the top of their class.
Following this, senior Elena Wernecke took home the AJC Cup award and senior Dana Gould took home the Mowell Cup award.
Senior Michael Norton earned one of the most impressive awards of the night perfect attendance, having not missed a single day of school in thirteen years. Norton has not missed a single day of school from the first day of kindergarten through graduation.
The ceremony concluded with the final recognitions of the students at the top of the senior class. Senior Colin Kelly was recognized as the Salutatorian, and Elena Wernecke was recognized as the Valedictorian of the class of 2018.
With the 2017-2018 honors ceremony, students were given the recognition they deserved for academic excellence and for persevering through their high school careers.
Click here to see a full list of awardees.