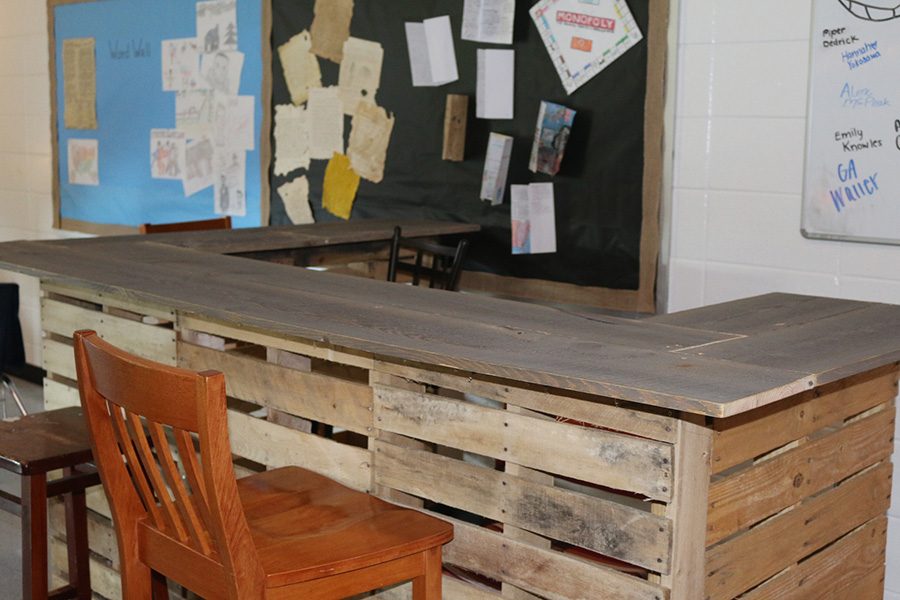 Annika Pepper
Non-traditional learners need a different approach to make the most of their class time. History teacher Jason Flowers has applied this thinking to the overall arrangement of his classroom thanks to the renovation that took place over the summer.
"I tried to find a way to bring a casual setting to the classroom where it is still instructional and musical, but not unorganized," Flowers said.
Flowers created flexible seating for the students in his classes to use to create a more informal learning environment to appeal to every type of learner.
He wanted to create a desk free atmosphere for his class, but he found that some students need desks to be most efficient in class. After looking up ideas for new seating in his classroom, Flowers decided to make high tables to make a more laid-back class.
Now his classroom contains traditional desks in addition to the new tables. The high tables have wheels on them to protect the new floors and they can easily be moved around in the classroom. The tables are made from wooden pallets and are shaped in an "L" arrangement.
"They've been in about five different configurations so far this year," Flowers said.
The everchanging setup of the classroom makes the students sit with people they typically sit with, which allows the students to hear ideas from many of their peers. Additionally, the different setup of the seating keeps the room feeling fresh throughout the year. The movement creates a different dynamic each day for the students so that they do not feel like they are always doing the same thing.
"[Flowers and I] are at the same height so I don't feel like he's looking down at me when I ask questions," sophomore Sophia Bauer said.
The flexible classroom creates a different environment for the students rather than the typical classroom setup.With previous experience working with college students, Flowers found that interacting with students in a more casual setting helps teachers connect easier with their students.
"Meeting [students] around a table just seemed like the interaction changed a little bit, rather than being the teacher up front," Flowers said.