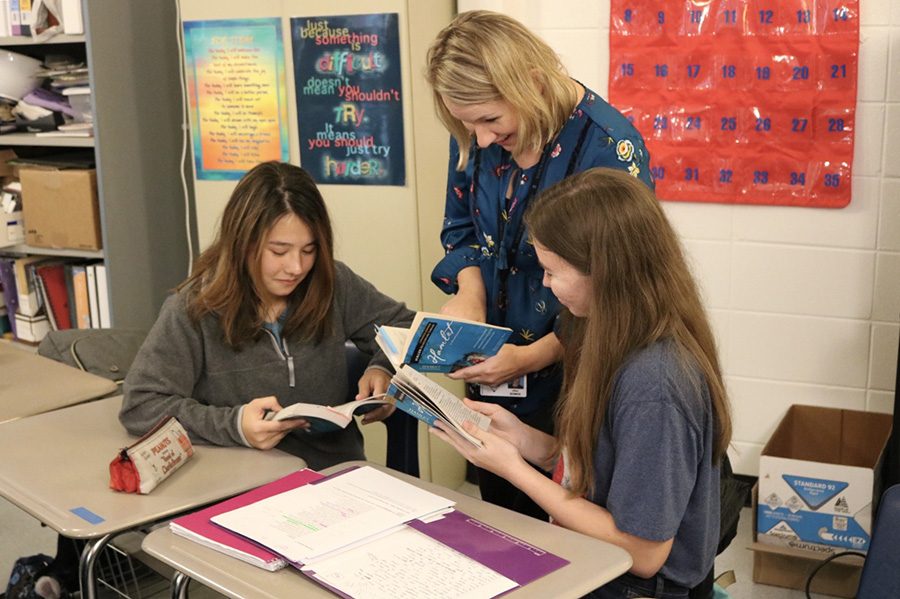 Shelby Foster
Starr's Mill announced their nominee for Teacher of the Year — Jillian Bowen, a teacher of 22 years and head of the English department. Bowen has a number of additional duties around the school including advising MUSINGS, the school literary magazine, coordinating graduation, and overseeing the gifted program at Starr's Mill.
"On a day by day basis, Mrs. Bowen makes all the students in all of her classes better," Principal Allen Leonard said. "She is also a fantastic leader of the English department as our department chair, and really works to advocate for all of our teachers and all of our students to make sure that our English instruction is as good and top-notch as it possibly can be."
Bowen grew up in Clayton County and went to Morrow High School. After graduating from the University of Georgia with a degree in English, Bowen wanted to try being a substitute teacher to see if teaching was the right fit for her.
"When I was a substitute teacher, I really decided to try to start teaching to see if I liked it," Bowen said. "It was a fit. My first day subbing, I was like ,'This is what I want to do,' and so I went back to school to become a teacher." Bowen then attended Agnes Scott to earn her Master's degree in teaching.
After going back to school to become a teacher, Bowen began teaching at Fayette County High School, where she spent seven years before going to teach at Newnan High School. After only one year at Newnan, Bowen began to teach at Starr's Mill, where she has been ever since. Bowen is now in her fifth year as the English department head, and along with her other duties around the school, she works to make Starr's Mill a better learning community.
"It's a huge honor to me because our faculty here at Starr's Mill is so incredible. I learn things from different teachers all of the time and they are such good examples of what good teaching should be," Bowen said. "It's an honor that they chose me to be Teacher of the Year." 
Bowen likes to lead her classes through discussions, a vital part of her approach to teaching. Through discussion, Bowen connects with students and helps them with understanding the lessons being taught. Bowen claims that through involvement and participation with students and parents, her classes are not only better able to understand the basics behind the topics, but may delve deeper into the discussions and understand the information being taught to them.
"My favorite thing about her class are the discussions. We have amazing in-depth conversations about what we're reading and how it relates to the world," senior Sarah Kelly said.
Teachers are nominated by their peers for Teacher of the Year. After a round of voting, the nomination was brought down to three teachers. The finalists then underwent one more round of voting. The teachers nominated Bowen to represent Starr's Mill in the Fayette County Teacher of the Year competition.
"The best thing about teaching is the interaction with kids and just hearing the things that they have to say, because kids have some really insightful comments to make about things," Bowen said. "As the world changes, it's interesting to see how perspectives change, and yet how it can kind of still always go back to what it is they were talking about."
Bowen is now in contention for the Fayette County Teacher of the Year, and after she submits the application along with multiple essays, she will compete against the other nominees in the county. In late January, the top three nominees will be announced. At the Teacher of the Year banquet in April, all of the teachers will be recognized and the winner for the county will be announced. 
"I feel honored to teach with her. I feel like it's been a long time coming, and I'm happy and proud of her," collaborative English teacher Nikki Moore said. "She is amazing in the way she feels about teaching and how important it is to her that her students understand what they're learning and that they dig deeper in their knowledge and their understanding."