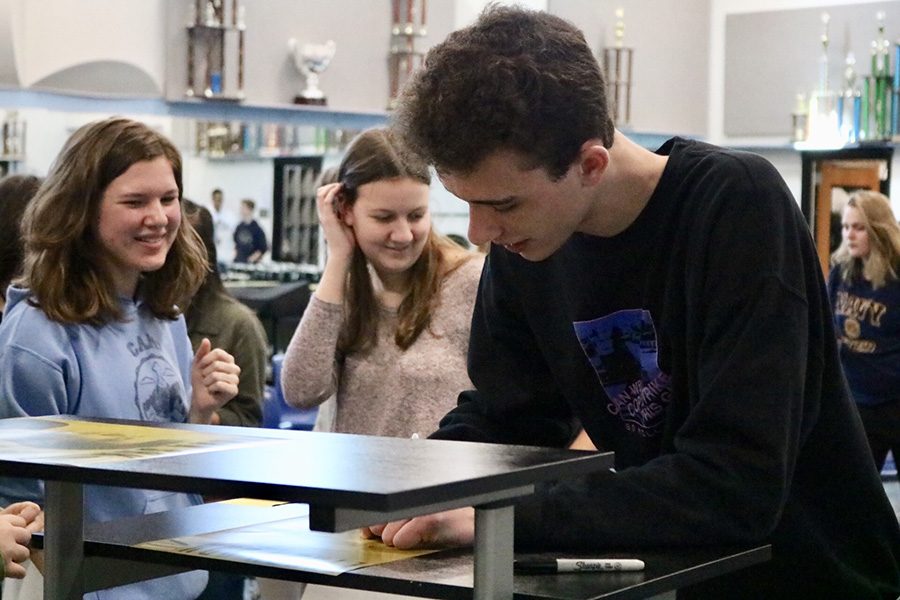 Shelby Foster
Starr's Mill has always prided itself on its ability to prepare students for their future endeavors. Last week, this was shown in the fine arts department when 17-year-old rising music star Ethan Sak came to perform and discuss a career in music.
Sak talked to several band, chorus, and drama classes about what it's like to have a career in music. His presentation included musical performances, questions on his life and the world of music, and how he balances school and and his career.
"[Balancing everything involves] using your free time to actually relax and a mix of when it is time to work, it's time to work," Sak said.
Sak, a high school student from Florence, Alabama, started his career in music when he was five after beginning piano lessons. By the age of 13, Sak knew music was how he wanted to spend his life and he got discovered by a local publisher with his song writing skills. A few years and singing lessons later, and Sak started going pro with the production of several albums, music videos, and even a tour that he just finished.
"I have been touring with a band called Haye Maria," Sak said. "They were looking for an opening and we needed to start doing live shows in order to promote the singles and the Extended Play and everything."
Sak spent most of his time with each class discussing songwriting. He has written all of the songs he now performs and even used songwriting to break into the industry. Most of his inspiration for his music comes from events in his life that inspire a word or phrase that is the basis for a song.
One example of this is his single, "Too Far Gone To Live Another Day." "When I just turned 15, my best friend came over and said [our friend] Natalie tried to kill herself," Sak said. "She is fine now, but I wrote a song from the perspective that she was successful in killing herself."
While some would think trying to balance a career in music and school while doing the same thing nightly would be tiresome, Sak has a different belief on the matter. When asked if he ever gets bored of performing his songs Sak said, "It depends. If I'm all dark and depressed, I don't want to sing a song about someone making me fall in love, I want to be sad. But when it's just an average day, I just enjoy the music."
Sak's trip to the Mill is complete, but this won't be the last you hear of him. If you want to hear more from this new artist, check out his music on YouTube and Spotify. Also be sure to check the top songs of 2019 in December, as Sak hopes to hit the charts this year.  "I want to break Sirius Top 40," Sak said. "I want to get, [my song] 'Make My Heart Go,' on Top 40, Billboard."