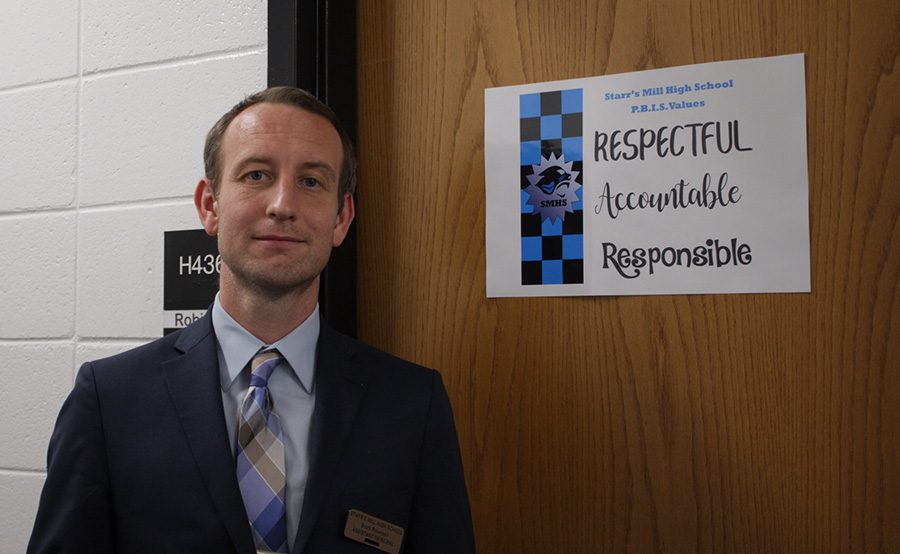 Katie Linkner
This semester, the Positive Behavioral Interventions & Support program is slowly being introduced to Starr's Mill students. PBIS is an implementation program meant to help build a school culture that focuses on the things that students and teachers both value.
"What if there were certain values that represented us, that the language that we could use and the things that we could show everybody outside of our building, are the things that represent us?" assistant principal Scott Robinson said. "[PBIS is] culture-building and expectation-building."
This program is an idea being spread throughout Georgia, but is also becoming popular nationally. The building blocks for this system started with the posters in various areas on school campus, promoting respectfulness, responsibility, and accountability.
Teachers have ushered in this new style of a more encouraging language and environment, supporting what they see as the values of Starr's Mill.
Teachers will partake in training, now and into the next school year, as teachers learn how to implement PBIS into their classrooms and see the desired outcomes.  
"First of all, the administrative team have already been trained, which means that we get a lot of county office support, and we actually have a PBIS team here, where we took teachers from across the departments and then we gave them training," Robinson said. "And over the course of this year, teachers are introduced to these concepts. And then going into next year, over pre-planning, the teachers will be sat down and given specific, professional learning sessions."
Typically, PBIS is a form of positive reinforcement thought to be common throughout the elementary grades. Comments like "Thank you for coming class prepared today. I appreciate that" are an effective way to motivate smaller kids to be good students.
Once students get to high school, though, these things are already expected and are held at a more serious standard. In order to still be a part of PBIS, Starr's Mill will take a somewhat different outlook on how to implement this while still preparing students for the real world. After all, we don't live in that elementary, everyone-gets-a-trophy kind of reality.
Instead, the approach that teachers will be working to incorporate is molding students into the values that they think represent Starr's Mill. Another term used to describe this idea is the school "culture."
"So if you think about it, we ask you to fill in student surveys every year, and we try to take what the students say. What are some positives, what are some negatives? One of the things that we heard is students were not entirely sure that we really promote a specific culture," Robinson said. 
PBIS could prove to be a very beneficial thing to schools across the nation, but it's just a matter of execution and adapting to each school's age group. Here at the Mill, we won't quite fit the basic outlines of this program, but we'll reach for excellence and want to show what our school culture is and what it really represents.