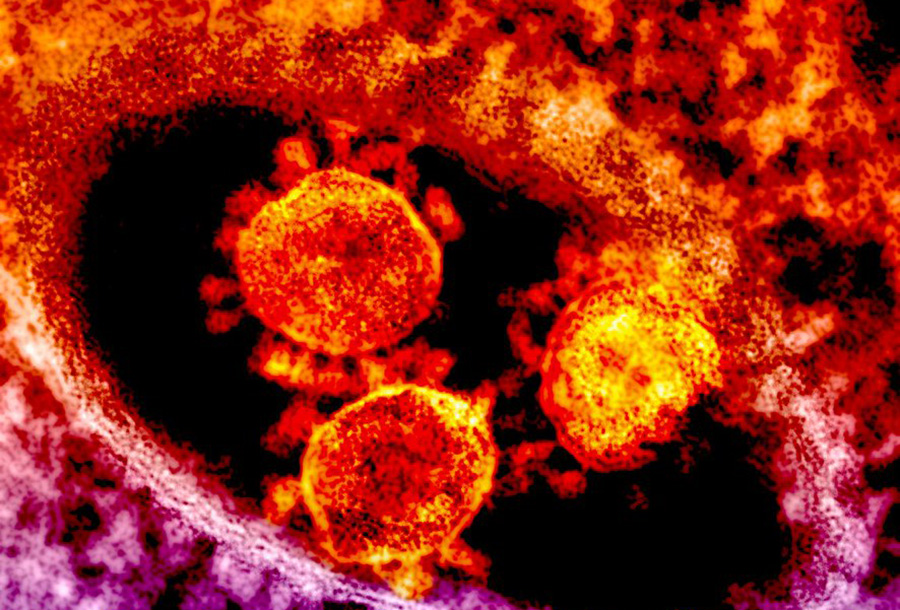 "MERS Coronavirus Particles" by National Institutes of Health (NIH) is licensed under CC BY-NC 2.0
On March 11, after a month of almost constant rain, the sun made an appearance to the residents of the Peach State. To the students at Starr's Mill High School, rainy commutes to and from school were finally beginning to subside. However, after just two days, the residents of Georgia encountered yet another storm: COVID-19. 
Because of the nature of the fatal pandemic, schools across the country have been forced to shut down and switch to online learning until further notice. As a result, teachers and students in the state of Georgia have been subject to methods of online learning and the suspension of all standardized testing.
"Right now, schools' focus needs to be on the safety of their students and staff," State Superintendent Richard Woods said in a press release. "The focus should be first and foremost on health and safety, then on flexible and creative ways to keep learning and growing. It's common sense: testing and accountability requirements should not place an additional burden on students, parents, and educators during this time, and they will not in Georgia."
Not only does this mean the elimination of end of course exams, but also the suspension of teacher evaluations and Milestones this spring.
"I know that teachers have been stressed about the pressure to have students still perform well on the Milestones, so I think this will take a little bit of stress off of everybody,"Fayette County testing coordinator Dr. Julie Turner said. " I'm certainly going to encourage teachers to continue to deliver high-quality, rigorous, and instructional materials to students."
Without the presence of standardized testing and statewide teacher evaluations, it is still unclear as to how the state will measure the accomplishments of certain standards in Georgia, yet this does not mean that students should just throw caution to the wind this spring.
"We don't want [students] saying 'oh well it doesn't matter anymore.'  It still matters because [students] still have to be able to think," Turner said. "You still have stuff you need to know, and you still need to be prepared for whatever is coming after high school,  so while it does take some pressure off in these unprecedented times, our teachers will still continue to strive for excellence in their instruction."
As the coronavirus wreaks havoc across the country, the fate of high school proms, graduation ceremonies, and spring sports remains uncertain. Now with the cancellation of standardized testing, students and teachers alike can only be left wondering when the sun will shine in Georgia again.