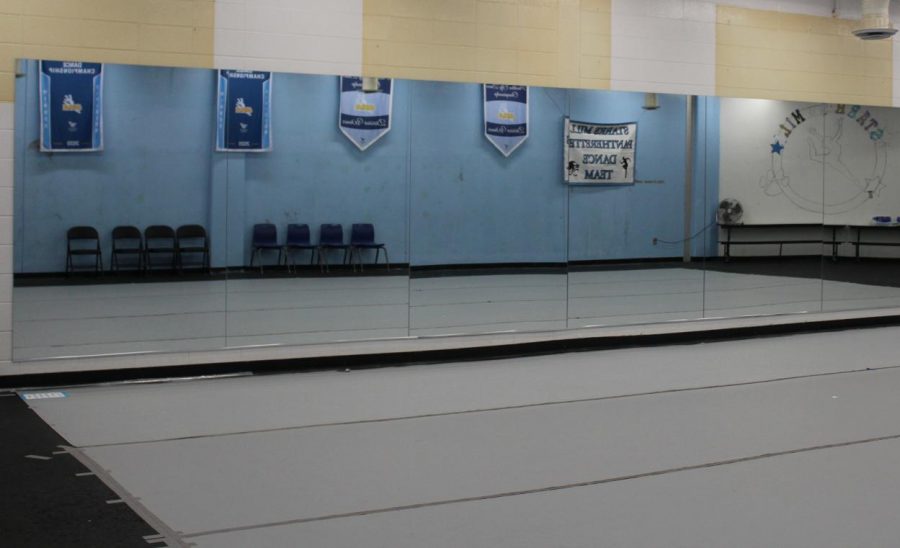 Mateya Petrova
After many fundraisers and lots of cleaning, the Starr's Mill Pantherettes' dance room is finally finished. 
With the new addition of mirrors, the team has its own place to practice. Before this room was a thought, the team was practicing in the cafeteria and occasionally the rotunda. 
"It just makes [the dancers] feel proud to come in here and call it home," head coach Patt Coleman said.
Even though this is Coleman's second year as head coach, she quickly noticed that the team needed a place of its own to practice. After asking around to find out if the old weight room was being used, she got approval to convert the space into a studio for the team.
"Dads and moms came in [the room] while we were getting ready for our virtual competition, so we had the whole gym," Coleman said. "While they were waiting for us to go on, they got in here and just cleaned the room. It was beautiful."
Not only does this room allow the team with its own space to practice, it also is a safer place for the dancers to practice. Riley Hamilton, one of the dance team captains, has been a Pantherette every year of high school. She remembers what conditions were like before they had their room.
"I remember the purple bruises up and down my legs because we were dancing on concrete," Hamilton said. "I'm so glad we have our own room with floors that accommodate the dances we perform."
The team still has to make some final decorative touches to the room, but the team now has a place to call home. 
Be sure to attend Dancing with the Pantherettes on September 29 and vote for your favorite Pantherette and student athlete. The show begins at 7 p.m. in Duke Auditorium.