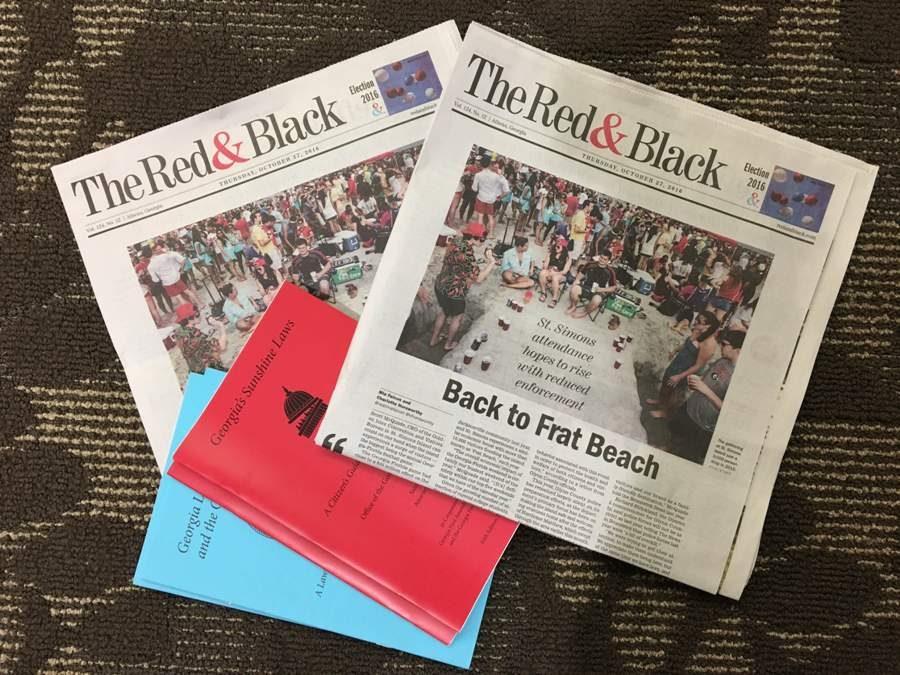 Yuri-Grace Ohashi
In case you were curious about what the people who bring you news have been up to, the Georgia Scholastic Press Association Conference took place at the University of Georgia this past Thursday. But news never sleeps, so in the midst of learning more about the craft of reporting, we're here to bring you the lowdown on this week's top stories. From polling to protests and recalls to recants, the news always has a little something for everyone.
Presidential Polling (10/24)
As the Presidential General Election is quickly approaching, Donald Trump's campaign is losing steam. The Republican nominee is pulling lower approval ratings, which are beginning to undermine his candidacy as the next president.
According to the most recently released ABC News poll, 56 percent of Democratic nominee Hillary Clinton's backers state that they are voting for her because they favor her, not because they are simply anti-Trump. Only 46 percent of Trump's backers, however, state that they genuinely support him. The other 54 percent state that they are motivated to vote for him in order to stand in opposition to Clinton.
Clinton's campaign has picked up speed as it nears election time. Enthusiasm among her supporters has risen a shocking 16 percent since the beginning of September, setting a record high at 52 percent. Trump's enthusiasm advantage has fallen behind since Labor Day, now putting him behind Clinton in the polls. Valen messed this up
Voters across the country will take to the booths on Tuesday, Nov. 8, while early voting in Georgia began Oct. 17 and closes on Nov. 4.
Australian Theme Park Tragedy (10/25)
Tuesday, a malfunction occurred on the River Rapids ride at an Australian theme park that lead to the death of four people. It occurred at the popular venue, Dreamworld, that is on Queensland State's Gold coast. The two men and the two women were all in the same circular raft that was traveling down a man-made river when a major flaw occurred.
So far, park administrators and police are trying to figure out what exactly went wrong because the ride had no problems before. This is the first serious accident to happen at the park, and it is expected to be closed down for a few days. The ride will be shut down until it is fixed, but until then, all of the other rides will be open to everyone.
Toyota Vehicle Recall (10/26)
Wednesday, the Toyota Motor Corporation made a recall of over 5.8 million or their cars worldwide, due to a possible flaw with the airbag inflators, which have a compound in them that can explode when subjected to heat. Worldwide, over 16 people have died due to this flaw.
The Corolla and the Vitz models are among those being recalled, with a majority of them in the United States. The recall has been going on since 2008 but it hasn't officially started until now.  This whole issue may be the reason that Toyota Stock is down 6.5 percent this year alone, especially due to this being a recurring problem in Toyota Corporation's cars. So far, Toyota has not made any official announcement.
The Vatican vs. Scattering of Ashes (10/27)
Catholics must reconsider their plans for the dead after new decisions were made by the Pope and the Vatican this past Tuesday.  According to the Catholic Church the act of scattering cremated ashes is now against God and another method must be used.  Prior to these beliefs, the Catholic Church was already against the cremation of people due to the way it made Resurrection seem less important.  These guidelines were overlooked, however, to help people's finances. Now the guidelines are becoming stricter.
The majority of Catholics enjoy scattering their loved ones' ashes after their cremation. Pope Francis's opinion differs on the matter and he believes that a person's ashes needs containment in one place. The pope also created a rule that states people's ashes must be kept at a church in designated areas such as a cemetery. The only circumstances that allow ashes in the home is if the church is in a dangerous area. This prevents ashes from being lost, destroyed, or stolen by people against the church.         
Oil Pipeline Protest (10/28)
For the past few months, activists have protested the Dakota Access oil pipeline in North Dakota, which reached its highest point on Friday. Protesters attempted to block off construction, creating roadblocks and setting vehicles on fire on a state highway. Police forces arrested a total of 141 people, including a woman who fired at officers and almost shot a deputy. According to ABC News, the Standing Rock Sioux Tribe and other individuals believe that extended chaos and protesting "could endanger water supplies and disturb cultural sites."
Officers came to the scene prepared with riot gear; however, they did not fire on protesters or resort to serious violence. In the midst of the chaotic protesting, construction has continued on the privately-owned lands. Activists directly blocked the path of construction for the first time this past weekend, planting themselves on the land belonging to Energy Transfer Partners. Despite the temporary end to the conflict, ABC News reports that protest camp spokesman Cody Hall said that protesters do not plan to abandon their efforts any time soon.