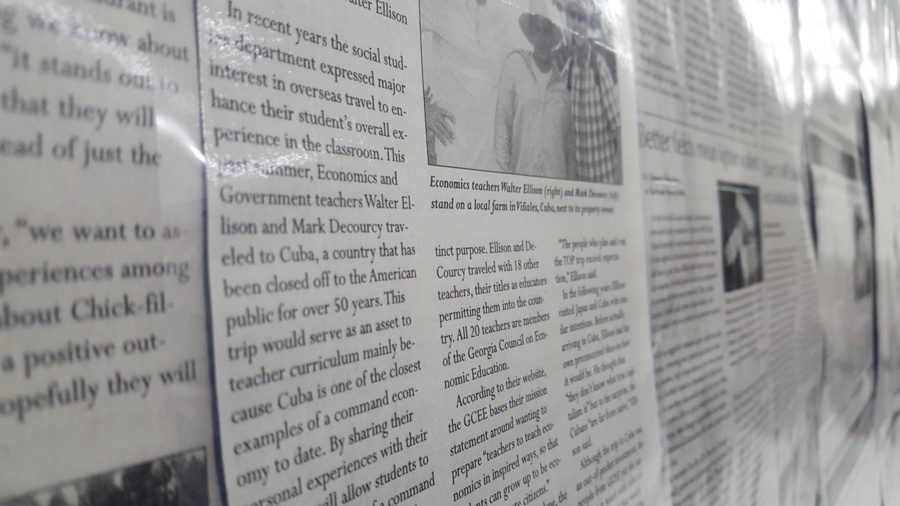 Yuri-Grace Ohashi
Politics ruled the world this week with updates from both sides of the aisle. As president-elect Donald Trump made great strides in his preparation to take over the Oval Office, Democratic and third party backlash turned up conspiracies to keep him out. Trump added another nominee to his line-up for the presidential cabinet as others worked to petition for a recount of the electoral vote. The week, however, had its fair share of troubles as well. A plane crash in Colombia took the lives of many, and a bank robbery stained the news in Florida. News never sleeps, and the only thing to be expected is that unexpected stories are yet to come.
Election Recounting (11/28)
Election years are always full of surprises, but the 2016 presidential election will go down in history. Republican nominee Donald Trump won the Electoral College vote, but he didn't win the election in its entirety. Democratic nominee Hillary Clinton currently has the lead in the popular vote, exceeding 2 million votes. The 2000 election between George W. Bush and Al Gore also had a candidate losing the popular vote, but winning the electoral vote, and has happened 6 previous times.
Jill Stein, the Green Party candidate, is currently raising money to fund a recount in states such as Pennsylvania, Wisconsin and Michigan. Stein is basing her effort on the speculation that foreign hackers manipulated election ballots. Trump has called the idea of a recount "ridiculous" and said the declared results of the election should be accepted. The Clinton campaign has stated that it will join Stein's effort for further recounts.
Brazilian Soccer Team Plane Crash (11/29)
On Monday, a charter plane that was carrying the Brazilian professional soccer team, Chapecoense, declared an emergency on the flight, and then lost contact with air traffic control. The plane had taken off from Santa Cruz, Bolivia, carrying 77 passengers, including the soccer team, the staff, and many journalists that had been on the flight to report on the team. There were only six survivors when the plane crashed into the side of the Andes Mountains. The crash happened only minutes before the plane was scheduled to land at the airport in Medellin.
The team was on their way to the first game of the two-game Copa Sudamericana finals against Atletico Nacional of Medellin. They had been on a long "Cinderella"-type journey and had been portrayed as a major success and inspiration to many for all of the progress they made as a team this year. The team's friends and family are mourning the sudden loss, and even other local clubs are offering to give them some players so that the team may start to rebuild.
Trump vs. Mexico (11/30)
President-elect Donald Trump planned on going to Indianapolis Wednesday so that he may speak to thousands of workers from the Carrier Company. Days before, Trump had saved more than 2,000 of Carrier's jobs from moving to Mexico by striking a deal with the company. This is significant because it represents exportation of American jobs to other countries. Trump found out about how Carrier was expecting to move their jobs after seeing a segment on a nightly news channel, and he decided that it would be a good idea to step in. In this deal, Carrier will apparently receive multi-year state economic incentives worth over 7 million dollars.
The stop in Indianapolis was a slight interruption in Trump's USA "Thank You tour 2016," with the next stop in Cincinnati. Many of the workers whose  jobs were saved are very grateful for Trump's work, and spectators of the deal think that this is only the first instance of Trump saving jobs with many more to come.
Bank Robbery in Florida (12/1)
Early today, a bank in Jacksonville, Florida was a target of an attempted robbery. The gunman, Nicholas Daquan Humphrey, had a past record of violent crimes. Humphrey charged in with a gun and held 11 people hostage. Numerous demands were made, ranging from money and family members to be brought to the scene.
Two 911 calls immediately came in reporting the robbery, and police rushed to the scene. Initial reports of injured hostages were denied by investigators. After many hours, officers used a battering ram to break down the bank's front door and ended the standoff. Police successfully rescued the 11 hostages, and the suspect likely faces charges for armed kidnapping and robbery.
Trump nominates Secretary of Defense (12/2)
During the first stop of his "Thank You Tour 2016," Trump announced he would nominate former marine James Mattis as Secretary of Defense. At a Cincinnati rally, Trump praised Mattis, calling him the closest thing to Gen. George Patton.
The 66-year-old Mattis, known by marines as "Mad Dog," retired in 2013 after serving as the commander of U.S Central Command. His appointment would require a waiver from Congress, due to federal law requiring retired military personal to wait seven years before taking a civilian position in the Department of Defense. This would be the second time a retired general served as defense secretary, following Gen. George C. Marshall in 1950-1951 during the Korean War.