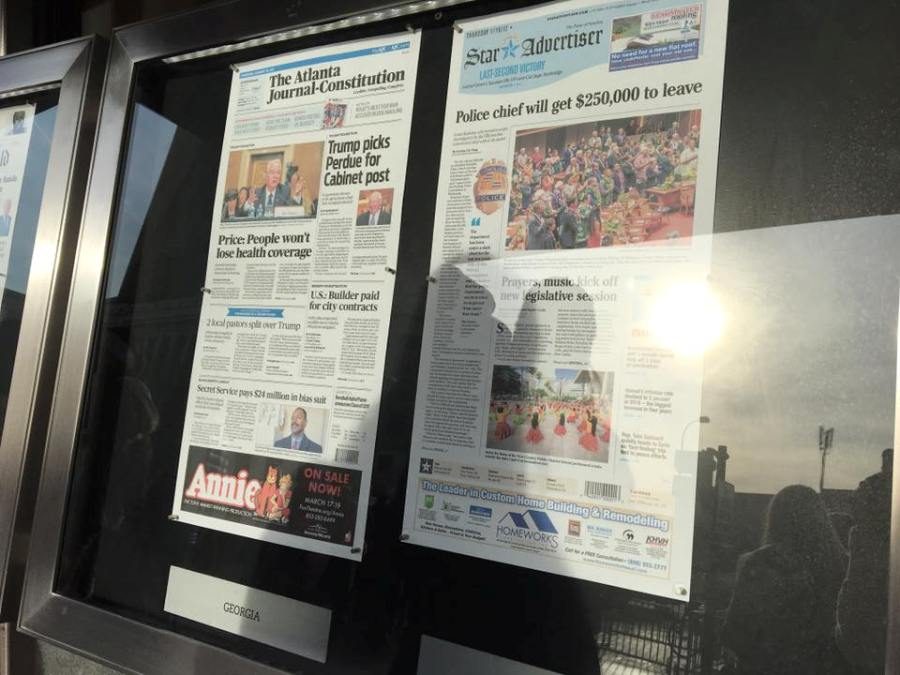 Yuri-Grace Ohashi
News flooded in following the inauguration of the 45th President Donald J. Trump. Soon after the newly sworn in president and first family moved into the White House, the government resumed its busy schedule as executive orders were signed and cabinet confirmation hearings were held. After only a week in office, Trump began the process to fulfill some of the promises he made along his campaign trail, such as building a wall and breaking free from specific trade agreements. Outside of the political realm, American Airlines set a precedent for the future of the flying industry, while justice was served in regards to an Islamic State attack in Germany.
President Trump Signs Executive Orders (1/23)
On Jan. 23, President Donald Trump signed three executive memos regarding trade. The first memo he approved withdraws the United States from the Trans Pacific Partnership (TPP). The next one reinstates the Mexico City Policy dealing with non-government organizations and abortion access. The last one freezes federal workforce hiring, which includes any jobs in the federal government except for the military.
The TPP is a large trade deal that includes countries along the Pacific Ocean. The countries in the deal control about 40 percent of trade in the world. The deal previously suspended thousands of tariffs and regulations, making it much cheaper to import and export products among these nations. Trump signed all three of these executive orders within the first three days of being in office, and he claims that there are more to come.
Key Moments from Confirmation Hearings (1/24)
On Tuesday, Democrats continued their rigorous questioning of President Trump's cabinet picks, including Representative Tom Price from Georgia as Secretary of Health and Human Services. Trump also selected another Georgian politician, former governor Sonny Perdue, to be on his cabinet as Secretary of Agriculture.
During the confirmation hearings, Representative Mick Mulvaney of South Carolina, the nominee for Budget Director, said that "tackling government waste and reducing debt would be his top priorities." The most challenging question that Mulvaney faced was directed from Senator John McCain of Arizona. The question was about Mulvaney's record of voting for cuts in military spending, which when questioned about, Mulvaney stated he had no recollection of.  
German Girl Jailed for Terrorist Attack in Hanover (1/25)
Last February, then 15-year-old German Safia S. stabbed and seriously wounded a police officer in the neck at the Central Station in Hanover. The attack was apparently ordered and supervised by the Islamic State. The girl, now 16, has been jailed by a German court to serve a six year sentence. This attack is significant because it seems to be the country's first attack instigated by an Islamic State synthesizer.
Identified as a German Moroccan, Safia S. was also found guilty of grievous bodily harm. A friend of Safia S., named Mohamad Hasan K., was sentenced to two and a half years for knowing about the attack but failing to alert the authorities.
Trump Spokesman Discusses Funding for Wall on Mexican Border (1/26)
"When you look at the plan that's taking shape now, using comprehensive tax reform as a means to tax imports from countries that we have a trade deficit from, like Mexico," White House Press Secretary, Sean Spicer, said.
On Thursday, Spicer revealed a possible tactic for the Trump administration to fund the building of a wall along the United States' southern border with Mexico. The plan that he discussed would include a 20 percent import tax on Mexican goods coming into the United States. Spicer told this to reporters while on Air Force One, just as relations between President Trump and Mexican President Enrique Pena Nieto took a downward turn.
"If you tax that $50 billion at 20 percent of imports – which is, by the way, a practice that 160 other countries do – right now our country's policy is to tax exports and let imports flow freely in, which is ridiculous," he said. "By doing it that we can do $10 billion a year and easily pay for the wall just through that mechanism alone. That's really going to provide the funding."
The plan would help Trump with fulfilling his campaign promise of building a wall along the border between the United States and Mexico.
American Airlines Rid of Seat-back Screens (1/27)
American Airlines announced that they would be no longer be continuing to add the seat-back screens to their new Boeing 737 airplanes. They made this decision because many people today bring their own forms of entertainment on flights with them. So far, American Airlines seems to be the first to make this game-changing switch, and as far as the consumers know, it may be the only airline to do so.
This change will likely lead to cheaper fair for anyone flying with American Airlines. What consumers should know is that only a few of their planes are being made without the screens as of now but the rest will undergo the switch eventually.