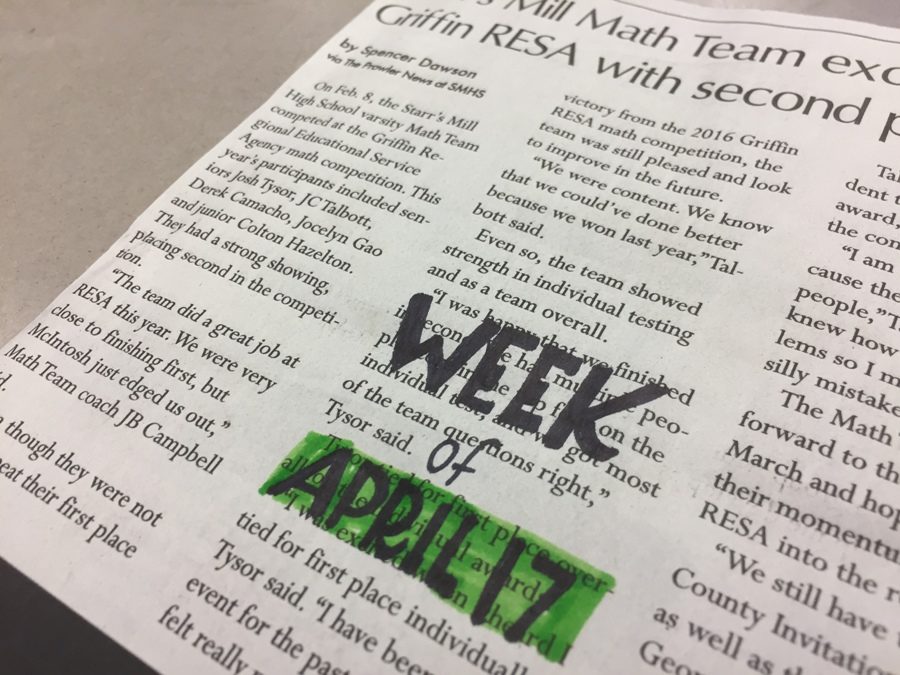 Yuri-Grace Ohashi
This week was incredibly busy here at Starr's Mill with the last of the spring sports making it to the playoffs, totaling 21 out of 22 varsity sports making it to postseason play this year. Students also juggled their athletics with studying for next week's Georgia Milestone assessments. Thankfully, events at the Mill were not as nearly grim as this week's headlines. From authorities catching the Facebook killer and a new film killing it at the box office to the death of Bill O'Reilly's career at Fox News, this week's headlines had some grave implications.
New 'Fate of the Furious' movie breaks global box office record (4/17)
This past weekend, the new Fast and the Furious movie broke the world box office record by more than 3 million dollars. The highly anticipated eighth movie of the series earned more than 532 million dollars. Even with this, the money earned from the United States dropped sharply from the seventh movie in the series. Much of this might have been due to the film being released in China, where it has been successful previous years.
Actors Vin Diesel and Dwayne Johnson said that they were "humble" and "grateful" for the new film's overwhelming success. The success is credited with the film's global appeal as a fast paced action movie which has developed its plot over the long series.
Facebook killer Steve Stephens reported dead (4/18)
Earlier this week, 37 year-old Steve Stephens posted a video of himself publically murdering a 74 year-old man on the street. Stephens also claimed that he had killed 13 people overall in a rampage, but there is no evidence to support this claim. After 3 days of manhunts, Stephens was spotted in a McDonald's parking lot late Monday night. After a two mile chase police closed in on the killer, and Stephens ended his own life.
Stephen's motivation might have come from his ex-girlfriend breaking up with him, whom he mentions in the video.The newly acclaimed "Facebook Killer's" story has spread all across of the United States, with the video of his Facebook murder being watched thousands of times across the country.
Fox News anchor Bill O'Reilly loses his job over harassment claims (4/19)
"After a thorough and careful review of the allegations… Bill O'Reilly will not be returning," Fox News said after they decided to cut ties with the former anchor.
Earlier this week, one of the top Fox News anchors, Bill O'Reilly, was released from his position due to claims of sexual harassment. O'Reilly has been on holiday since April 12, and has not worked since. During this time, he made a trip to Italy and met with the Pope. O'Reilly stated that the claims had no basis and that he is very sad to leave. O'Reilly held the prime time spot for his show, "The O'Reilly Report" and had been at Fox for 21 years.
Fox broadcaster Tucker Carlson will be taking up his spot on the network. Pressure had been set on Fox after they paid five women 13 million dollars in payouts due to the behavior of O'Reilly.
North Korea and the end of America (4/20)
North Korea's newspaper, The Rodong Sinmun, had an interesting article posted in it, and it threatens America's demise. The Korean paper warned the United States, that if the Trump administration did not stop trying to end North Korea's nuclear program, it would be completely turned to ash, along with South Korea, by bombings. While this message is threatening to the U.S., President Trump still plans to continue his job in North Korea.  
President Trump has sent Navy carrier USS Carl Vinson to North Korea to prepare an armada. The attack force will include an aircraft carrier, submarines, and other devices for attack. The team is hoping to convince Korea into negotiate their nuclear program. However, North Korea is showing no signs of surrender. The Koreans have promised that they will continue to produce nuclear weapons, which they will use after any attack by U.S.
The last killer whale… in Seaworld (4/21)
Seaworld in Antonio, Texas welcomed its brand new baby orca on Wednesday. The company was delighted to meet its newest member after being birthed in Seaworld's park in Texas. The whale was born to an orca named Takara and will be the final baby whale born at Seaworld because of the company's decision to end the breeding program last year. While the new calf will likely stay in the Seaworld family permanently, there is a chance it will see the wild at one point in its life.
After receiving backlash from the community about an animal captivity video in 2013, Seaworld decided to stop its killer whale breeding program. The organization also decided to cancel all shows with the orcas in 2019. This has lead to the question of what will happen to all the current whales at Seaworld.
While Seaworld believes it best to keep the current whales, since they will not survive in the wild after living in captivity, People for the Ethical Treatment of Animals wants the opposite. They believe the whales should be released to a seaside sanctuary. For now, however, the baby whale will remain at Seaworld and will be named in the weeks to come.