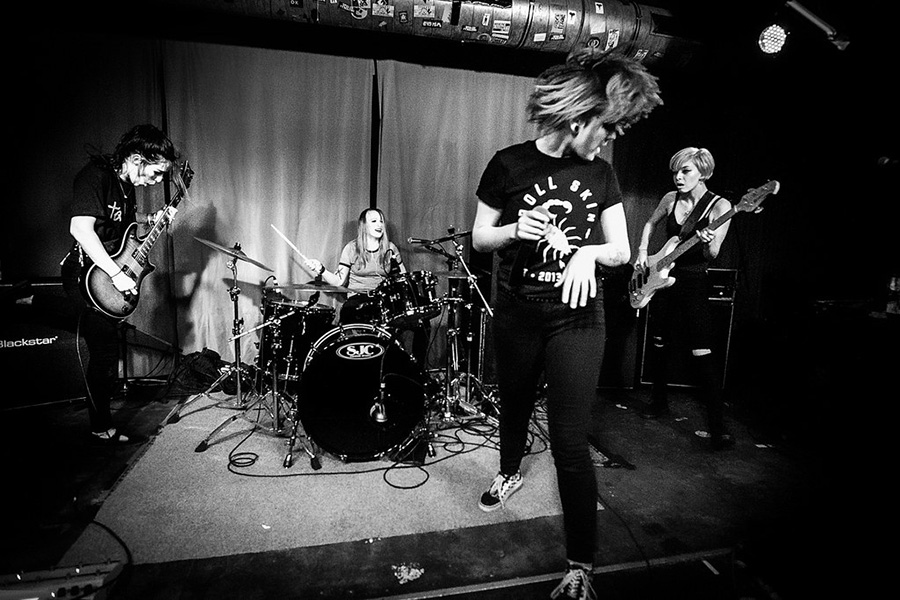 "Doll Skin" by DickerDackel is licensed under CC BY-NC-SA 2.0
The music industry has historically been a hard business to succeed in. Musical trends are constantly changing, which can make an artist's initial breakthrough that much harder. However, sexism is an even bigger obstacle for female artists.
According to a study done by Northwestern University in Illinois, "Men release more songs than women, are signed to record labels more frequently and are aligned with more collaborators to produce music."
 We typically see booming success from men in the music industry, especially when it comes to the rock and alternative scene. That is not to say that women are completely unsuccessful in the music industry. It is to simply say that men are recognized in the music industry more than their female counterparts.
Men are believed to have vocals better fit for the gritty rock sound, while women are believed to have soft voices commonly found in pop music.
Phys.Org states that styles found in rock, rap, electronic, and techno are commonly targeted toward men. Genres targeted toward women include pop, R&B, vocal jazz, and soul.
That is why if you dive into the post-hardcore or screamo side of music, rarely will you find a female singer, let alone an all-female group. If you do happen to come across an all-female band, it is doubtful that they will be popular.
Breaking into the industry is hard enough, but now women are faced with the long-standing wage gap that has plagued the workforce for decades.
As of 2020, women make eighty-one cents for every dollar men make. 
An uncontrolled gender pay gap is the median salary for all men and women. When presented with a controlled pay gap — the median salaries between men and women with the exact same job and the exact same qualifications — women make ninety-eight cents for every dollar men make.
Income determines a fair share of people's careers. If a woman knew that she would not receive equal pay with her equally-skilled male co-worker, then why would she accept the job? Why pour your heart and soul into a project you are passionate about if you knew it would not be as successful simply because of your gender?
With all of this being said, the topic of sexism in the music industry has been beaten like the proverbial dead horse. When interviewed, most female musicians avoid questions based on sexist beliefs. 
The message female musicians are trying to spread has lost its original meaning. Women started off spreading the message because it was an actual pressing issue, but once they realized there was no change, the issue became an element of their career. 
Travis M. Andrews with Washington Post states that: "[A] number of female rockers grudgingly choose to talk about gender because they feel a duty to ensure women remain visible in their profession."
In trying to do good by bringing awareness to a serious issue, the issue of sexism in the music industry has diminished. Due to the lack of action, women dread speaking about it after receiving minimal results. It has gotten to the point where sexism has been normalized in the music industry. 
We cannot get rid of sexism overnight, but what we can do is take steps to decrease the number of sexist ideologies in the nation. 
The most effective way to make an actual change is by taking action. As fans, we hold a band's success in our hands. Simple things like buying and sharing their music, attending their concerts (once venues re-open), and discussing the meaningful messages in their songs amplifies their platform significantly more than just repeating the same mantra about industry equality over and over.
Opinions expressed in editorials are those of the writer(s).  These views may not represent the adviser, The Prowler, advertisers/sponsors, the Starr's Mill High School administration or staff , or Fayette County Public Schools as a whole.  Please see our FAQs for more information pertaining to the rights of The Prowler's staff members.