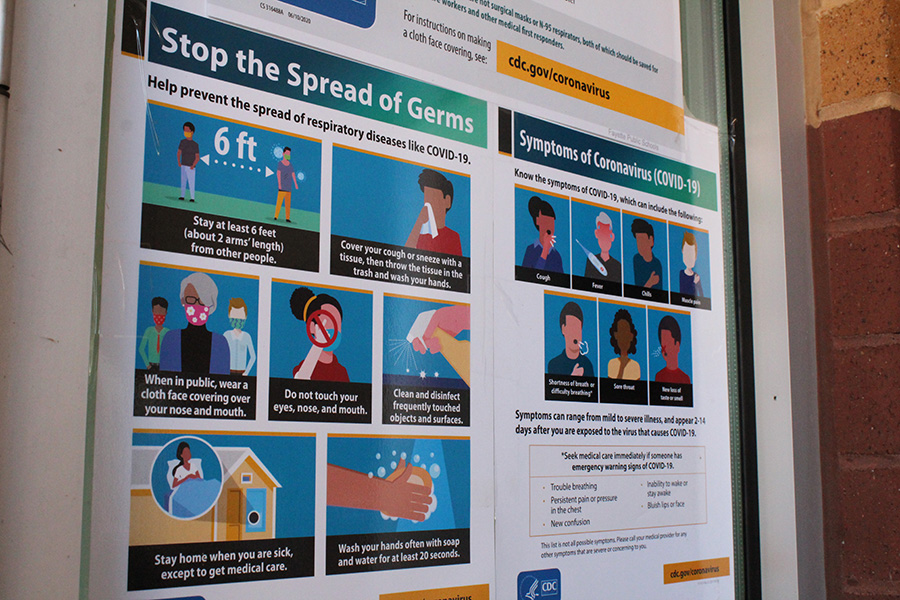 Jacob Flesher
Temperatures are dropping, as well as our hopes of having a healthy country in the near future. COVID-19 has been running rampant in the United States for nine months now, and the case numbers are getting scarier with each passing day.
The United States has reached 11.4 million cases of COVID-19. The highest spike occurring on Nov. 13, where the nation tested positive on 184,514 cases. 
From the football team at Sandy Creek high school shutting down the school to the outbreak amongst the JV cheer team at Starr's Mill, COVID-19 seems to be growing all too comfortable in the Fayette County school system.
With the number of positive cases rising, one might think that the county's next move would be to shut down schools before it is too late. Lo and behold, the county has other ideas, and shutting down schools is not one of them. 
Starr's Mill has been operating on a "green" schedule since late October, and up until this last week, we have seen few COVID cases at the school. This week, however, many Starr's Mill students were pulled from classes and sent home to quarantine because someone they are in close contact with has tested positive for COVID. 
Principal Allen Leonard's motto since he was appointed principal has always been that "health and safety are the number one priority," a statement that I feel should be enforced a bit more.
When asked about how he plans to enforce stricter guidelines and uphold his motto, Leonard avoided a direct answer. Rather, he restated the fact that there has been no documented COVID case due to direct-contact at Starr's Mill.
"We still don't have a documented case of transmission happening in the building," Leonard said.
While there has yet to be a COVID case linked to transmission at Starr's Mill, that does not make it less of a threat. Sure, it is great news and shows that we are doing something right, but it does not answer the question of how he wishes to uphold his motto. 
If "health and safety are the number one priority," then why is there no serious consideration of switching to a red status? When asked about switching to a red status, Leonard once again dodged the question.
"I honestly can't see the future, and I'm not sure where we are going to end up," Leonard said.
There are countless drills we perform at school periodically in order to prepare for future events. Things like fire drills, severe weather, and active shooter drills are all performed routinely in order to keep the people inside the building safe. Why should preparing to switch to a red status to ensure the health and safety of students and faculty be any different?
We do not need to see the future in order to prepare for it — taking the proper precautions before the worst hits will limit the number of casualties we face in our community. Starr's Mill needs to quit while they are ahead. Staying green until we are hit with another wave of COVID will only prolong our "normal" return to school.
Switching to a red status of 100% virtual learning, while ideal, is not entirely realistic. A majority of the student body struggles with the thought of online school, including myself. That being said, a yellow status is not only a safer option than remaining on the green, but it is realistic as well.
Splitting the student body into two groups throughout the week will not only limit the overall spread of COVID, but it is also a best of both worlds scenario — students can continue to learn in the classrooms while limiting potential exposure due to the reduced number of people in the building.
Having a limited number of students in the classroom can lead to more concentrated lessons. These concentrated lessons will allow teachers to help students on a more in-depth level so that they completely understand the material, which could reduce the need for the recently added Saturday school program.
With final exams approaching, this not only takes some stress off of the students but off of the teachers as well. 
As far as final exams go, there have been rumors of them being online and possibly preparing for.
"We are certainly thinking about [online exams] already," Leonard said. "That was something I brought up in our faculty meeting on Wednesday."
If our exams are online, they will have a similar schedule as if they were in person. Although it is still uncertain what the format of the exams will be like, we should not rule out the possibility of virtual exams. 
By staying on a green status despite the rising COVID numbers, the health and safety of Starr's Mill's student body, faculty, and staff are at risk, regardless of any precautions we take. Our best chance at having a semi-normal end to the school year is to revert back to yellow status.
Opinions expressed in editorials are those of the writer(s).  These views may not represent the adviser, The Prowler, advertisers/sponsors, the Starr's Mill High School administration or staff , or Fayette County Public Schools as a whole.  Please see our FAQs for more information pertaining to the rights of The Prowler's staff members.