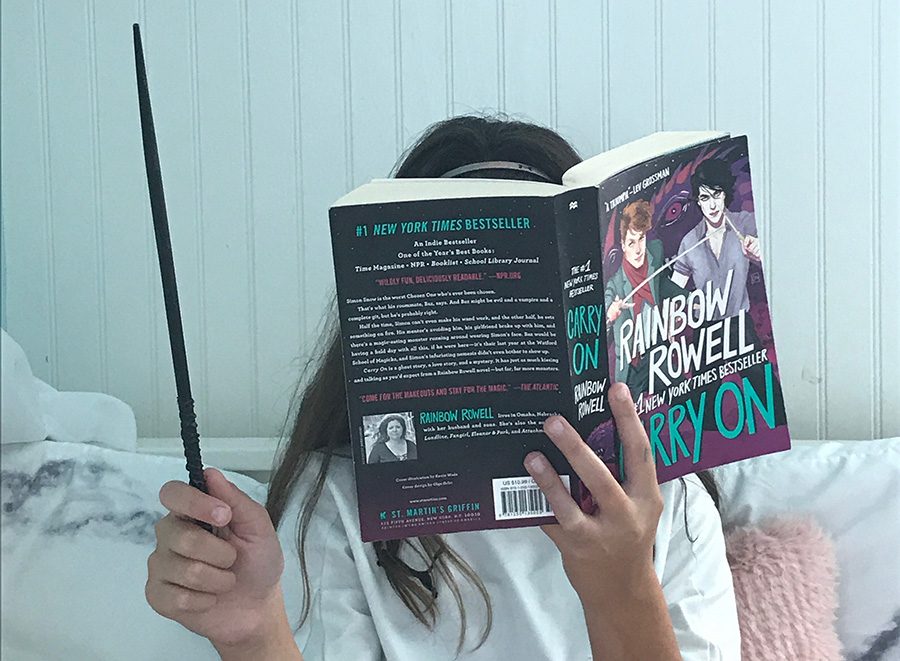 Sophia Bender
There is nothing I love more than a book that can transport me from my mundane world into one filled with magic. Add in heart-thumping action and a touch of romance, and you have the formula for the perfect novel that will be loved by millions.
"Carry On" is exactly that kind of novel. It is the story of orphan Simon Snow, "The Chosen One" of the World of Mages. He seems to be the most powerful magician there is or was, but Simon has trouble controlling his powers. On top of that, a mysterious villain named the Humdrum is working to kill Snow and bring about the fall of the World of Mages.
It might sound familiar, perhaps a bit too familiar to another famous boy wizard we know. Not to worry! Author Rainbow Rowell went above and beyond to make Simon Snow her own. Getting wrapped up in the World of Mages is just as exhilarating and refreshing as "Harry Potter."
Now, you might be thinking, "Not another stereotypical teen romance." or "Not another author trying to copy 'Harry Potter'!" And this mindset is no surprise, since many books have recently been bashed for being too derivative. This is what has made some readers turn away from Rainbow Rowell's "Carry On." They claim that it appears too cliché, too formulaic. But don't judge a book by the blurb on it's back cover.
When it comes to anything written by Rowell, all preconceptions need to be thrown out the window, and this is especially true for "Carry On." Rainbow Rowell is better known for her realistic fiction novels such as "Eleanor and Park" and "Fangirl." In "Fangirl," main character Cath is a fanfiction writer for the made up World of Mages. Simon Snow started off as a book within a book that deals with what it is like to be part of a fandom and critically analyzing the fantasy genre. Rowell's experience with this makes her the best person to write a fantasy novel because she knows exactly how to write it.
While it may seem like a book with an overdone plot line and a cliché heterosexual romance, that is not what it is. It is a beautiful coming of age story with romance that seems impossible at first and yet ends up being perfect. Each character is real and they practically jump off the page. The book itself is hilarious and witty; the dialogue is absolutely wonderful. At the same time, Rowell makes a magical world seem possible. Everything about the World of Mages is explained perfectly, yet never feels like an information dump. Rainbow Rowell's writing is elegant and perfectly put together as well as easy to follow.
Let Rowell take you on an adventure. Fall in love with her characters, and experience the World of Mages alongside Simon Snow, Baz, Penelope, Ebb, and Agatha. If you want an amazing book to help you forget that you are back in school, this is it.