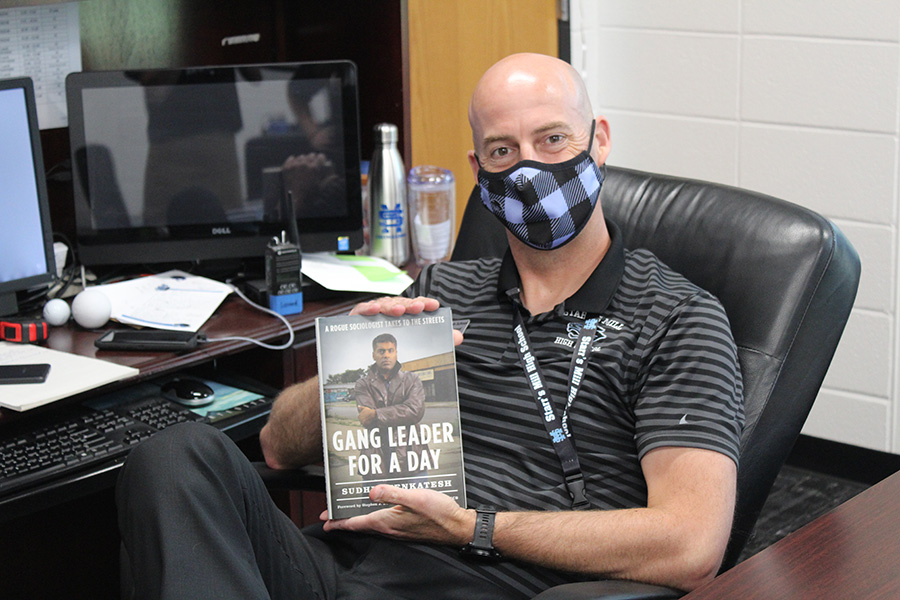 Annika Pepper
Principal Allen Leonard read "Gang Leader for a Day" by Sudhir Venkatesh after reading a book on economics.
"It's a perspective into a world that… very few of our community really has any real perspective into, myself included," Leonard said. 
"Gang Leader for a Day" is a nonfiction book that explores the life of the urban poor and street gangs' influences through a sociological study. Author Sudhir Venkatesh observes the gangs of Chicago and eventually befriends one of their leaders. 
Throughout the study, Venkatesh ends up taking over the leader's position and gets a better view of how urban life in Chicago, with the influence of gangs, poverty, drugs, and money, really is.
"The author's process of working with the gang that he worked with was to actually embed himself within the gang," Leonard said. "At one point in the book, he spends a day with the leader making the decisions and talking about how that would play out."
Sudhir Venkatesh was a graduate student in sociology at the University of Chicago. He initially started his research with surveys, inspired by professor Bill Wilson at the university. 
Currently, Venkatesh holds the position of Professor of Sociology and African-American studies at Columbia University. Venkatesh has also been the Director of Signal: The Tech & Society Lab at Columbia University since 2018.
"It really did provide an eye-opening insight into how street gangs work and where the real power lies in those gangs," Leonard said.
As a sociological study, "Gang Leader for a Day" gives readers an inside look into how gangs function.