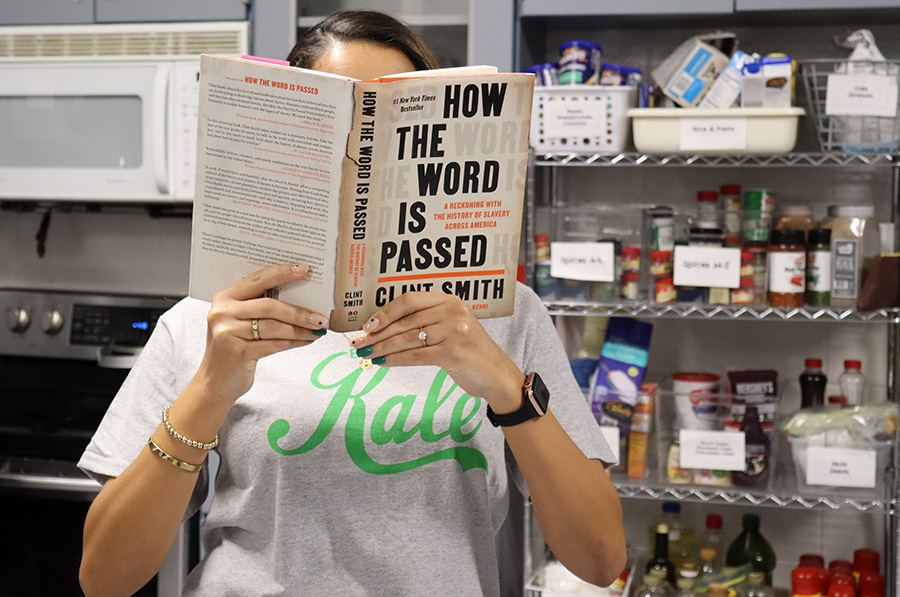 Annika Pepper
Nutrition and food science pathways teacher Adriah Williams is currently reading "How the Word is Passed" by Clint Smith. 
"Because he is a journalist and a poet, there's a lot of prose woven into the narrative throughout the book," Williams said. "I wouldn't necessarily say it's a scholarly work, per se, but you can definitely see the journalism throughout the book."
Journalist and poet Clint Smith starts in his hometown of New Orleans and leads the reader through a tour of landmarks and monuments that tell the story, both truthful and not, of slavery and its role in the history of the United States.
Smith interviews locals and tour guides to see how others view the role that slavery played in the history of the United States. He educates readers through interviews, and even cleverly placed prose, on the truth of slavery and how it was pivotal in shaping the United States and its people.
"Obviously, slavery is an integral part of the history of this country. Ignoring the elephant in the room doesn't make it go away," Williams said. "It would be great, I think, for all of us to get an understanding of how to reckon with our country's past."
One of Williams' favorite quotes from the book is: "T]he history of slavery is the history of the United States. It was not peripheral to our founding; it was central to it. It is not irrelevant to our contemporary society; it created it. This history is in our soil, it is in our policies, and it must, too, be in our memories."
As a staff writer at "The Atlantic," a multi-faceted newspaper based in Washington, D.C., Clint Smith is a journalist, author, and poet. His book "How the Word is Passed" was recently selected by the New York Times Book Review as one of the top 10 best books of 2021. His other works include a collection of poetry titled "Counting Descent."
"It's the conversations with the people that are visiting, it's the conversations that he has with the guides that provide us with a sense of insight as to how we're reckoning with [slavery]," Williams said.
Highlighting the pivotal role that slavery took in shaping United States history, "How the Word is Passed" is an eloquent and historical read for anyone interested in the history of the United States.