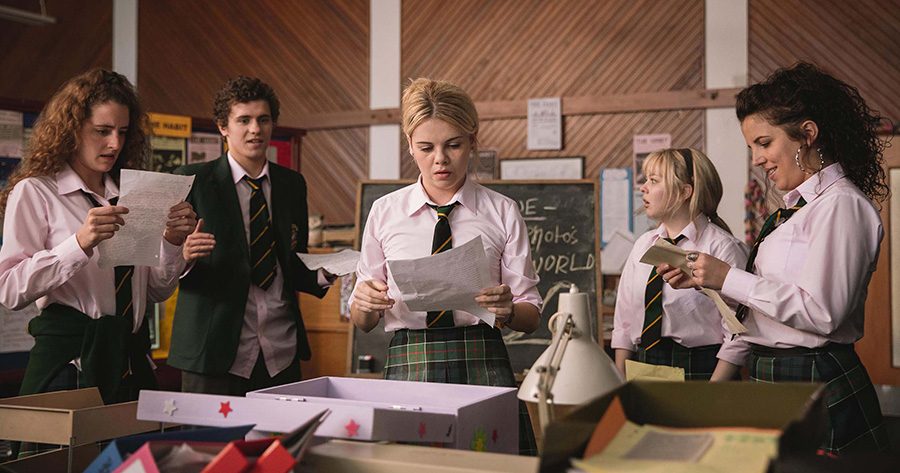 Netflix
Everything feels more consequential when you're a teenager. The smallest of faux pas seem as if they'll bring an imminent death. In some cases, however, the political atmosphere is even more of a threat, though it may not be obvious to the average teen.
One of these cases, the new Netflix series "Derry Girls" tell us, is early '90s Northern Ireland. The country was still embroiled in a conflict over whether or not to stay part of the United Kingdom, with Protestants generally favoring Northern Ireland's membership and Catholic citizens typically seeking a united Ireland.
The series seeks to describe and engage with this tumultuous intersection of politics and religion, mainly through how it affected the nation's youth. The show's main instrument in tackling its time and place of choice is comedy. The city of Derry, Northern Ireland, is its playground.
The audience quickly becomes acquainted with a gaggle of Catholic schoolgirls. There's the chief protagonist, the determined, if at times silly Erin, her cousin, the odd Orla, and their two friends: the studious, stressed-out Clare and the fan-favorite, foolhardy Michelle.
Along with them is the honorary Catholic schoolgirl James, Michelle's cousin who's enrolled by authorities in their all-girls school for fear he'll be beaten to a pulp if he were put with the boys. Why? He's English. This is just one of the ways that "Derry Girls" uses situational humor to convey the political climate. It's also to produce lots of laughs, of course.
The show makes for an easy binge watch, with just six twenty minute episodes in its debut season. Those unfamiliar with the Northern Irish dialect might need to turn subtitles on, but that's about the extent of it. "Derry Girls" is highly accessible while still providing honest insight into a culture many American Netflix users may be fairly unfamiliar with.
In fact, Netflix didn't pick up the series until a while after its initial release back in January of 2018. "Derry Girls" was first produced for the UK network Channel 4. The show has been revered for providing a representation of the oft-overlooked region that genuinely clicks. The availability of "Derry Girls" internationally is thus something truly special.
More specifically, the show offers a particularly clear examination of Northern Irish womanhood. The show, for one, was written by a woman, one Lisa McGee. McGee was born in Derry, and no doubt had plenty of real-life experience to pull from when writing this first season. Further, four of the show's five principal teen characters are girls, and act accordingly. There's a lot of truth poured into the female friendship dynamics explored in the show.
Despite only one short season being available thus far, what we have of "Derry Girls" is a show that's chaotic fun, but poised and direct in its intent. While the atmosphere of the show can seem to move at a mile a minute, in retrospect, each episode is designed meticulously, not only to elicit laughs but to develop the many faces of Derry.
And the show develops them well. "Derry Girls" gets past just superficial actions and demeanor and a little bit into what each character is all about, whether it's a long-held secret or no more than a prolonged glance.
The Troubles, while they are the backdrop for "Derry Girls," take an eerie backseat. They're mentioned, and prove to be quite the inconvenience on occasion, but for the most part bubble up in the background. This makes for a particularly impactful finale in which the elephant in the room demands to be noticed. It's not only extremely emotionally charged, but perfectly sets up a second season, which is already in production.
More than anything, "Derry Girls" is genuinely funny. It's full of absurdism and larger-than-life scenarios. The characters are charismatic. They feel everything forcefully. They have strange mannerisms and nervous ticks. Getting to know these teenagers, their families, and Derry is, needless to say, a treat rarely found on streaming services these days.
The show rides an interesting line. The raucous humor is a lot of why "Derry Girls" works so well, yet it's the softest of sentiments that make the show not just comical, but compelling.