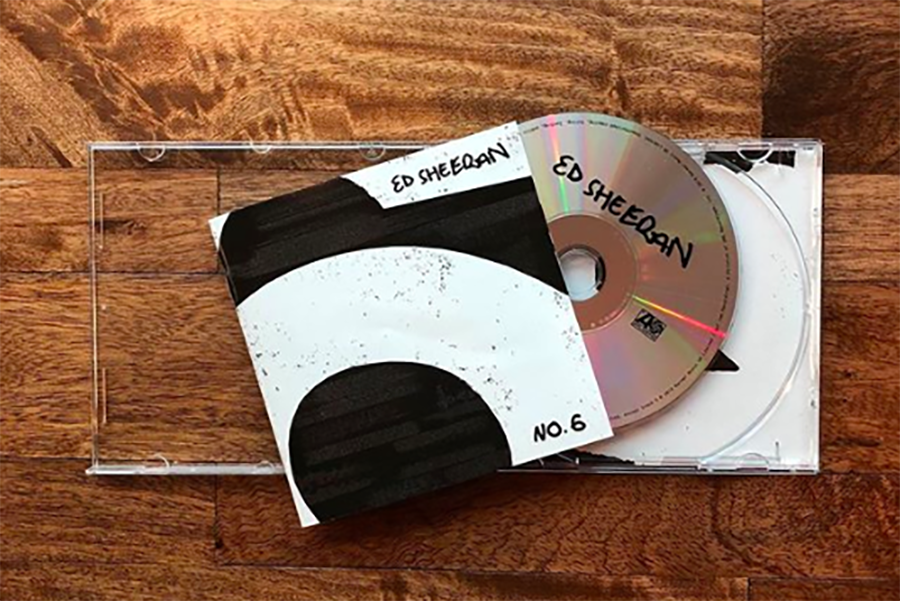 Philly Voice
Genres like R&B, rock, hip-hop, grime, and Latin are not what someone would expect to be on an Ed Sheeran album. Somehow, Sheeran not only includes all the styles, but he makes it sound good and work.
Two years and four months after "÷" came out, Ed Sheeran released his fourth album, "No.6 Collaborations Project." As seen by the title, the newest album is made up of nothing but collaborations. 
The pop artist's career started in 2004 after playing small venues around London and independently releasing his own album called "Spinning Man." Then in 2010, Ed Sheeran released his debut album "Loose Change," which included his debut song "The A Team." After the release of the album "+" and its international success, Ed Sheeran went on to win international awards including the American Music Awards, BBC Awards, Danish Awards, and Grammy Awards.
Considering Ed Sheeran writes each of his own songs, which rarely any musician does now, all of his songs have so much emotion to them. By singing about the events that have happened to him throughout his life, and the emotions behind those events, Sheeran's fans are able to see all of his personality. 
What many people do not know is that Ed Sheeran released a similar album in 2011 called "No.5 Collaborations Project," although this album did not nearly reach the height that "No.6 Collaborations Project" is reaching right now. This is mostly because when the first collaboration project came out, Sheeran was still not signed onto an official label and was releasing music himself. 
The album "No.6 Collaborations Project" includes 15 songs. Though in my opinion, the best five songs on the albums are "Beautiful People," "South of the Border," "Cross Me," "I Don't Care," and "I Don't Want Your Money."
"Beautiful People"
For many of Ed Sheeran's songs, fans have to listen to the lyrics in order to hear a deeper meaning, and "Beautiful People" is not an exception. 
Judging by the title the audience is initially led to believe that Sheeran could be talking about the ones he loves that surround him, but this song is quite the opposite. Featuring R&B singer Khalid, this song talks about the kind of people that have all the money in the world but no heart. 
Through this song, Sheeran and Khalid are able to tell their fans they are not these "beautiful people." As the opener to this magnificent album, followers of Ed Sheeran are able to see the same guy that they know and adore.
"Cross Me"
Having more of a hip-hop vibe, "Cross Me" is not like the usual songs that Ed Sheeran releases. This track, which highlights Chance The Rapper and PnB Rock, was announced in May of 2019 though fans were left in the dark about who would be on the song until it was released. 
This song, along with it being something anyone could dance to, puts out a great message to its audience of how people should treat women.
"South of the Border"
The second track on this album features Camila Cabello and Cardi B. Always wanting to do a song with both of these women, Ed Sheeran is able to create a masterpiece with "South of the Border." 
Right from the start, this song has beats and a guitar that would make anyone bop their head along to the music. Then by incorporating Camila Cabello's verse that was in Spanish, as well as Cardi B's rap, Sheeran is able to put a Latin twist to the song. 
"I Don't Want Your Money"
H.E.R is another R&B artist that is highlighted on Sheeran's new album. Sheeran had been a fan of this musician for a while, so naturally, he wanted to do a song with her. In my opinion, "I Don't Want Your Money" is one of the underappreciated pieces of the album. 
In this track, Sheeran talks about the hardships that he and his wife face in their relationship with Sheeran usually being on tour. From the meaning of the lyrics, to how H.E.R and Sheeran's voices harmonize together, this song may be in the top two of my favorite from this album.
"I Don't Care"
Out of all of the artists on this album, Justin Bieber is possibly the most popular and has the most history with Ed Sheeran. Originally released as a single on May 10, "I Don't Care" is the fourth collaboration Sheeran has done with Bieber in his career and the first song he released since "÷" came out. 
This track is another one of Sheeran's upbeat pop songs, though this time talking about what it feels like to be with his wife while at an event for his career. This summer hit is a song that can make people smile whenever it plays on the radio.
A month after "No.6 Collaborations Project" dropped, Ed Sheeran announced that he would be taking at least an 18-month hiatus, and though his fans will not be seeing anything new for a while Sheeran definitely left them with something to remember him by.