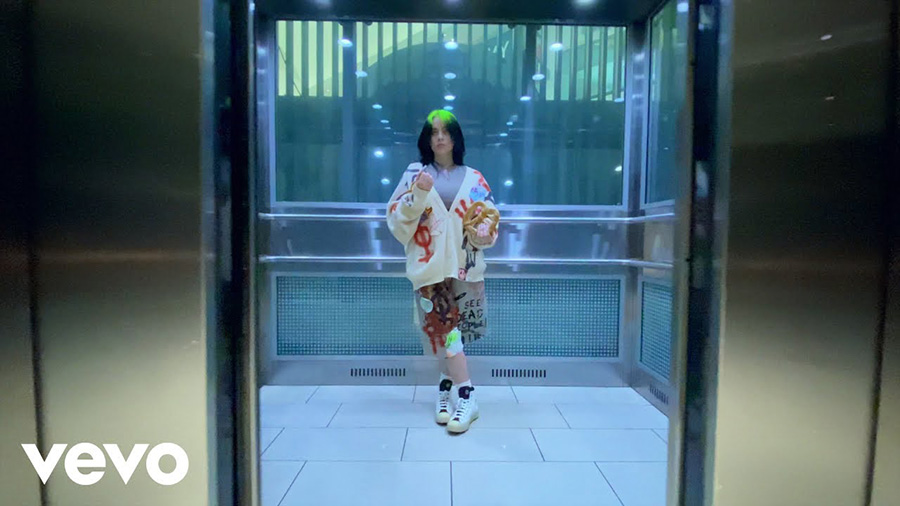 Screenshot taken from Vevo
Last Thursday, Billie Eilish raised the bar for indie/pop artists yet again with her new single "Therefore I Am." 
The song is 2000s R&B with the beat playing in the background. In true Eilish fashion, she had to add something to spice it up. This time she chose to speak in the middle of the song.
She switches from singing gracefully and then just speaking, not rapping, but speaking. It flows so well with the beat. Eilish made the iconic "DUH!" in her song "bad guy," and this "stop" added to this single will be just as, if not more, iconic. 
Eilish has a very strict genre — it is original — but she has always followed pretty much the same style of songwriting and overall theme. She does morbid topics, love-song type, and creepy but upbeat type of songs, and that is nothing like this new release.
The California native soared to fame with the release of "Ocean Eyes," which showed everyone she was talented. Since then, time and time again Eilish has proven that she is different from any other artist out there.
The lyric "I think therefore I am" derived from a philosopher, René Descartes', saying "cogito ergo sum." It astonishes me that Eilish is using sayings from 400 years ago and adding it to her music. This just shows who Eilish is as an artist — always breaking the barrier and finding new ways to entertain and make the art she does.
She filmed the entire music video for "Therefore I am" on an iPhone. The music video consists of her singing while running around a mall stealing food. This may sound dumb to most people, but to me I think it was perfect. 
I have been waiting for her to show the world that she is so much more than a voice, and she successfully showed the world that she still is just a goofy teenager. 
I first started listening to her in 2017 and then ended up going to two music festivals just for her. I attended her performance at Music Midtown 2018 with an absolutely show-stopping performance, and she managed to play an entire show with just an EP and a couple of singles out — not a lot of wiggle room. 
She then came back for Music Midtown 2019, as a headliner this time, and did not fail to have one of the biggest crowds I have ever seen.
Eilish has proven to be successful and continues to break down walls other artists do not even know exist. She is the most innovative artist of this generation. I cannot wait to see what she is going to do next, because every single new release is more creative and innovative than the last.