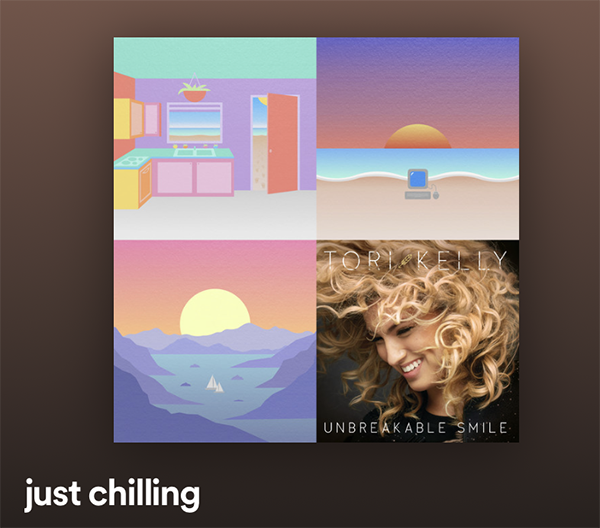 Emily Davis
Every now and then there comes a time where you need to just relax and focus, whether that focus be on something that's demanding your attention or on something to distract you from the workload. 
Here are some songs straight from my 'just chilling' playlist that never ceases to amaze me in how uplifting and relaxing its songs can be. Set your chromie aside for a moment and bop along to these songs, because I guarantee they will have you just chilling. 
Surfaces
Any song by Surfaces. They came out in 2017 but didn't gain too much popularity until 2020 when their constant positive messages and emotions became something people dearly craved. All of their songs are meant to make you feel happy, and listening to "Good Day" before the start of my day immediately makes me have an optimistic outlook on everything I'm about to tackle. 
Many of their works make me feel like I'm on vacation at the beach with chime-y, steel drums, gentle trap-beat sounds, and happy, jazzy elevator-like music. To introduce you to them, listen to "Good Day," "Sunday Best," "Take it Easy," and "24/7/365," a song wonderfully mimicking a Frank Sinatra classic.
"Breakfast In the Park" by Scotty Sire
This song starts with a basic rhythm that taps into something with quick beats before going into a chill sort of rap. 
The lyrics describe a relationship that goes through ups and downs but ultimately results in realizing they weren't meant to be as Sire ends his lyrics saying "love you." The overall beat to the song has a smooth flow but hopping rhythm that's easy to zone out to and unconsciously enjoy and want to play again. 
Similar relaxing songs with a simple beat and enjoyable tune include "New Light" by John Mayer, "comethru" by Jeremy Zucker, with extremely enjoyable simplicity, and "Memory" by Mark Dohner. Dohner has a very beautiful tone in this song, and the music also carries a consistent sort of rolling verse pattern and then a change-up in the chorus that is easy to sing to even off your first listen. 
"Heavy" by Birdtalker
This song never fails to put me in a content state of mind, making me instantly bop my head back and forth to the beat. This song has "empty" feeling moments but the way it's designed for the music works beautifully. "Leave what's heavy behind" is the perfect lyric for taking a deep breath and letting go of all anxiety for 4 minutes, 23 seconds. 
Other suggestions I have for knowing you're stressed but are taking a minute to let go and get lost in the music include "Angela" by The Lumineers, which hits a vocally gorgeous climax every time "home at last" is sung, and "Coastline" by Hollow Coves, which truly puts me in the mindset of "everything's going to work out." 
"To Be Honest" by Ryan Warnick
Super strong coffee shop vibes in the mountains kind of feeling with this one, and it is entirely enjoyable. A soft voice, with what appears to be self-harmonies, Warnick's song is a pleasant one to have in the background of doing some homework. There are some soft jazz chimes in the background, layered by an easy-going guitar pattern, adding a little skip to the song's rhythm. 
Another song you may enjoy if you like this is "ain't no other way" by Raleigh Keegan. His voice is sweet, with a pleasantly mellow pitch. A part of his sound is almost on the verge of country, but his acoustic background and musicality is perfect for those who don't necessarily care for that genre but can appreciate a voice. 
"idontwannabeyouanymore" by Billie Eilish
Once again, the young and talented Billie has resurfaced in my music, but is that really a surprise when her music can fit into so many playlist categories? This song's music alone is nothing short of complete with downbeats, backbeats, main melodies and complimenting ones, and that's not even touching upon the breathtaking and almost heartbreaking vocality Eilish has.
Songs I'd recommend to go off from this would be "Free Spirit" by Khalid–especially blasting loud in a car since it will make you feel totally surrounded by the ambient background–and "Let's Fall in Love for the Night" by FINNEAS, Eilish's brother. It's catchy beyond reason and just makes you want to listen to it on repeat. 
If you're having a hard week or are wanting to listen to some good music just to have in the background of a study season, look up these suggestions and start chilling.  
Feel free to leave a comment with your own "just chilling" song suggestions.