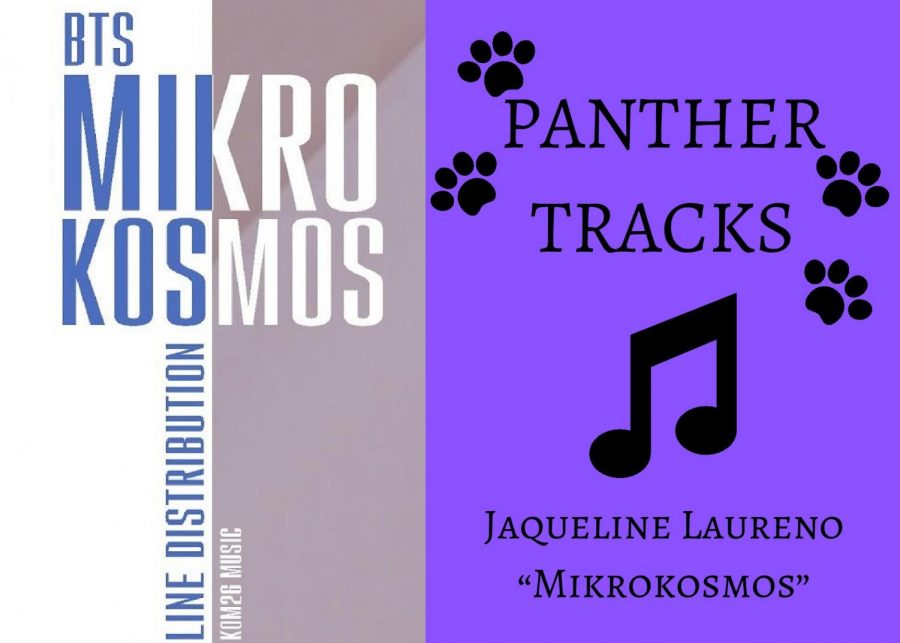 Jordan Owens, created with Canva
With summer looming, we look out for the new music that will be our next beach vibe, and senior Jaqueline Laureno is no exception. Her favorite song currently is "Mikrokosmos" by the Korean pop boy band BTS.
"This song is great. It's calming to listen to, and it has a deeper meaning," Laureno said. "All their music has deep meanings."
"Mikrokosmos" is the third song to BTS's newest album "Map of the Soul: Persona," and it is the sixth album of their career. Even though the boy band formed in 2013, BTS did not become popular in the United States until 2017.
"There are many messages in their songs about loving yourself, and 'Mikrokosmos' goes into that," Laureno said.
Jaqueline Laureno was first introduced to this band when they debuted in 2013 by a church friend in Puerto Rico, and ever since then, she has not stopped listening to them.
"They are a group that talks about controversial subjects that not many other artists do, and I like that about them," Laureno said.
BTS has made history in the U.S. since they have become popular here. They became the first Korean artists to top the U.S. Billboard 200 and the first K-pop group to perform on "Saturday Night Live."
"The language is beautiful, and they have a bunch of genres that they touch into," Laureno said.
BTS tries to be inclusive and gain fans all around the world to listen to them by trying new techniques. They have incorporated different styles of music like Latino, hip hop, and even pop rock.
Plus, BTS being a boy band that sings in Korean, their fans have brought it upon themselves to translate the music into different languages to help other fans better understand the music their favorite artists put out.
As the summer break begins, Laureno and all the other BTS fans cannot wait to see what other music and groundbreaking history BTS will make in the future.