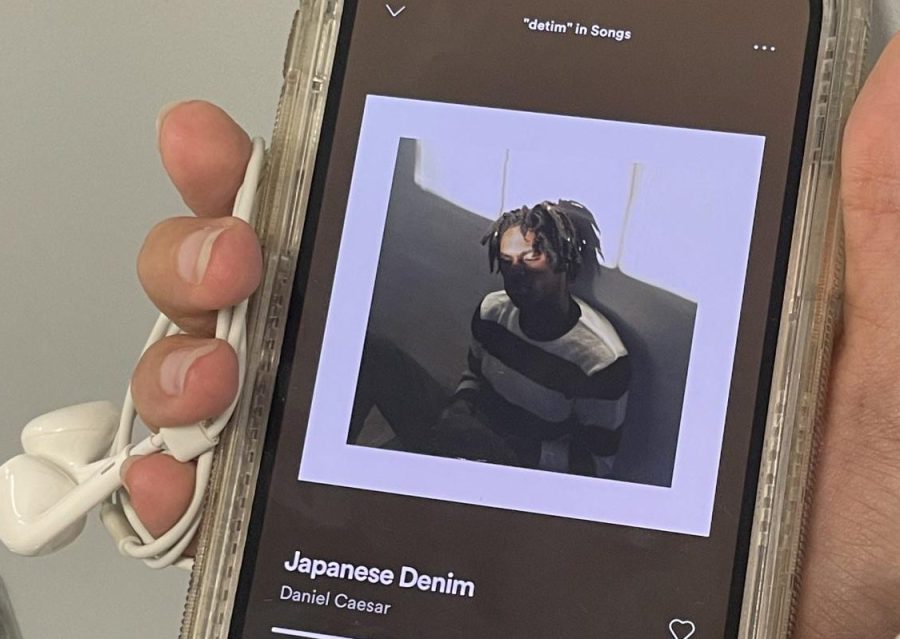 Allyssa Daigle
Senior Carlos Siguenza is listening to "Japanese Denim" by Daniel Caesar,. The song was released in 2016 and reached No. 93 on U.S. Billboard's Hot 100 list and reached the top spot on the U.S. Adult R&B Songs list.
"It sounds really nice," Siguenza said. "It's just groovy.." 
The song starts out with a very chill, low-fi beat that really gets you into your feelings. Every beat in the song engulfs you in the feelings of the artist.t is a song I would cry to in my car on a late-night drive. The song's message is about someone waiting for someone in his life, and how he keeps asking himself why they cannot last forever. 
Daniel Caesar, age 26, is a Canadian singer-songwriter who has recently released songs such as "CASE STUDY" and "Freudian. Daniel failed choir when he was in high school, and according to him, he was never good with music theory. In spite of this, Caesar collaborated with Jordan Evans and Mathew Burnett, who are prominent jazz music producers. 
"The metaphors are pretty cool," Siguenza said. "It's like Japanese denim lasts forever, so why can't we last forever?" 
In an interview with Billboard, Caesar stated: "I met a girl and got very involved. She brought things and feelings out of me I didn't know I had." This song really embraces that message, and it is the perfect song to listen to when you are just trying to let your emotions out.