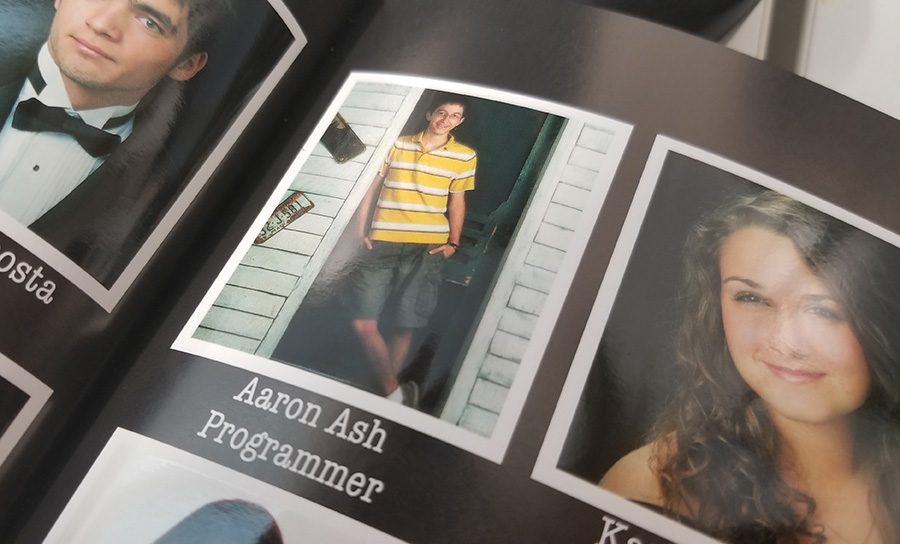 Caylee Cicero
Since he was a tween, Panther alum Aaron Ash has been fascinated by computers and technology. By studying computers from such a young age, Ash was able to build a future around programming after his time at the Mill wrapped up.
"In middle school, our family had just one computer for the five of us, so getting time with it was not easy," Ash said. "My parents bought me a book on how to build a computer, I saved up my allowance and fixed other computers in the neighborhood, and eventually I could buy all the parts to build my own."
Once he had built his own computer, Ash focused on learning how to program. He started off by tampering with video games, which led him to win a contest held by Fortnite creator Epic Games. Ash used the money to purchase an iPhone and further explore his passion for technology.
"I bought an iPhone 3G and started learning. In order to run apps you built on your iPhone, you had to have an Apple Developer account, which required being 18, so I Googled a way around it. This led me to jailbreaking, a way of removing the restrictions on an iPhone so you can run whatever software you like," Ash said. "You could also write programs that would attach to Apple software and modify how it worked, which fascinated me, and I ended up building a multitasking interface for iOS 3. Apple built almost the same interface 4 years later, in iOS 7. I released it over Thanksgiving break 2009, and made over $10,000 that weekend. That was an eye-opener, [and] I was hooked."
One part of the online world that Ash enjoyed most was the equal opportunity it provides to all. Ash was drawn into an accepting community of fellow programmers where he was able to find his place.
"Anyone, no matter how young or old, can open their laptop, learn to code, and make a living. Your location, social status, or prior education is irrelevant, the only limiting factor is how hard you work," Ash said. "I became part of a close-knit group of geeks online, females and males, from Argentina to Japan. We helped each other, shared code, and could hide behind just a username. Years later I found out some were millionaires, some lived in countries with oppressive governments that censored their internet, and others were not the age, orientation, gender, or ethnicity I had assumed. The internet was the great equalizer for us, and many of those people now have great jobs, have immigrated to the U.S. or Europe, and have no college debt."
Although Ash knew he wanted to make a living in technology, his favorite activity here at the Mill was competing on the Speech and Debate Team. This later benefited Ash with his communication and relationship skills going into a career in the business world.
"As an introvert, it pushed me to feel more comfortable speaking in front of people, and helped me articulate my thoughts under pressure," Ash said.
Following graduating from the Mill in 2010, Ash spent the summer traveling on mission trips with his church. Traveling to Ukraine to help run a camp within an orphanage ended up being an experience forever changing Ash's life.
"The person translating for my group [on the mission trip] happened to be a beautiful girl the same age as myself," Ash said. "With my dad's flight privileges, I visited her almost every college break I could, and eventually moved, proposed, and got married. I've called Ukraine home ever since. Living outside the U.S. has really broadened my worldview, and I continue to feel that this is where I should be, at least for the time being."
Ash attended the University of Georgia when he wasn't out of the country, where he planned to major in computer science before transferring to Georgia Tech. Ash ended up dropping out of college during his first year with intentions to join his friend in creating a startup in San Francisco, but when his friend landed a gig playing a world tour, Ash returned to be self-employed through jailbreaking. Before he could make a career for himself, Ash fell chronically ill.
"From about 2012-2017, I was really struggling with my health, to the point where I missed out on many years of productivity," Ash said. "I tried different doctors and health coaches, but it seemed nobody could really pinpoint the root of the problem. Some are calling this the 'modern chronic illness,' many people feel like they just don't have the energy they used to, and can't concentrate on anything or get enough sleep. Debugging my health turned out to be harder than debugging code, and will probably be my life's most difficult problem."
Following countless attempts and seemingly endless research to improve his health, Ash finds himself almost completely recovered now and working for Colorado-based startup, Quantum Metric, remotely in Ukraine.
"Our goal [at Quantum Metric] is to basically make every app and website better, and we can do that by figuring out where people are struggling to find something, are stuck somewhere, things are not working as expected, or something is just plain broken," Ash said. "I'm leading our iOS and Android teams, which has been a great opportunity for me. You've probably used a website or app that uses us, and my hope is that we can save millions of hours of everyone's time, so you can easily get done what you wanted to do."
One of the best appeals of Ash's job is the ability and flexibility it provides him to work anywhere. While that might seem like it would make the job a breeze, Ash is tasked with dealing with customers around the world around the clock.
"I'll sleep enough to get a clear head, and work from the quietness of my home, a coffee shop, restaurant, outside, in Egypt, Greece, Montana, or pretty much wherever," Ash said.  "At 8:30 a.m. Colorado time, where most of the rest of the team is based, we'll have a daily call about how things are going, this is 5:30 p.m. Kiev time. A good portion of our sales and client success teams are based in the U.S., so when they're awake I generally get more questions and hop on calls with clients. I also support our customers from Tokyo to Dubai, so my work schedule can sometimes feel never-ending. Still, I enjoy the challenge, and I'm learning things I never could at a big [corporation]."
Ash's advice to current Starr's Mill students pursuing careers in technology is to get started early as he did by learning to code.
"My favorite site to recommend is Code Academy. You can go from zero to employable at your own pace, for absolutely free," Ash said. "You can also teach yourself. I found that later in high school and college it felt like I had to learn the material myself anyway, so learning to learn is one of the greatest skills you can work on. While you're in high school, you don't have the pressure of needing to support yourself with a job, so the best time to learn is now. For me, programming is really an adrenaline rush — you can have fun and be productive at the same time."
Even through the challenges of not completing college and battling health issues, Ash exemplifies how through perseverance one can always achieve established goals. By mastering his trade as a high school student, Ash was a step ahead of his peers and turned that into success.