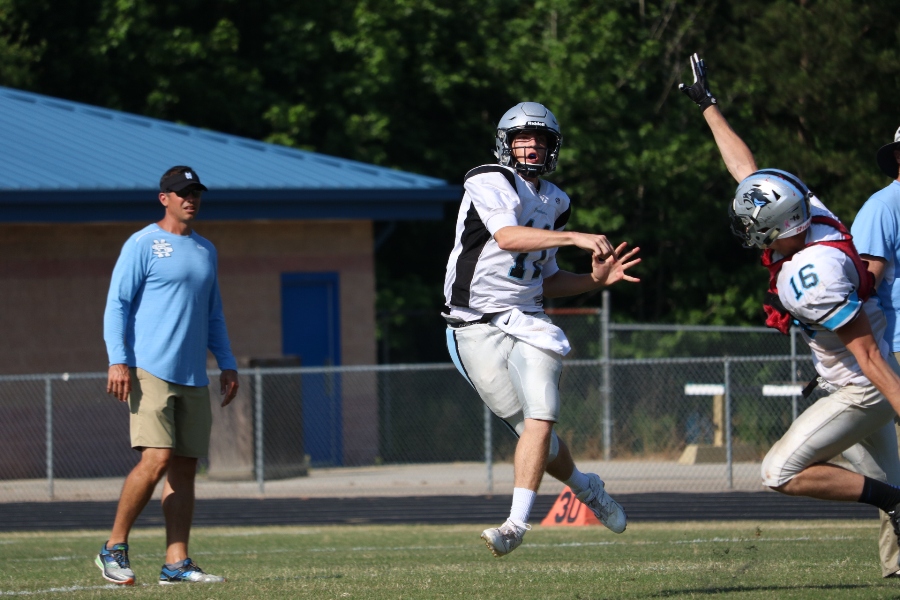 Shelby Foster
Coming off of a second round defeat in the state playoffs, the Starr's Mill football team brings back a loaded senior class. Coaches and fans received their first look at potential key players on next year's roster.
"We're looking to see which players are going to be able to step into the senior's spots that we're losing," head coach Chad Phillips said. "We experiment with some new positions and putting different guys in different positions."
The spring game might not have looked like an organized game to the onlookers in the stands, as it seemed like more of a typical practice. However, to the players it meant much more.
Despite having successful run game last year, the Panthers incorporated more passing plays during the spring game. Upcoming senior Brandon Rew showed life at the wide receiver position, while fellow upcoming senior Joey DeLuca displayed an improved arm at quarterback.
"We have a gun package that we installed. [DeLuca] sees the field better in gun," Phillips said. "If we can throw the ball effectively it's going to free up the run game."
Multiple stars from last year's team did not participate, but they cheered on the younger players fighting for a spot on next season's roster. The game served as a warm up to what is in store this summer.
Over the next few months, the players will endure early practices in preparation for a tough upcoming season. After narrowly taking home the region crown last season, the Panthers look to win their region for the third consecutive season. The Panthers travel to Locust Grove on Aug. 11 for a scrimmage against the Wildcats. On Aug. 25, the Panthers host the Newnan Cougars to open the regular season.