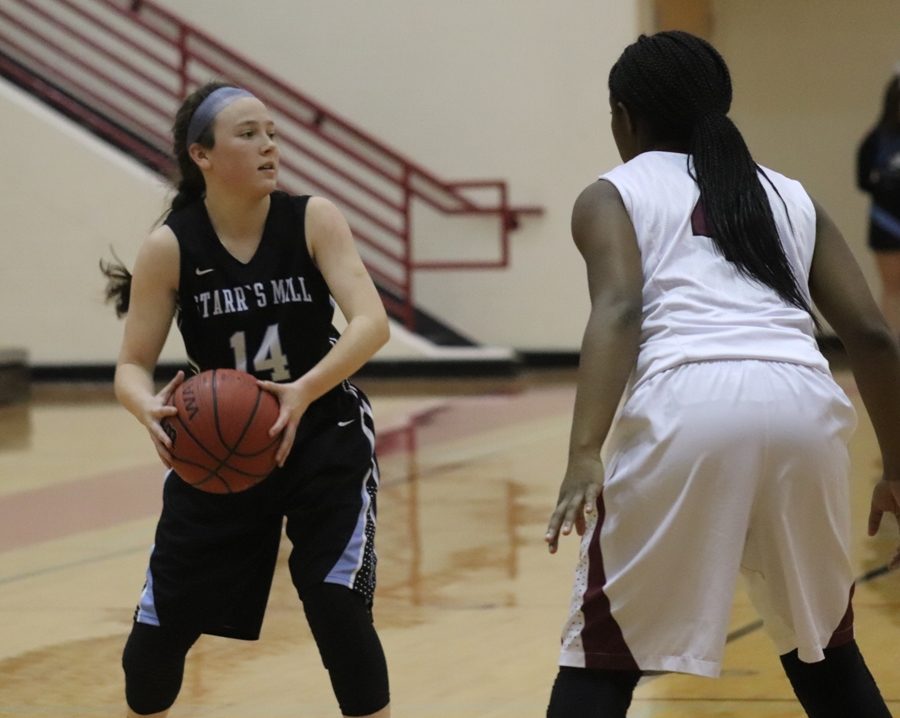 Lilly Carter
The girls' varsity basketball team traveled to Wildcat country to take on Whitewater. Last year, they lost their away game against Whitewater 60-34. This time around, however, the Lady Panthers were on the other end of a blowout.
"It was a team effort," Sweeney said. "It's always nice to win by 20 and not have to worry much about it."
The girls took the court seeking revenge from the beat down they suffered a year ago. Led by the sophomore duo of Alice-Ann Hudson and Ashtyn Lally, the Lady Panthers demolished the Wildcats 60-41. Lally scored 21 points on eight of 12 shooting, including five three-pointers. Hudson had a more balanced game, tallying nine points, four steals, three rebounds, and two assists.
The Wildcats were led by junior Jada Claude who totaled 20 points, eight rebounds, and three steals. Whitewater struggled throughout the night, only shooting 32 percent from the field. Starr's Mill grabbed more rebounds, dished out more assists, and nabbed more steals than the Lady Wildcats could, and the Lady Panthers ran away with the game.
"[Lally] played phenomenally," head coach Emily Sweeney said. "Her shots were falling and I told the girls to get her the ball."
The first quarter was dominated by the Mill. Their hot shooting and stout defense shut down the opposition. Lally scored 10 of her points in the first quarter alone, giving the Panthers a 16-4 lead after the first eight minutes. In the second quarter, Starr's Mill upped the tempo by running a full-court press. The press resulted in easy baskets for the Lady Panthers, but Whitewater still managed to outscore the Panthers 14-13 in the quarter.
After building a 29-18 lead to take into halftime, Starr's Mill ran away with the game in the third quarter, outscoring the Wildcats 28-14 over the eight-minute span. The fourth quarter was low scoring for both teams. The Lady Panthers used possessions to waste clock and prevent a comeback from the Wildcats. Whitewater outscored the Mill 8-4 in the final quarter, but it wasn't nearly enough, and the Panthers walked off of the court with a 60-41 victory in hand.
The girls' next matchup is against Fayette County. The Lady Tigers are 10-4 so far this season, and 4-0 in the region. Fayette County travels to the Panther Pit on Jan. 9 for a key region game between the two squads.