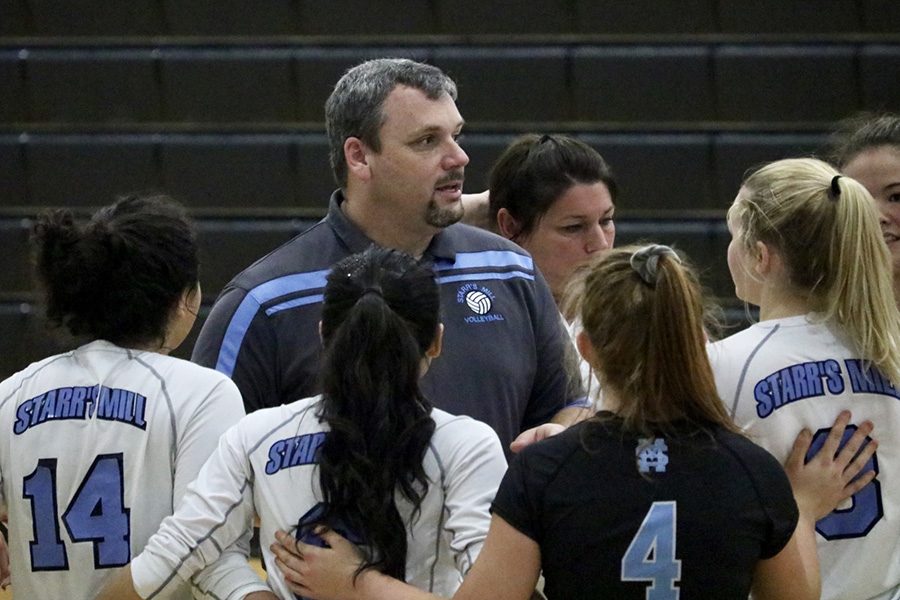 Shelby Foster
Over the summer, the Starr's Mill athletic department made some major changes for the fall season. History teacher Jason Flowers and science teacher Kelly Rock have joined the coaching staff. Flowers will coach varsity volleyball while Rock takes over the head coaching position for the cross country team.
The Lady Panthers varsity volleyball team is coming off of a season in which they were the region 3-AAAAA runners-up and reached the Final Four in the GHSA state playoffs. Their playoff run eventually ended, as they lost to the McIntosh Lady Chiefs in three hard-fought matches, with scores of 25-17, 25-9, and 25-17.
"There are definite goals of winning the region, qualifying for state, and doing better than we did last year," Flowers said. "I would hate to make it to the state championship and lose there, so the goal is to make it and win."
Flowers has led the team to a strong start as the new head coach with a 6-4 record in the first ten games, which included two wins at the Sequoyah Classic tournament in Canton, Ga.
The volleyball team wasn't the only team to make a change for this season, as the cross country team has introduced Kelly Rock as their new head coach.
"I was very excited to come on as the new cross country coach," Rock said. "To be able to work with students outside of the classroom has been a unique experience."
Rock has previously coached the Peachtree City Flash youth running team, and has taught science at Starr's Mill for 18 years. She uses her teaching experience to help coach the Panthers cross country team.
"I think teaching naturally lends itself to developing relationships with students," Rock said. "Being able to continue that outside of class is an extension of being inside the classroom."
Rock is coaching an extremely talented cross country team that has been very successful at meets. The team consists of standouts such as senior Nick Nyman, who set a record in the 5K race, senior Rhett Perry, who holds a record in the 3000 meter race and sophomore Allie Walker, who set a record in the girls 3000 meter race.
"We are excited about the potential we have," Rock said. "I don't want to put expectations on anyone so that they don't feel pressured, and so they can to the best that they can do."
Both Flowers and Rock will bring a fresh faces and new coaching styles to two already successful teams. Only time will tell if they improve even more.