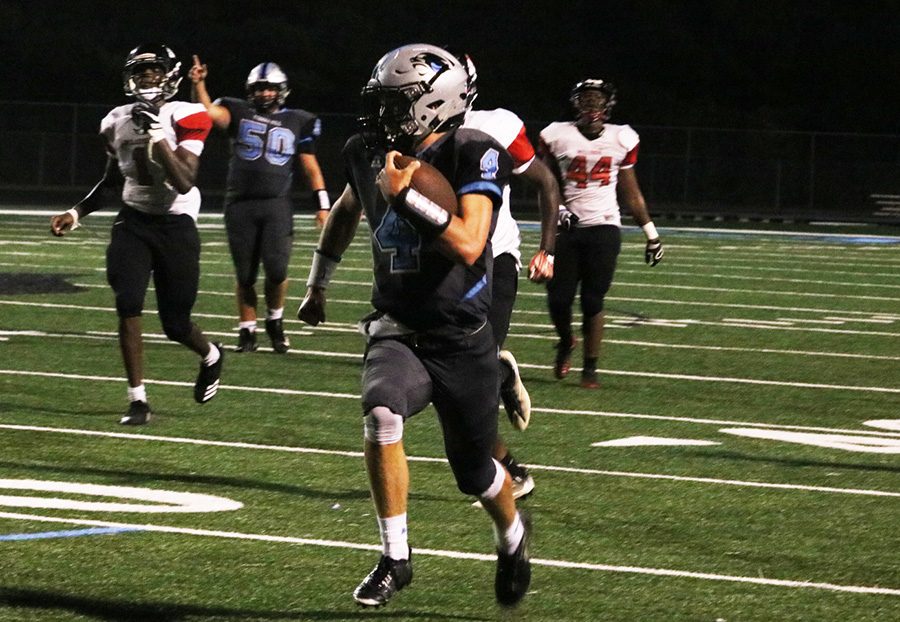 Shelby Foster
Two consecutive region championships. Four straight playoff appearances. Thirty-four wins in four years. The 2018 senior class was one of the best the Starr's Mill football program has ever seen. Now that they're gone a new era of Panther football begins, and in their season opener against Mt. Zion, these young Panthers proved why everyone should be excited for the 2018 season.
"Our kids have made a huge investment in their training and strength and conditioning," head coach Chad Phillips said. "I saw that as the difference."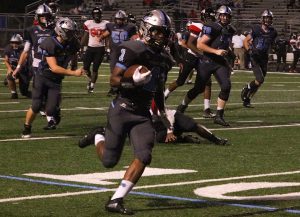 Junior Khalen Sims flashed potential in his first two years at Starr's Mill, and on Friday he finally made his debut as the lead back for the Panthers. He didn't disappoint.
Sims ran all over the Bulldog defense, totaling 243 yards and two touchdowns on 16 carries. Junior quarterback and first year starter Hunter Lawson struggled through the air, only completing one of his eight pass attempts, but he scrambled for 129 yards and two touchdowns on the ground.
While Starr's Mill dominated the ground game, Mt. Zion found most of their offense through the passing game. Junior quarterback Ty Rogers completed 20 of 36 passes for 315 yards, two touchdowns, and one interception. Senior Jenaris Clay proved to be his favorite target, as Clay snagged 10 receptions for 170 yards and two touchdowns.
"I definitely came out ready to play, but I credit my big runs to my [offensive] line," Sims said. "I proved a lot tonight. We all did as a team."
Senior kicker Michael Lantz opened the game with a touchback, and the Panther defense took the field. The first drive was sloppy for Mt. Zion as Rogers fumbled the snap on the first play, and three penalties pushed them deep into their own territory. After a punt, junior Karsen Kalen received the first handoff of the year. Kalen weaved through the Bulldog defense and sprinted 41 yards for a touchdown. After just one offensive play, the Panthers led 7-0.
Once again, the Bulldog offense was very lackadaisical. They fumbled twice more and racked up another penalty and had to punt again. Starr's Mill took over at their opponent's 47-yard line and went right back to the run game. Sims picked up four yards and junior Ardit Hoti followed with a 7-yard first down run. The Panthers went back to Sims who dashed for 20 yards and put the Panthers at the 16-yard line. Three plays later, Hoti punched in a 2-yard touchdown run and Lantz's extra point put the Mill up 14-0.
"There was a lot of mistakes the [offensive] line made," Phillips said. "But at the end of the day they kept fighting and made the big plays."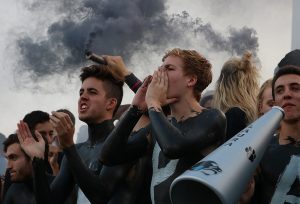 On their third drive Mt. Zion started to move the ball and managed to pick up a first down, but they were ultimately forced to punt again. On the next Panther drive, Hoti zipped past the Bulldog defense for a 23-yard run, but Starr's Mill was later forced to punt. Rogers took the field and on the first play of the drive he connected with Clay for a 66-yard touchdown with eight seconds left in the first quarter, and Mt. Zion cut their deficit to 14-7.
On the final play of the first quarter, Sims bolted 69 yards to the endzone and immediately pushed the Panther lead back up to 14. Following the score, the Bulldogs finally put together a complete drive. Rogers found sophomore receiver Taarik Brett on two occasions, and Clay broke off a 19-yard run. The drive was finished off with a 17-yard touchdown strike from Rogers to junior Gerrod Nicholson. With 9:52 left until halftime, Mt. Zion trailed 21-14.
"We played well against the run," Phillips said. "But you have to give [Mt. Zion] credit for what they did passing-wise."
After two penalties against Mt. Zion pushed the kickoff back, Starr's Mill started at their own 45-yard line, and once again, they wasted no time. On the first snap, Sims sped past Mt. Zion for a 55-yard touchdown. Once again, they led by 14 points with 9:33 left in the second quarter.
Mt. Zion responded with a 12-play, 80-yard drive that milked over four minutes off of the clock. The Bulldogs used a nice mix of running and passing plays, but the drive was finished off by Rogers and Clay once again as the duo connected on a 12-yard touchdown pass.
The Panthers used the rest of the second quarter on a 12-play drive that resulted in a missed field goal. The Bulldogs prove to be resilient and only trailed 28-21 going into halftime.
"I think we started out a little rusty," Lawson said. "When the second half came around, we settled in and we were ready to play football again."
The Panthers opened the second half with a 13-play, 36-yard drive that lasted nearly six minutes. However, the Bulldog defense managed to keep them out of the endzone and force a field goal attempt. After missing his first attempt, Lantz connected on a 40-yard field goal to put the Panthers up by 10
Down 31-21, Mt. Zion looked to respond. Their response came in the form of a 6-play, 80-yard drive that found sophomore running back Montrell Freeman sprinting for a 44-yard touchdown to bring the Bulldogs within three points.
"Our skill guys were all cramping up," Phillips said. "But they just kept fighting and it was good to see them battle through that adversity."
Following the score, the teams both traded punts as the third quarter began to wind down. Lantz missed on a 50-yard field goal attempt with just over two minutes left in the quarter, and the game remained at 31-28. After the missed field goal, the Panther defense forced a safety and jumped out to a 33-28 lead to begin the fourth quarter. The Panthers fielded the safety punt and built on their lead. A seven-play drive was capped off by a 29-yard touchdown run from Lawson, and Starr's Mill jumped out to a 40-28 lead.
The Bulldog offense was disoriented and started to crumble. Their next drive resulted in a fumble that Starr's Mill recovered. Lawson made them pay, this time scrambling for a 52-yard touchdown. Mt. Zion had gotten within three points but now stared at a 19-point deficit with three minutes left in the game.
Rogers looked to bring his team back, but junior Panther Ben Bodne picked off a tipped pass to seal the game, and the Panthers won 47-28.
"[Sims] is running the ball fantastically and the line is blocking so well," Lawson said. "We have people going in positions that they normally don't play and they're adapting so well."
The Panthers defended their home turf and opened the season with a big win, but their next opponent won't be an easy matchup. The Northgate Vikings will be hungry for revenge when they visit Panther Stadium, as they fell to Starr's Mill 16-13 a year ago. The Vikings will also be looking to bounce back from their 44-17 loss to Newnan in their first game.
The contest is at 7:30 p.m. on Aug. 31 at Starr's Mill.