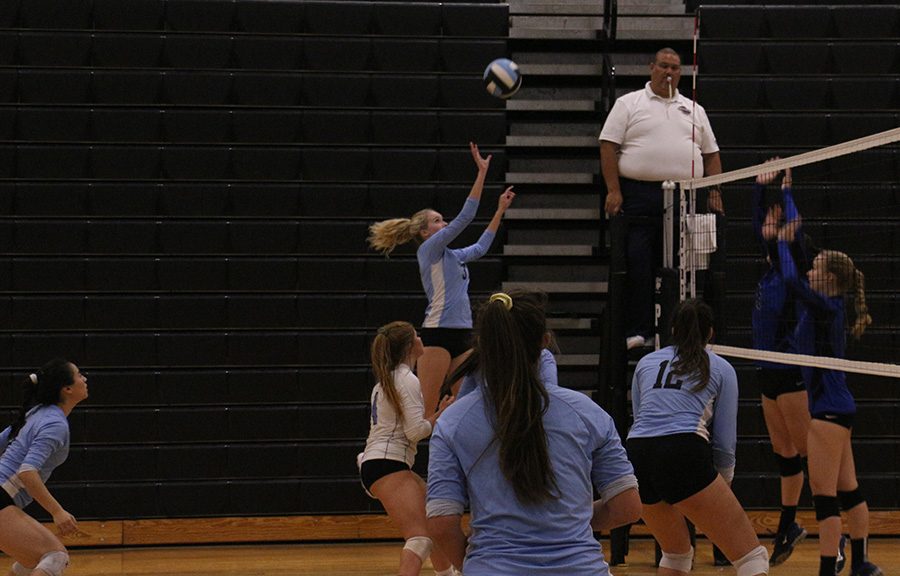 Alyson Phinney
After a 2-1 win over Woodward, and a 2-1 loss to Newnan last week, the Lady Panthers returned to the Panther Pit looking to improve on their 6-4 record. They had some tough competition,  facing the East Coweta Indians, who beat Starr's Mill twice last season, and the Columbus Blue Devils, who currently rank No. 10 in the state.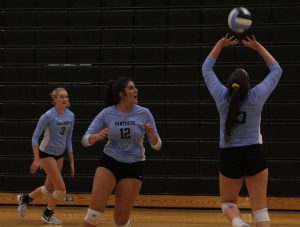 In game one of the match against East Coweta, the Indians jumped to a quick 4-0 lead, capitalizing on Lady Panther offensive miscommunications. This forced the Lady Panthers to play catch-up early. However, Starr's Mill made a comeback, even gaining the lead briefly, but the Indians countered the Mill's offense with more aggressive play, winning the game 25-22.
"[East Coweta] started out strong, but then we started playing our game, and we were right back in it," head coach Jason Flowers said.
Game two saw a switch in dominance as the Panthers got off to a quick start. The Indians eventually came back and almost won the game and the match, but Starr's Mill continued to dominate offensively, winning most of the long rallies en route to a 25-17 win.
The third and final game was the most intense, with the lead changing hands back and forth all match long. East Coweta broke out toward the end, though, leading 24-21 late. However, Starr's Mill continued to play aggressively, tying the score at 24. Both teams did not back down after that, as the advantage swapped between teams every point, and the rallies were the longest at that time than in the entire match. The match ended with a controversial call that handed the Indians a 29-27 victory and a 2-1 match victory.
"It was a great, hard fought match, and I'm proud of our girls' teamwork," Flowers said.
The next match was a two game blowout in favor of the Columbus Blue Devils. Game one saw the Blue Devils and the Lady Panthers change leads early on, but Columbus pulled away after that, winning the game 25-11, which included a 15-6 run to end the game.
"[Columbus] is a great team, and we weren't ready for their onslaught," junior Tessa Laney said.
Game two saw continued back and forth play between the two teams, with neither side pulling away early. Then Columbus continued to show aggression on the offensive end, ending the game on a 7-4 run, winning the game 25-16 and the match 2-0
"We've got to improve on our late game play if we want to be successful for the rest of the year," junior Kayla Sloan said.
The Lady Panthers will travel to South Carolina over Labor Day weekend to participate in the 2018 Port-Gaud invitational. Play begins Aug. 31 with matches against Bluffton High School from Bluffton, First Baptist School from Charleston, and Wando High School from Mt. Pleasant.