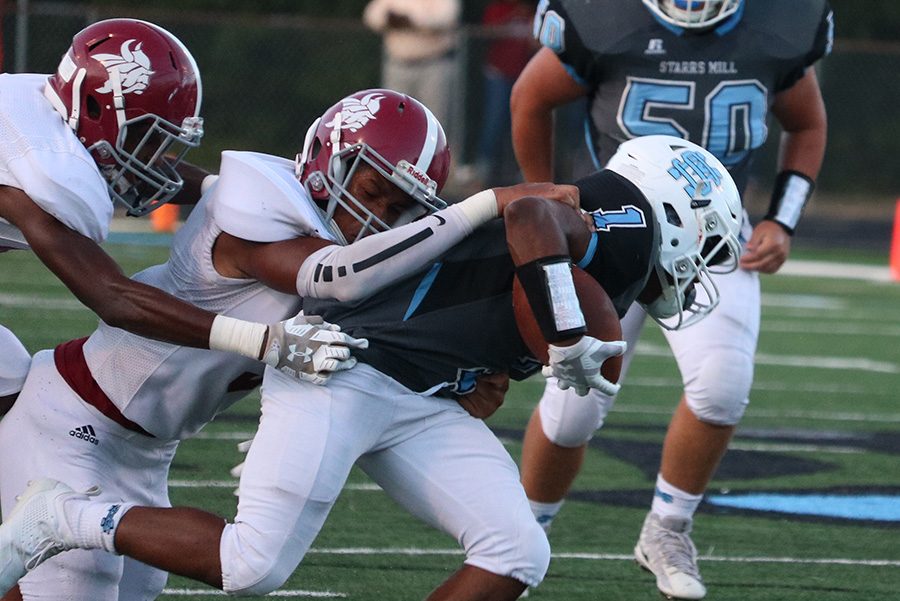 Shelby Foster
The Northgate Vikings entered Panther Stadium with revenge on their minds, as they suffered a narrow 16-13 loss to Starr's Mill just a season ago. This year's matchup was just as close, but the Vikings managed to leave Fayetteville with a 31-29 victory in hand.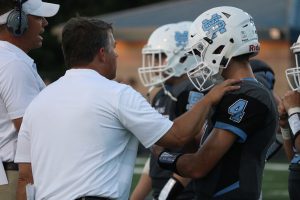 "We're just so inexperienced," head coach Chad Phillips said. "But we have so much to build on."
The Panther offense ran the ball 59 times against Northgate, totaling 310 yards on the ground. Junior running backs Kalen Sims and Ardit Hoti took 23 handoffs each, but Sims led the way with 148 yards and three touchdowns, while Hoti picked up 99 yards. Junior quarterback Hunter Lawson gained only 23 rushing yards following his 129-yard performance against Mt. Zion, but he tossed his first touchdown pass of the season.
Northgate only picked up 277 total yards to the Panthers' 354, but the Vikings played a cleaner, more disciplined game. They only had possession for nearly 17 minutes, while Starr's Mill held the ball for just over 31 minutes. Senior running back Cameron Cruver rushed for 160 yards and two touchdowns on 20 carries, and junior running back Tanner Hughes added 74 yards and another score on just five touches.
"We took our foot off the gas," senior defensive back Grayson Faircloth said. "We have to find our mistakes on film and bounce back."
The Panthers received the opening kickoff and immediately took the ground game. Hoti received the first two carries of the game, and Sims and Lawson also helped move the ball. They slowly drove down the field, using a 16-play, 67-yard drive to get within field goal range. Senior kicker Michael Lantz, however, missed the 28-yard attempt. Starr's Mill chewed over eight minutes off the clock on just their first drive.
Northgate responded to the lengthy series with a quick three-and-out. They attempted three run plays, but failed to cross the line of scrimmage. On fourth and twenty-three, they were forced to punt.
Unlike their first drive, Starr's Mill quickly moved the ball down the field, and in just seven plays they found the endzone. On first down from the Vikings' 12-yard line, Lawson dropped back to pass and was immediately pressured. Just before he was hit, Lawson lofted a pass to senior Sean King who secured the touchdown catch. Early in the second quarter, the Panthers led 7-0.
"We were better [against Northgate]," Phillips said. "Our non-region schedule will get us ready for region play."
Once again, Northgate was quickly stopped on offense, and the Vikings were forced to punt after just three plays. Starr's Mill then marched 34 yards in five plays and scored another touchdown. This time, Sims broke off a 17-yard dash to the endzone. However, the Panthers decided to attempt a 2-point conversion, but they were stopped just short of the goal line. Following the failed attempt, they still led 13-0.
With just over six minutes until halftime, the Viking offense flipped a switch. Cruver and Hughes both broke off big runs that put Northgate at the Panther 3-yard line. From there, Cruver found a hole and scored the Vikings first touchdown of the night. After the extra point, the Panther lead was down to 13-7.
"They started running a completely different offense than what he had practiced for," Faircloth said. "[We had] blown coverages and little mistakes."
The momentum started to shift to the Vikings as their defense followed the score by forcing a three-and-out. Following the punt, Northgate covered 39 yards in six plays, and junior quarterback Isaac Corbitt threw a 13-yard touchdown pass to senior receiver Gerald Harris. The Vikings elected to kick the PAT, giving them a 14-13 lead with 59 seconds left in the half.
On the kickoff, sophomore Wes Haney returned the ball 42 yards to the Starr's Mill 47-yard line. After feeding Sims the ball a few times, Lantz was called on for a 31-yard field goal attempt. After he split the uprights, the teams went to halftime with Starr's Mill leading 16-14.
"We got tired and felt complacent with where we were," Lawson said. "We slowed down and didn't play our game as long as we could've."
Starr's Mill opened the second half by forcing a quick punt, bringing their offense onto the field. Looking to build separation from the Vikings, the Panthers returned to the run game. Sims started the drive with and 11-yard run, and Hoti followed with a 29-yard burst. The two traded carries until Sims eventually scored on a 9-yard touchdown run.
Traliing 23-14, Northgate responded quickly with a 3-play, 64-yard drive. Corbitt connected with Harris on a 48-yard completion. Two plays later, Hughes took a handoff and sprinted 20 yards to the endzone. The extra point brought the game back to within two points, at 23-21.
After the score from Northgate, the Viking defense built on the momentum from their offense.  Three plays into the Panther series, Lawson fumbled on a handoff and Northgate recovered. Four plays later, junior kicker Kade Loggins drilled a 39-yard field goal and put the Vikings on top 24-23.
"We kept shooting ourselves in the foot," Phillips said. "It was uncharacteristic for Starr's Mill."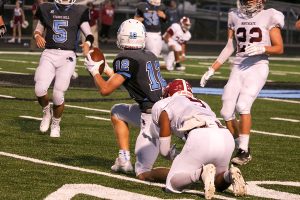 Starr's Mill began to struggle on offense, and only managed a three-and-out following the Viking field goal. Northgate, however, kept rolling. The Vikings marched 76 yards in six plays, including a 36-yard touchdown run from Cruver. The Panthers had gone from a 13-point lead to an 8-point deficit with only 10 minutes left in the game.
The next Starr's Mill drive lasted 10 plays, but after gaining only 26 yards, they were forced to punt again. Northgate had a chance to put the game away with another score, but the Panther defense remained strong and gave their offense one last chance.
Lawson dropped back to pass on the first play of the drive and found senior tight end Jack Wilson for a 19-yard gain. Two plays later, Sims broke off a 21-yard run, putting the Panthers at the Northgate 25-yard line. Hoti followed with an 11-yard run, and four plays later Sims punched in a crucial touchdown.
Down 31-29, Starr's Mill had to go for two, and they did so on a run play to Sims. However, he was stuffed at the line of scrimmage, and with under a minute left, the Panthers didn't have enough time for another possession. They watched as the Vikings kneeled the clock out, and walked off Panther field with a 31-29 road win in hand.
"We have to work on moving the ball a little better on offense," Lawson said. "We let off the gas [in the second half]."
The Panthers travel to Chapel Hill for their next contest. The Chapel Hill Panthers are 2-0, with wins over Newnan and Ola. Starr's Mill is now 1-1, but they have beat Chapel Hill in each of the past two seasons, including a 56-21 blowout last year.
Starr's Mill looks to bounce back from their loss, while Chapel Hill seeks a perfect 3-0 record. The game begins at 7:30 p.m. on Sept. 7 at Chapel Hill.