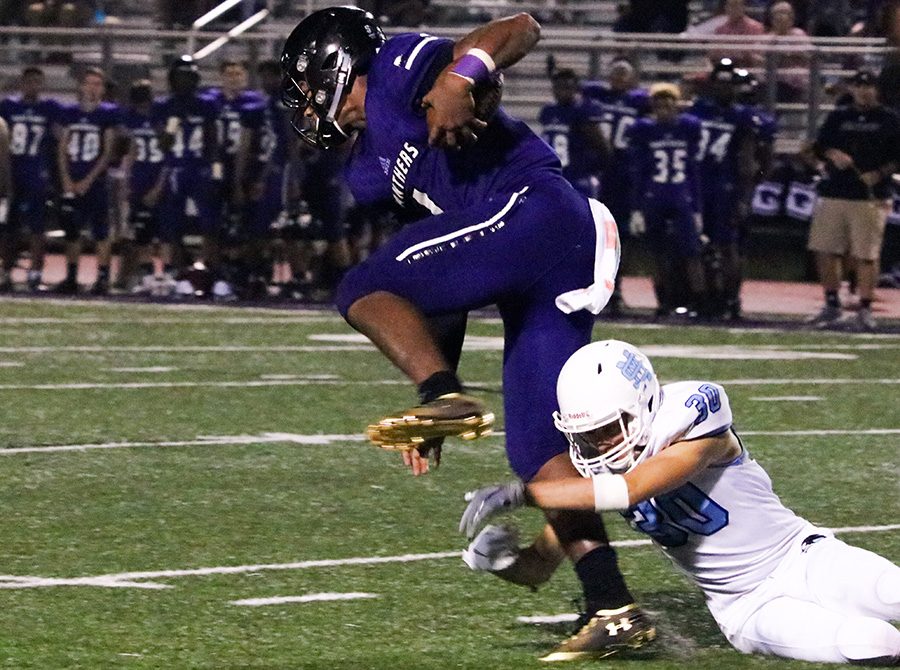 Shelby Foster
With almost an entirely new set of starters, the Starr's Mill football team has gone through some growing pains. This past Friday, Chapel Hill reminded them how much they still have to learn.
Chapel Hill, who lost to the Mill 56-21 last season, used a huge second half to crush Starr's Mill 49-19.
"We have to execute the gameplan. We have to do the little things," head coach Chad Phillips said. "We have to forget what happened tonight and get refocused."
Senior KJ Burton, quarterback for Chapel Hill, completed four of his seven pass attempts for 73 yards and a touchdown. However, he picked up 192 of of Chapel Hill's 428 rushing yards, and ran for two touchdowns. Senior running back Joshua Milfort gained 98 yards and scored twice, and junior Imani Davis added another 96 yards and a touchdown. Chapel Hill amassed 501 yards, while holding the Mill to under 200.
Of the 175 yards gained by Starr's Mill, 116 came from junior running back Kalen Sims. Sims rushed for over 100 yards for the third time this year, but Chapel Hill is the only team that kept him out of the endzone. Junior quarterback Hunter Lawson was 2 of 11 through the air, but both of his completions were touchdown passes. The Starr's Mill defense struggled to tackle throughout the entire game, resulting in a huge offensive output from Chapel Hill.
"We just didn't tackle," Phillips said. "You have to tackle in this game."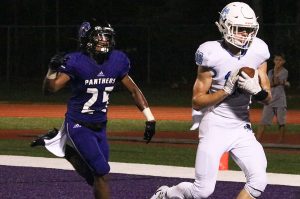 Starr's Mill received the opening kickoff and immediately began to struggle. After three plays, they were forced to punt. Chapel Hill's offense then took the field and made quick work of the Mill's defense. An 8-play, 70-yard drive that lasted less than two minutes resulted in a 2-yard touchdown run for Milfort. After the PAT, Chapel Hill took an early 7-0 lead.
The Starr's Mill offense returned to field and began to move the ball. Sims received a handoff on four of the first five plays, including two first down runs. Despite moving down the field, the Mill failed to reach the endzone. Their 13-play drive was capped off by a 49-yard field goal from senior kicker Michael Lantz.
"We didn't get much penetration up front," senior safety Sean King said. "We didn't keep [Burton] in the pocket. We let him get outside."
Chapel Hill wasn't able to do much on offense, as the Mill's defense quickly forced a fourth down and three. After lining up in punt formation, the snap went over the punter's head and out of bounds, rewarding Starr's Mill two points for the safety. Chapel Hill then punted the ball back to the Mill, who looked to take the lead.
Following the safety kickoff, two Starr's Mill punts sandwiched a Chapel Hill punt. With 2:38 left until halftime, Chapel Hill started to march down the field again. Burton broke off a 20-yard run to put them in striking distance, and two plays later he shrugged off a sack and scrambled into the endzone. Starr's Mill struggled to move the ball on offense and missed multiple tackles on defense, resulting in a 14-5 deficit at halftime.
"Right before halftime, it was 7-5," Phillips said. "We missed three tackles and they scored a touchdown. It changed the whole complexion of the game."
Chapel Hill carried their first half momentum into the third quarter, and extended their lead to 21-5. A short 6-play, 80-yard drive was sealed by a 53-yard touchdown run from Milfort. Desperately trying to find some offense, Starr's Mill attempted to get their passing game going. Lawson was on target with his throws, but multiple dropped passes forced the Mill to punt once again.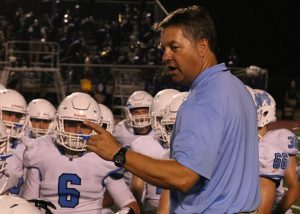 On the first play following the punt, Davis found a hole and torched the Starr's Mill defense for a 75-yard touchdown. Chapel Hill then recovered an onside kick, and used another 1-play drive to increase their lead. Burton found an open Elijah Brown, and the junior receiver went 39-yards to the endzone. After trailing by just nine points to start the second half, Starr's Mill faced a 35-5 deficit with 7:30 left in the third quarter.
"Missed tackles are big part of why they scored so many points," King said. "Our defense couldn't put it together."
The Mill managed to pick up a first down on their next drive, but ultimately punted once again. Chapel Hill scored on the first play of the drive for the third consecutive time, with Burton scrambling for an 85-yard touchdown. After receiving the ensuing kickoff, Starr's Mill finally put together a scoring drive. Kalen Sims got the ball rolling with a 43-yard run, and four plays later Lawson fired a pass to senior tight end Jack Wilson for the Mill's first touchdown of the night.
Chapel Hill then fumbled, and Lawson threw a 15-yard touchdown pass to King on the next play. Following the score, Chapel Hill finished off the Mill with a 5-play, 65-yard drive. Sophomore running back Rudolph Paul broke off a 47-yard run, and scored on a 6-yard run one play later. The clock ran out during the Mill's next drive, and Chapel Hill celebrated a 30-point victory.
"We could've executed better," Sims said. "Towards the end of the game we started to pick it up, but it was too late."
Starr's Mill lost their second consecutive game following their win over Mt. Zion, and Chapel Hill improved to 3-0 on the season.
Up next for the Mill is Sandy Creek. Last year, Starr's Mill defeated Sandy Creek for the first time since 1998. The Patriots opened their season with two blowout wins over Whitewater and Hampton, before suffering a 23-21 loss to Ridgeland. Both of Sandy Creek's wins came on the road, and they will look to continue that trend when they visit Panther Stadium. The contest kicks off this Friday at 7:30 p.m.