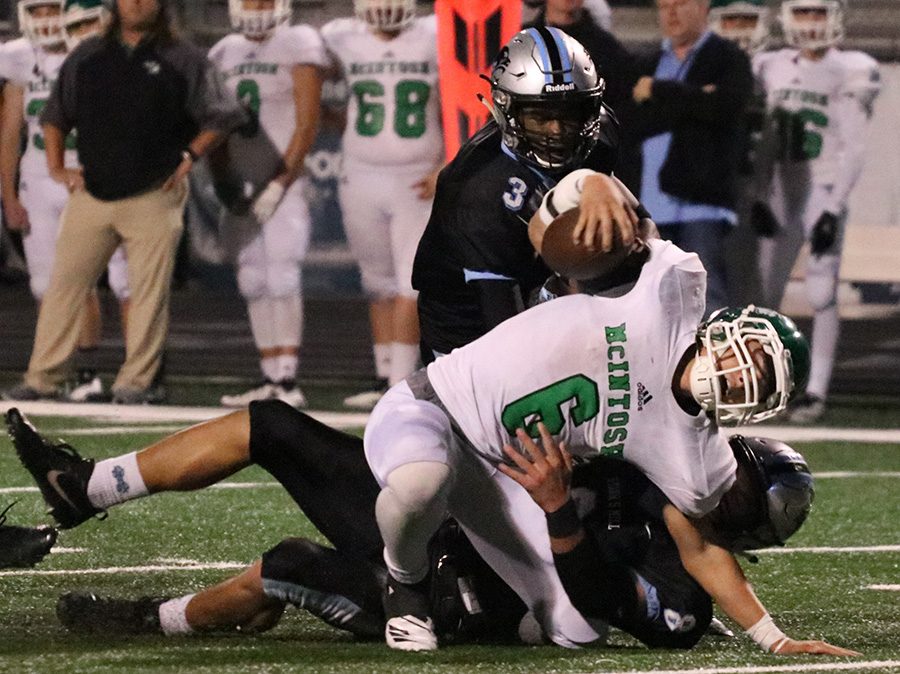 Shelby Foster
Starr's Mill came into their rivalry game against McIntosh on a three-game win streak where they have outscored opponents 125-26. The Chiefs didn't pose a threat to the Mill's hot streak, as the Panthers quickly built a 38-0 lead en route to a 38-20 victory.
"We played very physical," head coach Chad Phillips. "I thought it was fairly obvious we were the more physical team."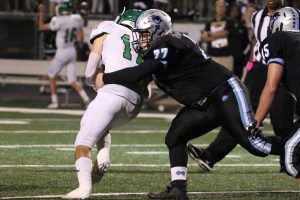 The Panthers dominated McIntosh in every aspect of the game. Junior Kalen Sims accounted for 118 of the Mill's 240 rushing yards, and the backfield totaled three touchdowns as a unit. Junior quarterback Hunter Lawson completed all four of his pass attempts for 96 yards and a touchdown. On special teams, sophomore Wes Haney returned a punt 76 yards for a touchdown.
Defensively, Starr's Mill held the Chiefs to 225 total yards, holding McIntosh star running back senior Dane Kinamon to just 65 yards. Senior Calvin Flowers proved to be the only spark on offense, totaling 118 yards and two touchdowns on just five carries. McIntosh entered the fourth quarter trailing 31-0 and didn't score until halfway through the fourth quarter. Once their offense began scoring, it was too late for a comeback.
"The blocking was extraordinary," Lawson said. "Our run game just couldn't be stopped."
McIntosh opened the game with possession, but they were unable to gain a single yard on the Panther defense. Following a punt, the Mill's offense took over, but lost a fumble after three plays. After the turnover, McIntosh picked up a first down on a 16-yard run from Kinamon, but then punted six plays later. Starr's Mill responded with a five-play, 61-yard drive that was finished off by a 45-yard touchdown pass from Lawson to senior Sean King. The extra point from senior kicker Michael Lantz gave the Panthers an early 7-0 lead.
Once again, McIntosh picked up one first down on the drive, but failed to build upon any momentum and punted again. Starr's Mill took over with 3:02 left in the first quarter and didn't give the ball back until the 7:11 mark in the second quarter. The series lasted 15-plays as the offense marched 77 yards. The lengthy drive was capped off by a six-yard touchdown run from Sims, increasing the Panther lead to 14-0.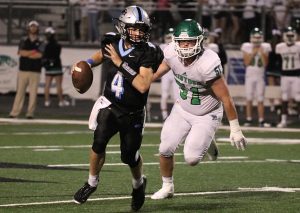 The Chief offense continued to struggle and was forced to punt for the fourth time of the first half. The Panthers used up the rest of the first half on an eight-play, 60-yard drive that was completed by a two-yard touchdown scramble from Lawson. The score allowed Starr's Mill to take a 21-0 lead to halftime.
"Every game we show up to, we come with a mentality to win," Lawson said. "That will help us long term."
The Panthers began the second half with a 13-play drive that only went 43 yards. Despite finally stopping the Mill on third down, the Chiefs still allowed Starr's Mill to increase their lead. Lantz lined up a 50-yard field goal and split the uprights, putting the Panthers up 24-0. McIntosh answered with a fifth consecutive punt, which was returned by 76 yards Haney for another Starr's Mill touchdown.
Trailing 31-0, McIntosh's offense only stayed on the field for six plays before a sixth punt. The Panther offense turned around and scores in just five plays on a 43-yard touchdown run from senior Jalen Lazenby. Flowers answered with a 77-yard touchdown run that finally put the Chiefs on the scoreboard. The Panthers then fumbled on their next possession, and McIntosh scooped it up and returned for another touchdown.
After the Panthers' first punt of the night, the Chiefs scored a touchdown as time expired on a two-yard touchdown run from Flowers. The late run wasn't enough to overcome the monumental deficit McIntosh was in, and they lost their fifth game of the season 38-20.
"We stopped their running backs and their running backs are their best players," Lazenby said. "Our defense has continue playing how we're playing."
At 2-5 and 1-2 in the region, McIntosh is sitting at fourth place among region opponents. Their next matchup is at home against the 5-4 (4-1) Griffin Bears.
Starr's Mill (5-3, 4-0) has a week off before they return to Panther Stadium to take on Riverdale. The Raiders are 7-1 this season and are 3-0 in the region as well. The battle for first place in the region takes place at 7:30 p.m. on Oct. 26.