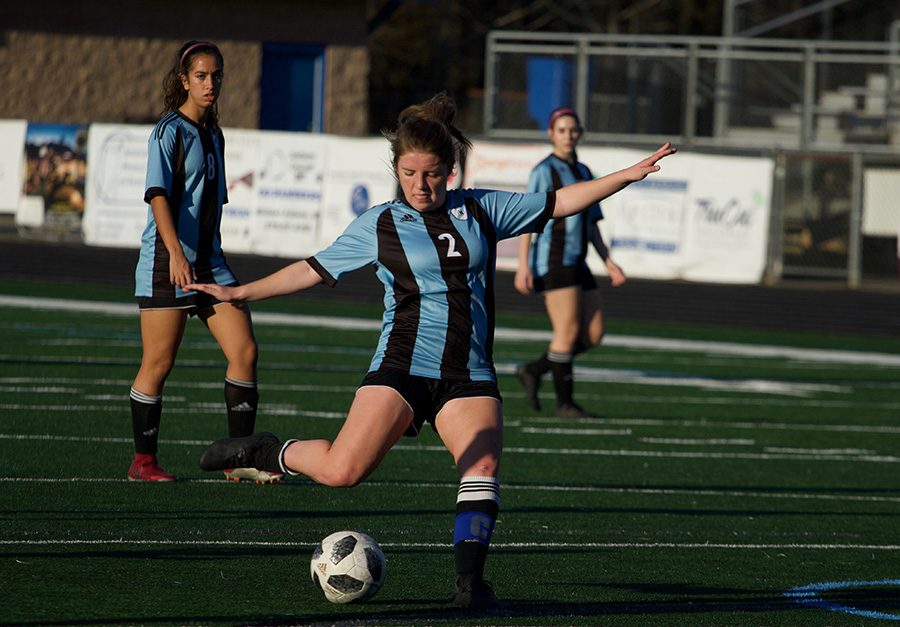 Katie Linkner
Senior night for the Lady Panthers came early this season as the Starr's Mill varsity girls' soccer team faced Jonesboro this week. The game ended in a 10-0 mercy rule victory.
Only one senior was able to play in the senior night game with Merritt Parker being hurt on the bench. Fellow senior Rachel Davison scored one goal. Junior Kara Dial, sophomore Darby Olive, and freshman Sophia Bernardi led the team with two goals each for the night.
"We could've handled the situation a little better," head coach John Bowen. "We got a shutout. We got three points. Can't complain overall as far as results go."
The game started off fast with Olive scoring in the first minute of the game. The ball hit the post, but the opposing keeper hit the ball into the goal. In the fifth minute, Bernardi scored her first goal of the night from the middle of the box. Two minutes later, Dial scored off of an assist from sophomore Sara Evans. Less than ten minutes into the game, the score was already 3-0.
In the 10th minute, Evans scored from within the box. The Mill's pace then came to a halt, and Starr's Mill was unable to score again until the 21st minute when Davison scored off of a corner kick. Two minutes later, Bernardi scored her second goal of the night.
"We started off being all goofy because it's senior night," Davison said. "Overall, the whole game was super fun for us."
In the 24th minute, the Cardinal keeper allowed an own goal to make the score 7-0. Sophomore Sofia Varmeziar scored her only goal of the night in the 31st minute after dribbling through the box. Dial scored her last goal of the night in the 37th minute from the middle of the box. Olive scored the last goal of the night in the 40th minute, sending the score to 10-0, ending the game in a mercy rule.
"[The game] was really really disappointing," junior Chloe Spradlin said. "It took a long time to get to mercy them."
Starr's Mill left the game against Jonesboro with a record of 8-2 overall and a 3-0 region record. The Lady Panthers have had a total of six goals scored against them throughout the season. Leading the team in overall scoring and assists is Evans with nine goals and nine assists. Following close behind in scoring is Bernardi with eight goals and four assists. Second in assists for the season is Spradlin with seven assists.
The Mill currently ranks third in AAAAA and No. 1 in Region 3. Starr's Mill travels to downtown Fayetteville tonight to the Fayette County Lady Tigers at 5:30 p.m.