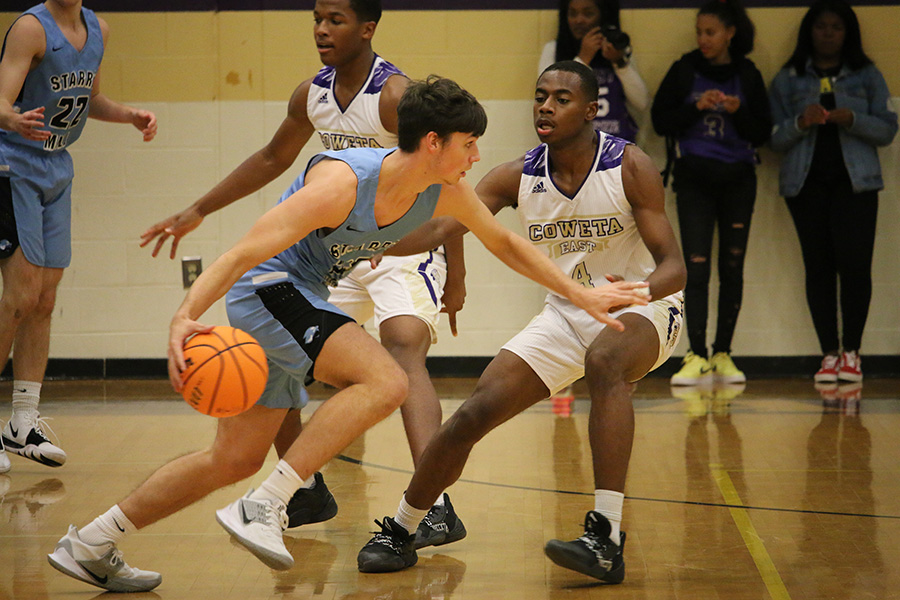 Annika Pepper
To complete the first full week of the regular season, the boys' basketball team traveled to East Coweta to face off against the East Coweta Indians. The Panthers left East Coweta with their second loss of the season in a 70-57 defeat.
The boys showed talent on the offensive side of the ball. Senior Reese Clevenger led the boys with 17 points, including four three-pointers. Junior Brandon Allison and senior Sam Handel also put up double digits with 11 and 10 points, respectively.
For East Coweta, sophomore Samuel Moss and senior Keith Williams dropped 19 points each. Senior captain Christopher Youngblood scored 15 points. Moss and Youngblood put together six three-pointers.
"We know we need to work on our man-to-man defense," head coach Josh Reeves said. "We did a good job in the last couple of minutes, but as soon as about five minutes we went into man, we gave up a couple [shots] we shouldn't have."
Beginning in the first quarter, the defense came out aggressive. The offense, on the other hand, stalled and missed a lot of shots. East Coweta pulled away throughout the middle portion of the quarter. 
Williams helped bring the Indians out with four two-point field goals. Moss also chimed in with a three-pointer, and four other players scored field goals. Starr's Mill may have gotten a few things together, but they were still down 20-9 at the end of the quarter.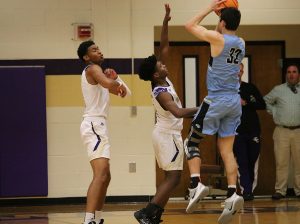 In the second quarter, the boys came out playing much better than they did in the first quarter. Their defense only held East Coweta to 16 points. The offense stepped up scoring 24 points throughout the quarter with seven players getting at least one field goal. Eight minutes later the Panthers were back in it, but still trailed 36-33 at the half.
"I think [getting back in the game] is a mental game more than anything," Allison said. "We could have backed down, been scared with the pressure, but we pushed through it and fought back."
After the half, each team was exchanging shots with one another. Allison and senior Tim Hall quickly got some points on the board. Scoring efforts from Moss, junior Gilbert Croley and Youngblood kept things tight to start the third quarter.
However, those three Indians continued to rack up shots, including a three from Youngblood that pulled them away from the Panthers. Starr's Mill tried not to give up too much on defense, but surrendered 18 points in the third. They did not produce much on offense to help keep pace, ending the quarter with a score of 54-42 East Coweta.
Clevenger came out gunning for a comeback at the start of the fourth quarter. He scored three three-pointers on his own in the fourth quarter. Despite his strong shots, the Panther offense only put together 15 points throughout the fourth quarter.
"I think we fought hard the whole game," Clevenger said. "I think it just came down to that they hit shots at the end that we couldn't and when it comes time [to step up] they came through."
East Coweta manufactured 16 points on offense to continue to pull away. Despite never being down much greater than they were to start the quarter, Starr's Mill was not able to close the gap between them and East Coweta. The Indians ended the game with a 70-57 victory over the Panthers.
Finishing their first full week of competition, Starr's Mill drops to 1-2 for the season. The team hopes to use their tough matchups against Sandy Creek and East Coweta to learn and improve for later games. They will not play their first region game until Dec. 3 at McIntosh.
"I feel like the boys saw what they had to do practice-wise to get ready for a really good team," Reeves said. "We're getting nothing but good competition coming up and everything prepares us for our region schedule."
Boys' basketball returns to the Panther Pit on Tuesday to play Spalding. Tipoff is set for 7:30 p.m.