Hudson breaks single game scoring record as Lady Panthers ground Cardinals
Earlier this week, senior Alice Anne Hudson carried the Lady Panthers to a 70-49 on senior night. She also added another accolade to her legacy. With 33 points, Hudson set a new single-game scoring record for Starr's Mill girls' basketball.
Bekah Algaze
"Whenever I get the ball in the wing by myself, I can take my man off the dribble and just win," Hudson said.
The top three scorers were Hudson with 33, sophomore Jaclyn Hester, who scored 16 points, and senior Ashtyn Lally, who contributed seven points.
"Defense generates good offense," Sweeney said.
Jonesboro began the game with three three-pointers to maintain a small lead. The visiting Cardinals committed several turnovers early, but the Lady Panthers could not capitalize. A bright spot in the Starr's Mill offense was Hester who came off the bench three minutes into the opening quarter and scored four quick points.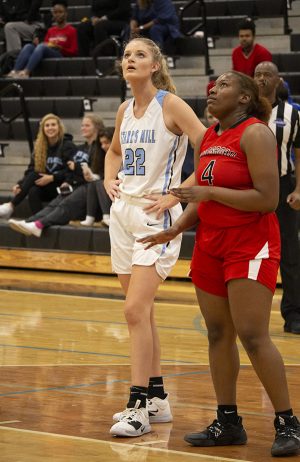 Strong rebounding and forcing more turnovers helped the Lady Panthers maintain a slim lead throughout the second quarter. They led 27-23 at the half.
"Tonight proved that we have gotten out of shape, so we need to get back in shape, boxing out and just making sure we are doing the little things right," Sweeney said. 
Starr's Mill started the third quarter with a 10-0 run, jumping out to a 14-point lead. The offensive onslaught lasted the entire quarter as the Lady Panthers outscored Jonesboro 28-6 and took a 26-point lead into the final quarter of play.
The game was all Starr's Mill after that. At one point, the Lady Panthers stretched their lead to 27 points. With a 70-49 win, Starr's Mill remained undefeated in region play.
"Playing in the game with [the seniors] helps my game even more," Hester said. "Just from their experience and from playing a longer time than me."
In the next game, the boys' dropped their eighth-straight region game in a 57-41 loss to Jonesboro.
Both teams traveled to Fayette County last night. The girls extended their winning streak to 16 games with a 53-29 win. The boys played a tight game for the first three quarters against the Tigers, but lost 70-54 after being outscored 19-7 in the fourth.
The girls will look to remain undefeated in region play, while the boys will work for their first region win when both teams travel to Riverdale on Jan. 28.