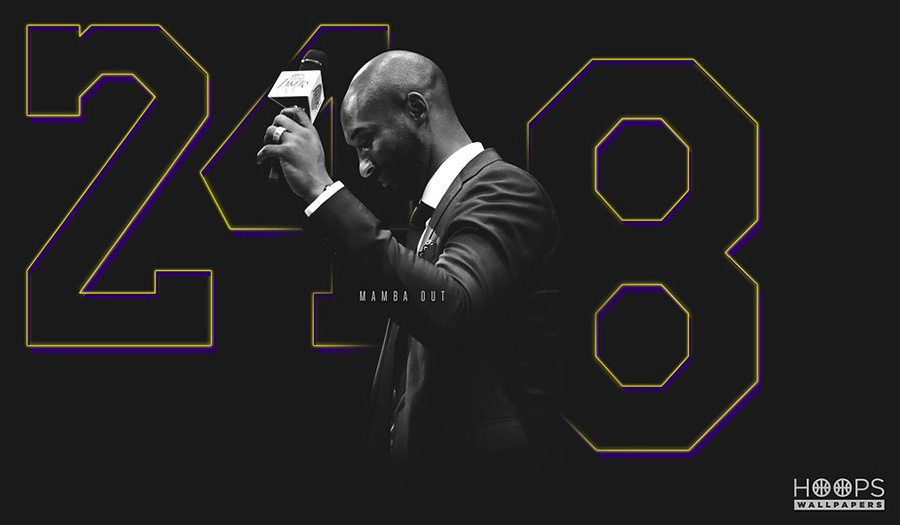 "kobe-jersey-retirement-wallpaper-4k" by beast120815 is licensed under CC BY-NC-SA 2.0
Wow. Four days later and that's still all I can say. Wow.
Sunday morning, the NBA lost a legend as Lakers guard Kobe Bryant, along with his 13-year-old daughter Gianna and two additional families, died in a helicopter crash just outside Los Angeles.
When I first heard this news on Sunday, I thought it was fake. Just TMZ trying to spill drama like they always do. But then I turned on Fox News and the headline read, "Kobe Bryant Dead in Helicopter Crash." My heart immediately sank and I felt sick for the rest of the day.
The first memory I have of watching Kobe play was in April 2006. I was four years old and I was watching some playoff basketball with my dad. The Lakers matched up against the Phoenix Suns in a first round playoff matchup. Kobe had 24 points and the game-winning shot in overtime. Even at four years old, I knew from that moment that Kobe was special.
Kobe turned into one of my favorite players after that. He inspired me to pick up a basketball when I was six. From then on, basketball became part of my life.
In my driveway, I would try to recreate some iconic Kobe game winners, while also practicing his moves in order to fulfill my dream of playing in the NBA.  
Years passed, and despite my dream changing, Kobe remained one of my favorite players. It broke my heart when he tore his Achilles tendon in 2013. I thought this cannot be how his career ends. Fortunately, he powered through and continued to dominate the league. Then April 13, 2016, came.
The Utah Jazz came into Staples Center against the Lakers in what would be Kobe's final NBA game. Before the game, friend and former teammate Shaquille O'Neal challenged Kobe to "go for 50 points tonight." He did that and then some.
Kobe played like the Kobe of old, dropping 60 points and leaving a lasting impression on his NBA career. The Lakers ended up winning the game and Kobe left the Lakers and the NBA on a high note.
Outside of the NBA, Kobe was just as inspiring. I deeply respected him as a humanitarian and how great a father he was to his four daughters.
The main thing I learned from Kobe was how to have a strong work ethic. Kobe was never satisfied unless he was the best at what he was doing. I have taken that work ethic into my life. Whether it be singing, swimming, writing sports for The Prowler, or playing basketball, I strive to be the best at it. I learned that from Kobe.
Recently, I re-watched that Jazz-Lakers game from 2016 and I was reminded just how good a player Kobe was. The way he shot, the way he created opportunities for teammates, the type of mentor he was on the court. It is truly inspiring.
Kobe, you have no idea how much of an impact you have had on my life. I wish I could have met you to talk basketball and hear some of your wisdom firsthand. I guess all I can say is this: Thank you. Thank you for being one of the greatest players of all time. Thank you for being an inspiration to me and so many people all over the world. Thank you for everything you have done as a humanitarian. Just thank you for everything.
I love you, Mamba. Rest easy with your angel, Gianna.