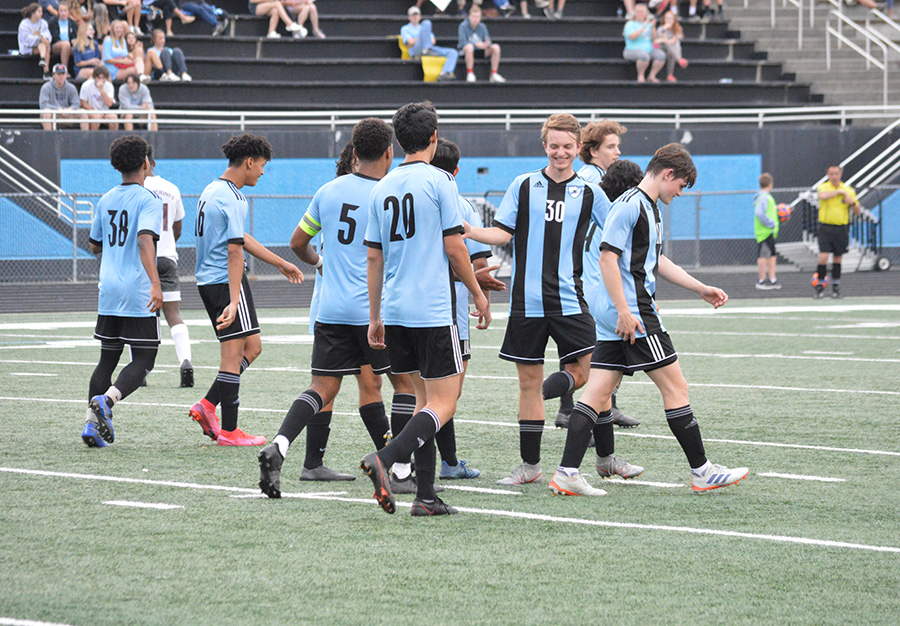 Craig Bardo
After winning 10-0 against Drew High School last week, the Starr's Mill boys soccer team took on the Union Grove Wolverines in the second round of the GHSA state playoffs. The Panthers protected their home turf, winning 6-0.
Sophomore Camilo Velez and senior Jake Eubanks led the Panthers with two goals each. Senior Kenan Godfrey and sophomore Ricardo Leacock followed behind with one each. 
Velez scored two goals in the first 10 minutes of the game. Not long after, Eubanks put the Panthers up 3-0.
"I'm really excited to finally get back on the scoreboard," Velez said. "I've been really struggling and tonight was like a weight off my shoulders."
For the majority of the first half, the Panthers stayed on the attack. On the few occasions the Wolverines got into Panther territory, senior keeper Andrew Cole, with the help of Panther defense, never let the ball get to the goal. In the last minute of the half, Godfrey scored, putting Starr's Mill up 4-0.
"We played well," coach Aaron Buck said. "We started very very good today, and a major positive was that the game was at hand enough for everyone to play."
Starr's Mill continued to pressure Union Grove to begin the second half. Multiple attempts turned into another goal by Eubanks. The Wolverines attempted to get on the board with several shots on goal, but the shut out held. In the last two minutes of the game, Leacock scored the sixth and final goal for Starr's Mill.
"The team is in a really good spot right now as we get ready to go into the next round," senior Austin Morris said. "It's really great that we're like a family. We've been out here together really since January."
The Panthers travel to Johnson High School next Wednesday. The two schools last faced one another in 2019 when Starr's Mill defeated the Knights 1-0 and earned a spot in the AAAAA state championship game.